Hunter Douglas' Smart Blinds Embrace Bluetooth: Why That's A Big Deal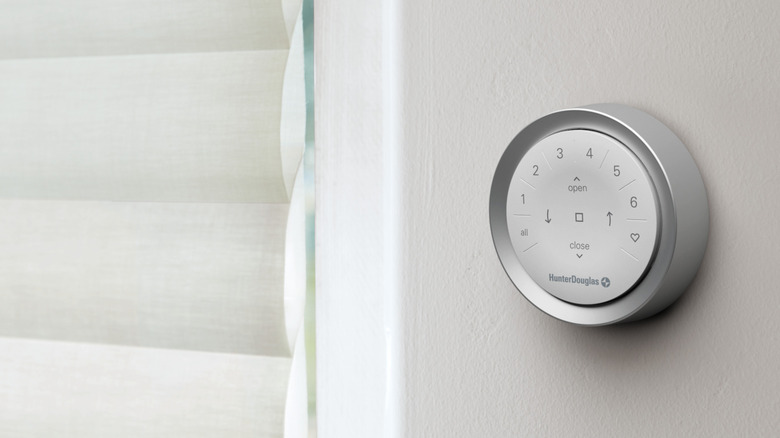 Hunter Douglas
Hunter Douglas' smart shades are getting an upgrade, with a new PowerView Gen 3 system promising easier installation, better reliability, and improved scaling for more ambitious connected homes. The third iteration of the PowerView system, Gen 3 marks a move away from the shade and blind-maker's proprietary wireless tech and instead embraces Bluetooth Low Energy (BLE).
The current version of PowerView — as we tested in our review of Hunter Douglas' Duette shades — relies on a smart hub, a dedicated remote control, and the company's app. With that, you can adjust motorized blinds and shades both within the house and, to some extent, outside it, as well as link the system up with third-party smart home ecosystems like Amazon Alexa and Crestron Home.
Goodbye hub, hello gateway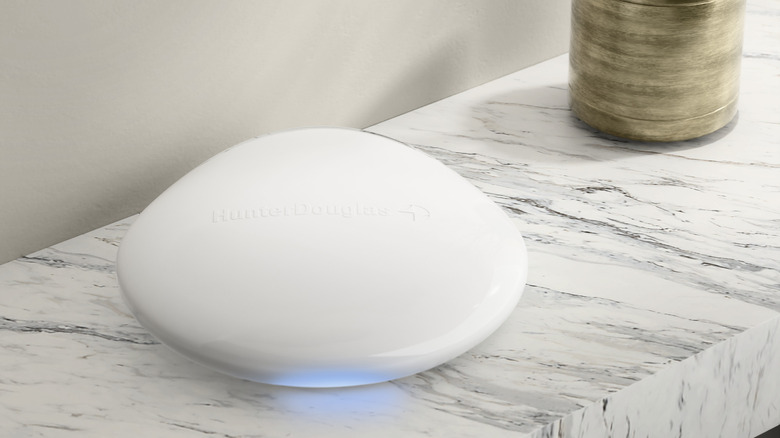 Hunter Douglas
Even back when it launched PowerView Gen 2 in 2017, however, Hunter Douglas was already considering Gen 2, Scott Stephenson, Director of Product, Motorization, explained to SlashGear. In the intervening years, feedback from both customers and installers has been taken into account. For the former, reliability and ease of maintenance were key topics; for the latter, getting automated shades set up quicker and more easily was the primary request.
That has involved a fairly fundamental shift in how motorization and connectivity are organized in PowerView Gen 3 products. With the existing system, the hub is the core, but Gen 3 sees each shade become more independent. Each has a BLE radio, and can directly connect to a user's smartphone. In fact, those with just a couple of shades could skip the new Gen 3 gateway altogether, and simply use their smartphone and the Hunter Douglas app.
That allows for manual control over shade position, loading scenes, and triggering automations. The BLE link is bidirectional, too, so shades can report back their position up to eight times per second. For larger installations — say, four or more, Stephenson explains — there are two new gateways.
A familiar remote gets a subtle redesign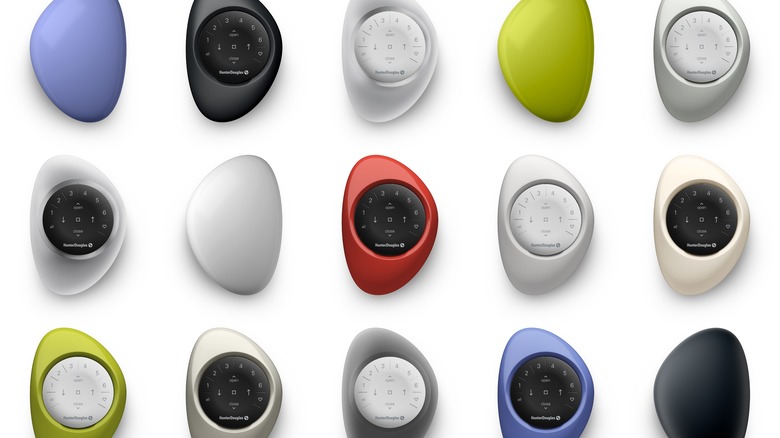 Hunter Douglas
The regular Gen 3 Gateway supports up to 15 shades and connects to a home network via Wi-Fi. The Gen 3 Gateway Pro supports up to 30 shades and also has ethernet and power-over-ethernet (PoE) support. Gateways can be mixed and matched, each acts as an extender for larger homes, and they should be faster than direct smartphone control as they maintain a persistent link with specific shades.
Despite that, Stephenson says, Hunter Douglas expects no real change in battery life from its wireless PowerView shades. That means up to a year of typical use, with the latest rechargeable power wands. The remote has been redesigned too, with the new PowerView Gen 3 Remote still slotting into the same pebble-shaped enclosure, but now having smooth buttons. It also supports double-clicking the favorite button for activating a second preset position.
Outside of the home, meanwhile, there's more comprehensive control offered. Though PowerView Gen 2 supported remote access, it was only to activate saved scenes. Gen 3, however, allows full control — almost everything you could do at home, indeed, according to Stephenson — while connected remotely.
Easier installation means happier dealers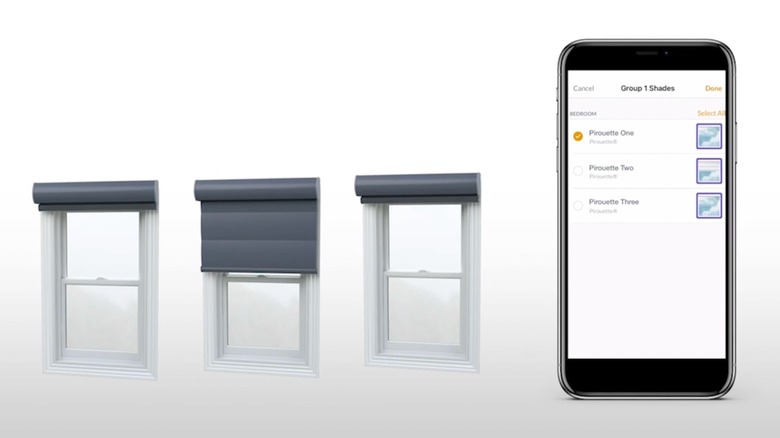 Hunter Douglas
For installers, meanwhile, the changes may be even more considerable. A regular point of frustration, Stephenson says, was how long and involved PowerView Gen 2 setup could be. Not only did the hub need to be configured — including being added to the homeowner's WiFi network — as the first step, it also involved various fairly-arcane button combos on the shades themselves, in order to establish things like pairing mode and set position limits.
PowerView Gen 3, in contrast, is all configured through the app. A gateway can, optionally, be added later; all its settings will automatically be loaded from the Hunter Douglas cloud. During setup, new shades are shown in order of proximity, and commonly-used room names, shade groups, and scenes are suggested. Later on, tweaks — including position limits, scenes, and more — can be done remotely, saving time and the cost of an on-site visit. Even firmware updates can be done app-to-shade rather than via the hub.
Overall, Stephenson says, the typical time to install PowerView in a 10 shade, 3 room environment has dropped from 45 minutes for a Gen 2 system to under 15 minutes with Gen 3.
How PowerView Gen 3 and Gen 2 co-exist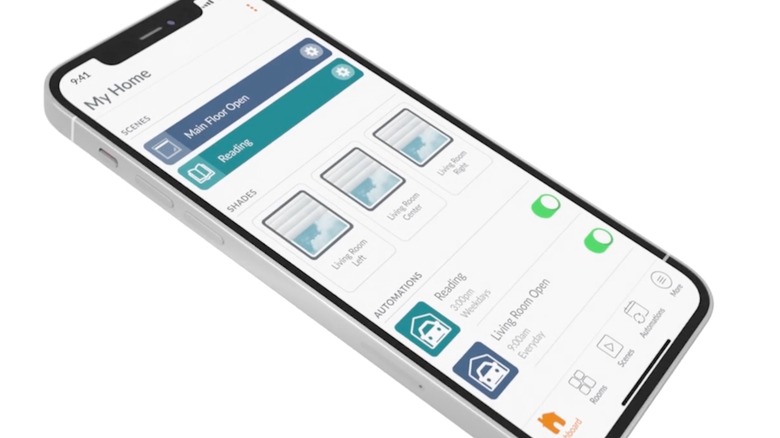 Hunter Douglas
Once in place, there are a few more niceties that help set the third-generation shades apart. Range should be improved, Stephenson says, and more stable. There's also a new half-speed mode, which runs scenes at half the usual pace: that makes them much quieter.
For those with existing PowerView Gen 2 systems, there's good news and bad. The good is that Hunter Douglas plans to still accept new Gen 2 orders for the next six months, and — with millions of systems in the wild — is intending to support them for the foreseeable future. That means motors, hubs, and more.
Unfortunately, there's no way to upgrade a Gen 2 shade to support Gen 3. What there will be, though, is support for mixed environments. Then, the app will effectively split into two sections — one for Gen 2, one for Gen 3 — with different scenes and favorites set for each. A single scene cannot, sadly, span Gen 2 and Gen 3 shades, though the upside is that Hunter Douglas' skills for Amazon Alexa and Google Assistant and its integrations with pro smart home systems like Crestron, Control4, and others will have more granular control over Gen 3.
Hunter Douglas is taking orders for the PowerView Gen 3 shades from today; as always, it sells via dealers, rather than directly to individual consumers, and pricing varies as each shade is custom-made. The PowerView Gen 3 system won't, however, be more expensive than Gen 2 was in that equation, Stephenson says.