Wristcam Band Brings Video Calls To Apple Watch With One Caveat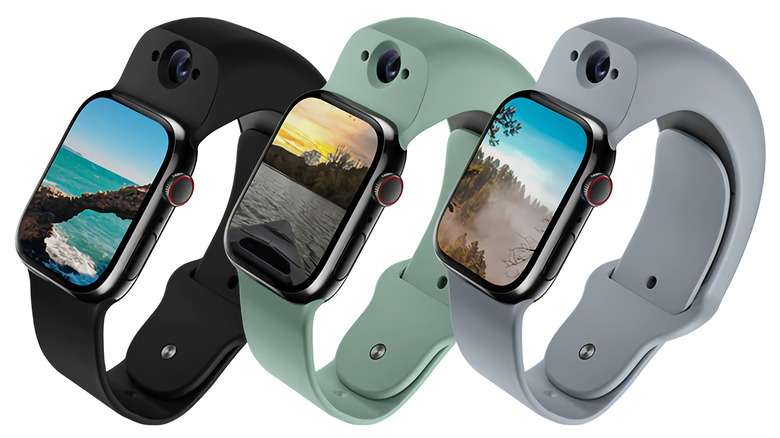 Wristcam
When smartwatches first came out, people were a bit unsure what to make of them. Some considered the wearables a mere extension of smartphones, while others envisioned they would replace smartphones to some extent. Of course, a smartwatch's small display makes it terrible for certain use cases that require more screen real estate. Although it seemed perfect for making video calls, space constraints and privacy concerns made these wearables a poor option compared to an ordinary smartphone. That hasn't stopped some industrious users from trying to make wrist-based video calls a thing, though, as evidenced by a new Apple Watch accessory.
Wristcam launched last year as an Apple Watch band with functionality Apple will probably never officially add to its smartwatch: cameras. Specifically, the band packs a 2MP "front-facing" camera positioned above the Apple Watch's display and an 8MP "world-facing" shooter. This isn't a new concept, of course. There have been other smartwatches that have tried to incorporate these components, and Meta's rumored smartwatch might even have them. 
Apple, on the other hand, has refused to add cameras, most likely on the grounds of design and privacy. That's also why the Apple Watch, much like all other smartwatches in existence today, doesn't do video calls. The device does support FaceTime, but only for audio calls. It wouldn't make much sense to do video calls when the device isn't capable of recording video anyway, which is what the new update to Wristcam tries to offer.
Video calls, but not with FaceTime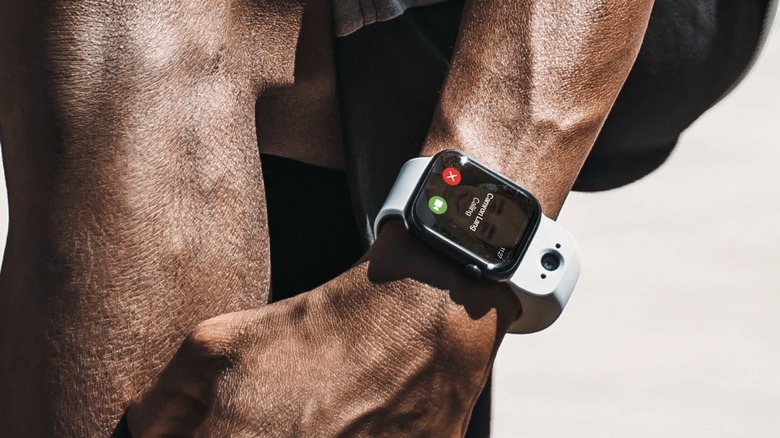 Wristcam
To cut the story short, Wristcam now offers the ability to make and take video calls on your wrist. Previously, it only functioned as a regular camera, making it easier to take pictures and record videos without having to pull out your phone. Video calls are easily the next step in that direction, but you might want to temper your excitement if you've been dying to FaceTime your friends using your Apple Watch.
Wristcam doesn't work with FaceTime at all, so you still can't do that. Instead, you'll have to make sure that whoever you're calling has the Wristcam accessory for their Apple Watch, as well. Alternatively, the Wristcam iPhone app also lets users do Watch-to-iPhone video calls. It's not an entirely seamless experience, which requires buying a bulky $299 strap for the otherwise sleek Apple Watch, but it's better than nothing for those dreaming of such a feature, especially if they already own a Wristcam anyway.
Whether this is an advisable — or even useful — feature will probably depend on who you ask. As with smart glasses, the thought of a camera that's always exposed and looking at the world can be a bit frightening, especially for the people around you. Of course, Wristcam promises privacy and security and automatically puts the cameras on standby after a period of inactivity, but that still requires you to put a lot of trust in a third party.