Apple Watch Series 8 — Here Are The Features We'll Likely See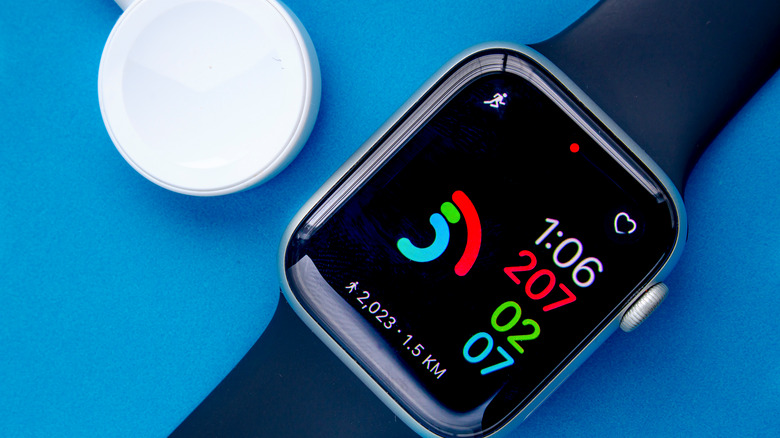 oasisamuel/Shutterstock
The modern Apple Watch can supplement an iPhone owner's lifestyle needs in virtually every way; it can be used to track fitness data, manage phone calls, and even check email, but those are considered pretty basic features nowadays. Apple Watch owners have enjoyed consistent upgrades and new features in every annual model since the first Apple Watch was released in April 2015, and there's no reason to expect that to change in 2022.
The most recent model, the Apple Watch Series 7, is still one of the very best smartwatches that you can buy, offering improved tracking features, a quicker charger, and a much larger OLED display — about 20% larger on both the 41mm and 45mm versions. That said, it wouldn't be an Apple product if its engineers didn't come up with new gizmos and tools for Apple Watch owners to utilize in their day-to-day lives, which may not at first seem useful but — much like the handwashing detection feature of 2020 — somehow end up being revered by Apple Watch fans down the line. Rumors about what the upcoming Apple Watch Series 8 will add are abundant and potentially misdirecting, but there are a few key things we likely will see appear in 2022.
New models could come in three sizes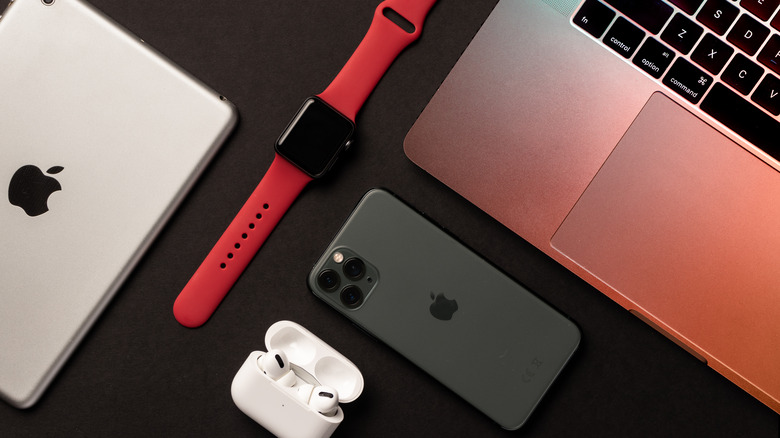 Shahid Jamil/Shutterstock
Most Apple Watch models are generally sold in two different sizes, but a MacRumors report on October 12, 2021, suggests that the Apple Watch Series 8 could come in three different sizes, accommodating a wider range of wrist sizes, price points, and aesthetic tastes. As also reported by MacRumors, Bloomberg's Mark Gurman evidently stated in a February 2022 edition of his Power On newsletter that he expects to see the variations between Apple Watch Series 8 models to be significant, saying, "I'm looking for three new models this fall: an Apple Watch Series 8, an Apple Watch SE and an Apple Watch geared toward extreme sports."
Continuing the existing trend, it's highly likely that the 8th generation of the Apple Watch will also launch with a slightly faster processor and better battery life. There's also some hope for an even clearer microLED screen. However, it's still up to speculation just how substantially these elements may be improved. There's very little grounded available information about the upcoming Apple Watch Series 8. What exists is still up to interpretation, and it's common to see speculation across the board. We've seen suggestions for everything from car crash detection sensors to body temperature sensors. However, we'll end up knowing much more by the end of September 2022, which is traditionally when Apple launches its new line of products.
Less likely features for the Apple Watch Series 8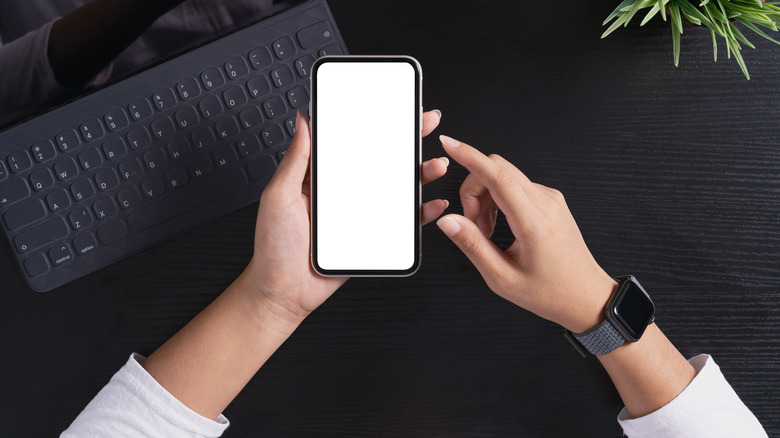 blackzheep/Shutterstock
One of the long-rumored features alleging arriving in upcoming iPhone and Apple Watch models is LEO satellite connectivity, which can be used to quickly report crises or send SOS messages even when cellular and wireless networks are unavailable. Such a feature has been rumored since August 2021, but a recent Bloomberg report on April 12 indicated that the feature could be making its way as soon as this year. However, there is no exact window of time for the alleged feature's launch, and it might arrive in future models rather than the Apple Watch Series 8.
According to a 9to5Mac in July 2021, there's good reason to assume a new Apple Watch model may arrive that includes glucose sensors capable of tracking your blood sugar level without any needles whatsoever. The proof supposedly comes from the glucose sensor manufacturer Rockley itself, which has announced a commercial-grade non-invasive glucose sensor system that can be implemented directly into future Apple Watch models. Supporting that argument, CNBC reported in 2017 that Apple CEO Tim Cook had been seen wearing a prototype of such a system. But until there's any further confirmation from Apple, it's still not likely that such a feature will come any time soon.