Apple Wants To Bring Satellite Connectivity To Your Watch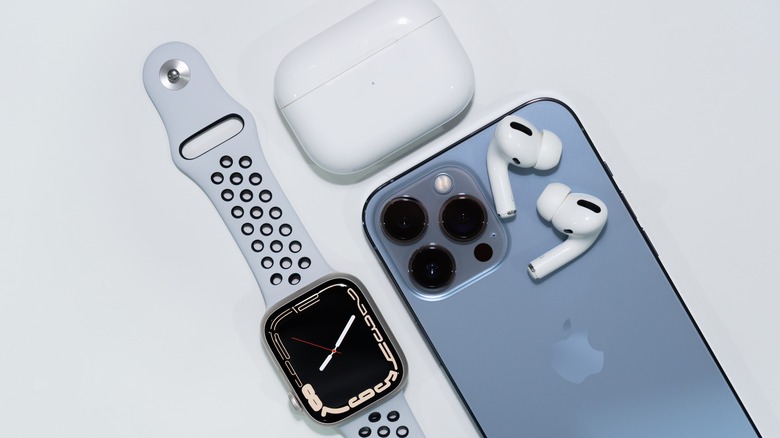 Thanes.Op/Shutterstock
According to a footnote in a Bloomberg report published on April 12, one of the upcoming Apple Watch features is long-awaited satellite connectivity, otherwise known as LEO. This will reportedly allow Apple Watch owners to contact emergency services and report crises such as vehicle collisions or send SOS messages. It's been rumored for some time that the iPhone would eventually get a satellite connectivity feature of its own, but it could be highly useful to implement the feature into the Apple Watch as well, especially since the wearable is even more versatile and portable than any iPhone.
Originally, the iPhone 13 was reported to have the coveted satellite feature, per a report from MacRumors published in August 2021, but that turned out to not be the case when it was released. The rumor mill is churning yet again, however, and it sounds like the iPhone 14 might be the first Apple device to receive LEO support. After that, the Apple Watch will get its own satellite connectivity, though there are no solid details that offer insight into which Apple Watch Series is expected to get the feature and the window of time in which the satellite-connected watches will be released.
The most recent Apple Watch, the Apple Watch Series 7, was released on October 15, 2021. We called it "another incremental upgrade," but noted that isn't a bad thing, saying, "it's a testament to just how good the Apple Watch was, and is, that Apple hasn't really needed to reinvent the wheel."
Other Apple Watch features, including blood-pressure monitor, won't arrive until 2024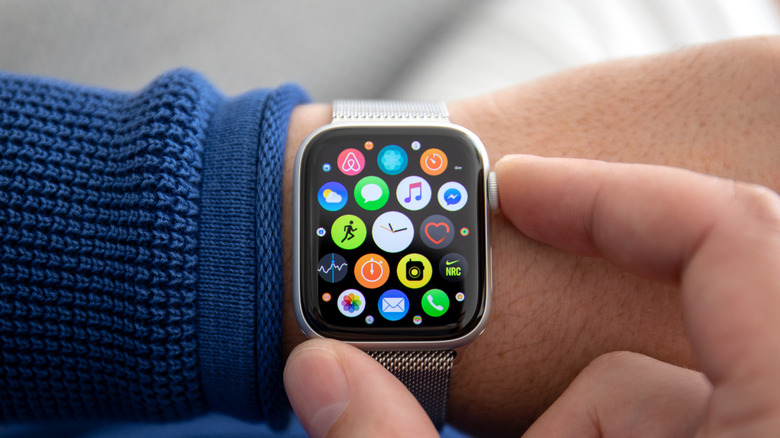 DenPhotos/Shutterstock
Satellite connectivity isn't the only thing in store for future Apple Watch owners. The smartwatch has become a swiss army knife of trackers and monitors that can provide data about everything from physical fitness to how long you need to spend washing your hands. Apple's engineers are continuing that trend by expanding the device's versatility even further over the next several years. The aforementioned Bloomberg report details an upcoming sensor that can detect blood-pressure levels and even notify the user if their blood pressure is too high. However, such a sensor may not arrive in a new Apple Watch model until 2024 at the earliest, and even so, it sounds like 2025 is a more likely release window.
There are a handful of features that may come to the Apple Watch much sooner rather than later, however. As early as fall 2022, we may see an Apple Watch Series 8 or equivalent that includes additional medication management features that allow you to register which medications you've taken, as well as extra features for women's health, sleep, and fitness. Interestingly enough, it sounds like Apple has also been working on a body temperature sensor, though MacWorld makes a strong argument as to why it may not arrive this year.