The Real Reason Elon Musk Wants To Put Dogecoin On The Moon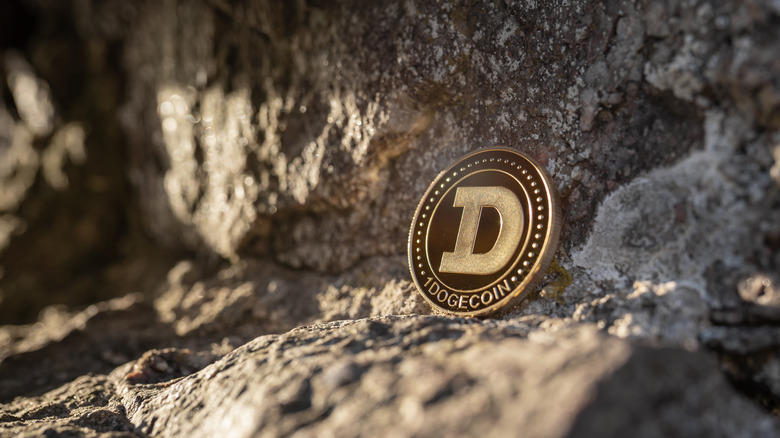 salarko/Shutterstock
Figuratively speaking, many dogecoin investors would certainly like to see the price of the popular meme-based cryptocurrency skyrocket "to the moon." The term "to the moon" is often used by investors predicting (or at least hoping) that a stock's price will rise to atmospheric levels, and it was popularized in 2021 by Reddit users who attempted to send GameStop's stock price soaring via a massive short-squeeze. In April of that same year, SpaceX CEO Elon Musk said in a tweet that the company would be putting dogecoin on the moon, but he wasn't using the phrase figuratively. Rather, Musk was quite clear that he was speaking literally.
Many probably didn't take Musk's tweet seriously — especially since it was posted on April Fools' Day –- but when he announced SpaceX's Doge-1 launch mission the following month, he showed everyone that he wasn't joking around. Doge-1 is a collaborative lunar mission between SpaceX and aerospace company Geometric Energy Corporation, with the whole operation being funded entirely using dogecoin cryptocurrency. In a press release, GEC CEO Samuel Reid expressed that the deal "solidified" dogecoin as an actual "unit of account" for business conducted in the space sector. Of course, this also begs the question, what's in it for the self-appointed "technoking of Tesla?"
What is the Doge-1 mission about?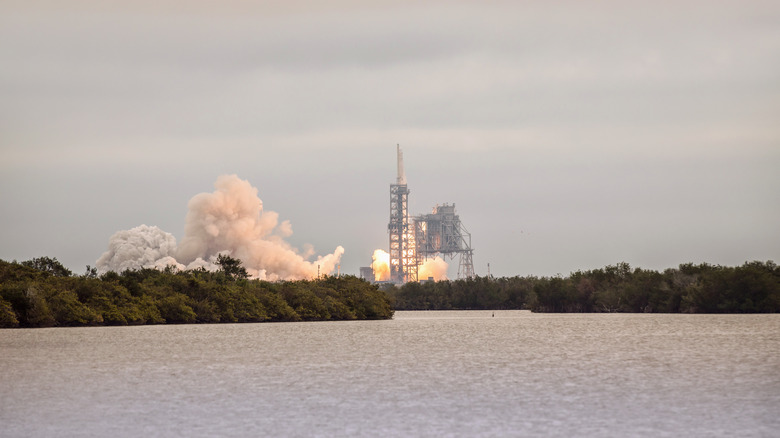 Nadezda Murmakova/Shutterstock
Aside from historically being the first-ever space mission funded exclusively with cryptocurrency, the Doge-1 mission also comes with big implications for the promising-yet-speculative digital asset as a whole. The mission itself is said to showcase how cryptocurrency can be applied outside of Earth, possibly even becoming a "foundation for interplanetary commerce" in the process, according to GEC's announcement (linked above). For someone like Elon Musk, who's a big supporter of dogecoin himself, the notion of setting up cryptocurrency as a feasible unit of exchange in space commerce sometime in the near future could certainly be an enticing prospect.
As for how the Doge-1 mission intends to accomplish such a feat, it will involve launching an 88-pound cube-shaped miniature satellite tasked with obtaining "lunar-spatial intelligence" using its various on-board sensors and cameras. The satellite itself will be taking a ride on SpaceX's record-setting Falcon 9 reusable rocket. Sure, one might scoff at the idea of a digital token — which basically started as a joke — possibly becoming the first form of space money, but Doge-1's set of objectives sounds deeper than simply making dogecoin go 'to the moon.'
Doge-1 shoots for the moon...and beyond!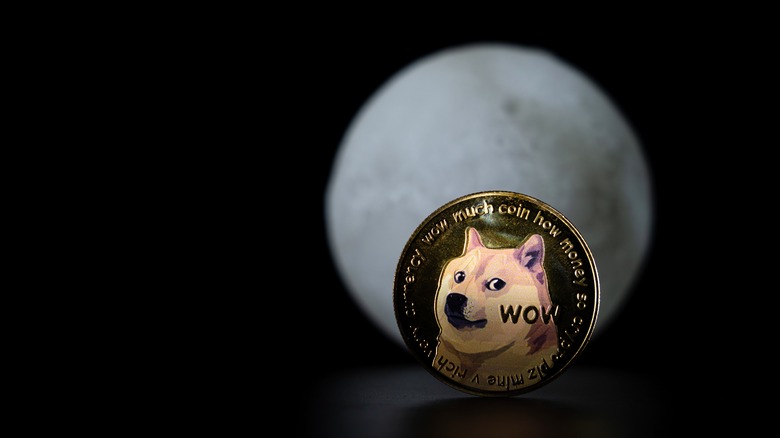 loveyousomuch/Shutterstock
Morpheus Network, a group that helps companies automate supply chain operations, has also announced its involvement in the project. Using emerging technologies like blockchain, the software firm aims to assist GEC in solving supply chain issues, not just globally, but on an interplanetary scale, something it hopes to apply to Doge-1's objectives. As if literally launching dogecoin to the moon wasn't enough, GEC's announcement says the Doge-1 mission will also be including "digital art" in its payload.
With all that said, Doge-1 is starting to form a much bigger picture, one that goes beyond dogecoin alone or even cryptocurrency in general. It's sounding like it could form the building blocks for a space commerce system that utilizes blockchain technology as means of establishing a decentralized, tamper-resistant commercial economy in space. As for Musk, he does have a penchant for innovation and building new, more sustainable industries, and Doge-1's mission directives certainly align with that. Of course, it also promotes an asset his companies are largely invested in, which is another benefit for Musk. Doge-1 is scheduled to launch sometime in 2022.