PS5 Launch Title Bugsnax Is Coming To Xbox Game Pass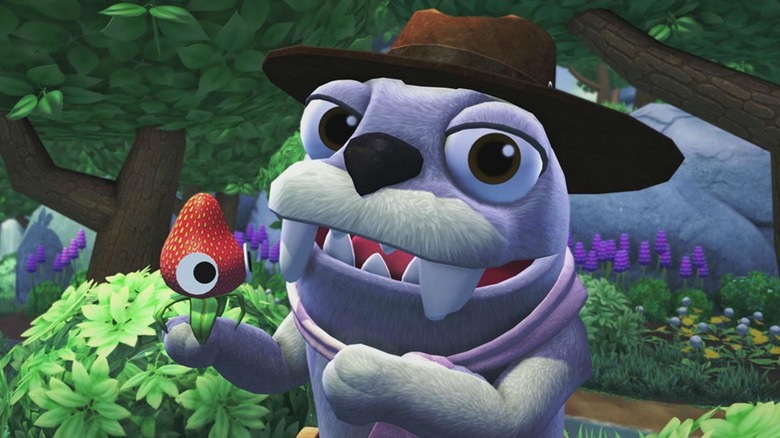 Young Horses
Hot on the heels of "MLB The Show," it seems another game that was formerly a PlayStation console exclusive is headed to Xbox. Microsoft announced today that "Bugsnax," which was one of the PlayStation 5's launch titles, will be released on Xbox Game Pass later this month. Of course, "Bugsnax" wasn't a true PS5 exclusive in that it was also on PC, PS4, and Mac, so perhaps this incoming launch shouldn't be too surprising. Still, it's always notable when console exclusives make the jump to other platforms — especially in the case of "Bugsnax," where this announcement is coming almost a year-and-a-half to the day after the game launched on PlayStation 5.
In any case, the incoming Xbox Game Pass release for "Bugsnax" wasn't the only thing developer Young Horses revealed today. "Bugsnax" is also getting a new content update called "Isle of Bigsnax" that will add a new island to explore and oversized Bugsnax — appropriately called Bigsnax — to catch. Even better is that it'll be free for everyone who owns "Bugsnax," so even though "Isle of Bigsnax" has all the makings of an expansion, it won't cost players anything to check it out.
When is Bugsnax launching on Xbox Game Pass?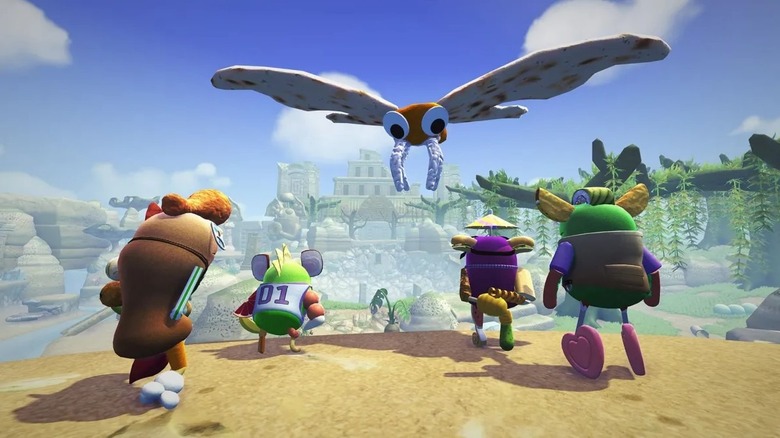 Young Horses
According to a post on Xbox Wire today, "Bugsnax" will be heading to Xbox Game Pass on April 28, 2022. The game will be available through all versions of Game Pass — cloud, console, and PC — for Xbox One, Xbox Series X|S, and Windows computers. That makes "Bugsnax" a day-one addition for Xbox Game Pass, as it'll be hitting Microsoft subscription service the same day it releases for Xbox platforms.
April 28 is also the date that "Isle of Bigsnax" will be going live across all platforms. The PlayStation Blog has all the details about this expansion showing off some of the supersized Bigsnax players will encounter and explaining how players will be able to capture them. The new content in "Isle of Bigsnax" won't be limited to the update's new island, as players will also be able to build and decorate a hut of their own back in Snaxburg. Players will even be able to collect an array of hats and put them on their Bugsnax.
All in all, it seems like a fairly sizable update for "Bugsnax" owners. Perhaps owing to its status as a PlayStation 5 launch title, "Bugsnax" managed to capture a fairly sizable audience at release, so we'll see if the game can expand that further on Xbox platforms and Game Pass. Look for "Bugsnax" to land on Xbox Game Pass later this month.