2022 Chevrolet Silverado ZR2 First Drive: Flagship Truck Rises To The Raptor Challenge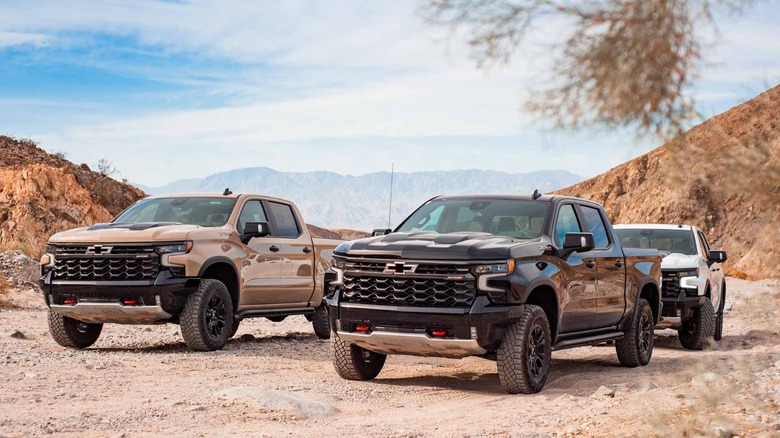 Talon Homer
The 2022 Silverado ZR2 has just arrived on the scene as Chevrolet's new flagship 4x4, and as a big brother to the Colorado ZR2 that's been around a few years. In either truck, the package emphasizes performance in dirt, sand, and mud, thanks to upgraded 'multimatic' suspension and knobby all-terrain tires. To see if the pickup makes good on its four-wheeling promises, Chevy invited us down to Joshua Tree park in California for the ZR2's official debut. Then, we took a couple handfuls of the new trucks across 125 miles of desert trails: rock-crawling, gliding over sand, and getting a feel for the various driving modes.
When you first get a glimpse of the Silverado ZR2, you'll probably notice that the appearance changes are pretty subtle. To set it apart from other trims, it of course has ZR2 badging, plus red powder-coated tow hooks accentuating its purpose. The bow tie emblem has also been hollowed out, with red embossing on the inner lines. Apparently, the see-through badge improves airflow. No joke, they call it the 'Flow Tie'. 
At either side of the grill, you get new LED headlights, which are also showing up on other premium trims. The package is taller and wider, thanks to new shocks and gently rolled fenders. Styling is not nearly as aggressive as the competing offerings from Ford and Ram, but we can definitely get along with the less-is-more attitude in this case. Four-door crew cab with short bed will also be the only body configuration available for the ZR2.
Basic Specs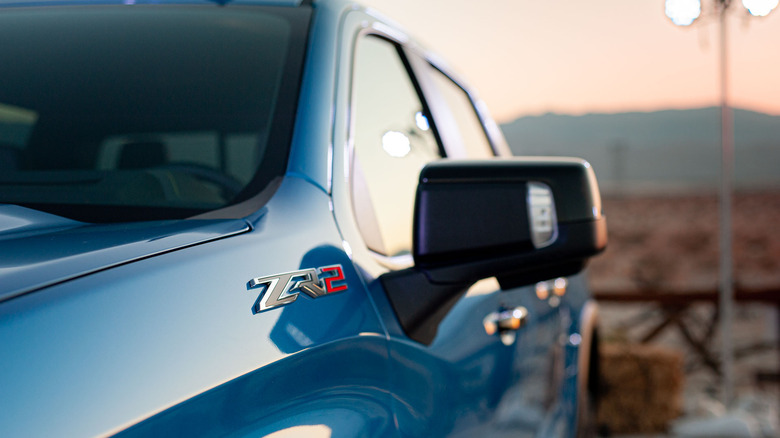 Talon Homer
Powering the ZR2 is a Corvette-bred 6.2-liter V8. It's still full of pushrods, but manages to incorporate new tech like direct fuel injection and variable timing. Compared to the Vette, it's slightly detuned, with 420 horsepower and 460 lb-ft of torque. The rather invasive traction control makes it feel choked up, but it becomes very eager to accelerate once the electronics are turned off. Put the pedal down and it lets out a pleasing growl, without being buzzy or overly loud. The ten-speed automatic is virtually identical to what's in the Ford Raptor, with paddle shifters for manual control. In auto mode, the shifts are nearly imperceptible. In manual, they're plenty responsive, which is about the best you can want in a torque converter unit. Fuel economy figures aren't yet published, but the EPA rates a similarly equipped 2021 model around 16 miles per gallon in the city, and 21 on the highway. 
The gearbox sends power to a part-time four wheel drive system with two transfer case speeds, along with front and rear locking differentials. Every function of this system can be adjusted easily with pushbuttons in the cabin. It also has an auto mode that lets the truck electronically switch from rear drive to four-high at the sign of wheelspin. 
External dimensions measure up around 233 by 81 inches, making it slightly narrower than both the Raptor, and Ram TRX. Height is jacked up to 78.3 inches. That's about three more than the base model, which allows for 11.2 inches of ground clearance, and a 31.8 degree approach angle. If you happen to misjudge that angle, the ZR2 also has multiple aluminum skidplates and rocker bars to keep the important bits in one piece. Curb weight checks in 5,620 pounds, which is nearly half a ton heavier than the basiest base-spec Silverado. You also get a bed rating of 1,440 pounds, and towing capacity 8,900 pounds, which are on the lower end of the current Silverado range.
Desert Running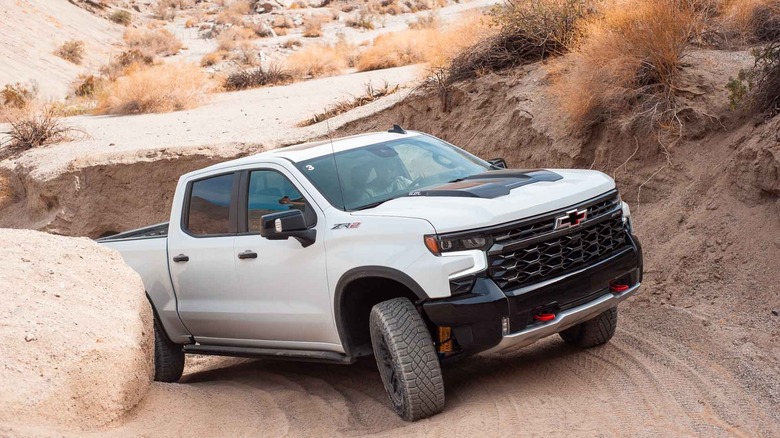 Talon Homer
Out in the California desert, it proved difficult to find an obstacle the Silverado ZR2 couldn't climb over. The robust four wheel drive and electronically controlled hydraulic shocks will give a novice off-roader the confidence to be scaling banks and weaving between boulders in a matter of minutes. In expert hands, the truck will do the exact same things, just at double the speed. The suite of four wheel drive gadgets allows the Chevy to be rock-crawling after lunch, then desert pre-running ten minutes later. All while blasting A/C through 100 degree weather with no sign of stress on the engine. Also impressive were the standard 275-wide Goodyear Wrangler tires wrapped around the 18-inch alloy wheels, slightly staggered with 265s at the front. On nearly a dozen trucks, the tires endured being aired up, then down, then up again, then driven over sharp rocks. Not a single one went flat.
The majority of our trip was spent in four wheel drive high, where the truck is perfectly happy to roll through sandy paths at highway speed. At those points, the front end started getting light, but it was nothing that gentle counter-steering couldn't solve. Switch into two wheel drive on loose surfaces, and powerslides can be easily initiated and carried through curves. The long wheel base prevents the rear from snapping out too far. Four-low with the rear locker engaged is perfect for low-speed terrain. We felt that the front locker was rarely needed, but it could be good for mud. We drove the Silverado only through dry environments, but Chevy did develop the truck for marshier trails as well.
Off-Road Tech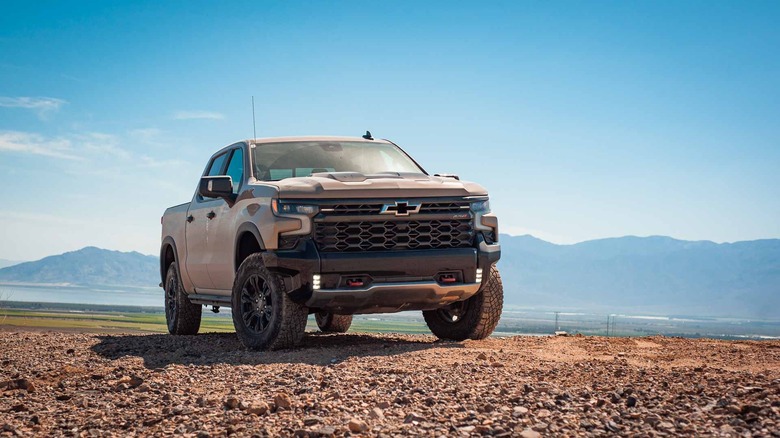 Talon Homer
There are three driving modes, 'road, off-road, and terrain' control suspension settings, as well as throttle mapping. In road mode, shocks are stiffer to allow for flatter cornering. Off-road softens up the multimatic dampers, allowing them to roll over bumps, drop off rocks, and even catch some air without destroying passenger spines. Terrain is what we'd call 'easy' mode. It deadens the throttle to prevent wheelspin while driving up inclines, then it uses automatic braking to soften your descent. Experienced off-roaders will probably find this option completely unnecessary. We thought that low-gear engine braking was just as good at controlling downhill speed as any computerized stuff.
Four wheel drive adjustments are perfectly placed, just to the left of the steering wheel. However, the locker switches are puzzlingly located way off with the radio controls. Annoyingly, the paddle shifters also won't do anything at all unless L is first selected on the console gear changer. The Silverado has the standard backup camera, but also gets extras at the front and sides, along with a digital 360 degree view. Resolution certainly isn't cinema quality, but it's adequate for quickly spotting obstacles. 
These are absolute lifesavers when navigating through narrow canyons and dodging brushes with boulders. Unfortunately they automatically shut off every time the driver exceeds ten miles per hour, leaving you to fumble with the touch screen to desperately make them come back. A Chevy engineer tells us he hopes to have that fixed for production, and we're right there with him.
On-Road and Interior Impressions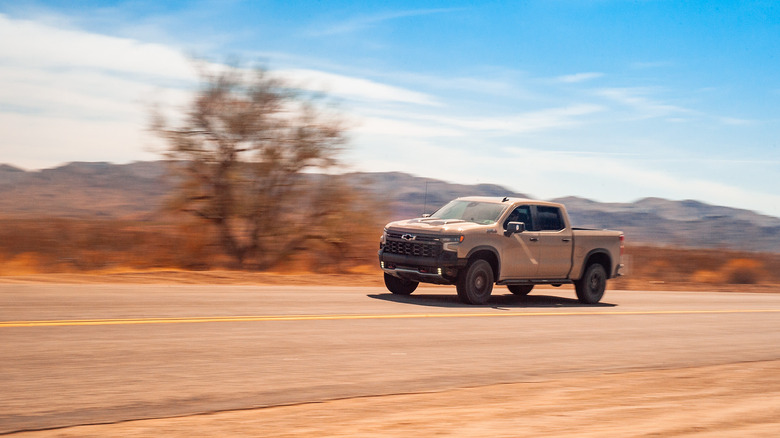 Talon Homer
On the street in road mode, the ZR2 will let you pitch it into corners at impressive speeds with minimal body roll. It's almost sports sedan-like in its handling. That is, up until you have to hit the brakes, at which point you're immediately reminded of your placement among three tons of steel. We didn't get the chance to test the adaptive cruise control because some dust had entered somewhere it shouldn't be on the trail, and clogged one of the many sensors. The truck threw up an error, and wouldn't even allow us to use any dumb, non-adaptive cruise. So you may want to get a premium car wash plan as a new ZR2 owner. Sidesteps have been deleted for protective side bumpers, so you'll be making ample use of the door grab bar getting into this thing. It could present an issue for shorter occupants, those with mobility concerns, or with taller than stock tires installed.
The bolstered, climate controlled seats use a rubberized kind of upholstery instead of leather. Chevy says that this material won't attract as much dirt, and can easily be wiped clean. We only noticed dirt sticking to the floormats, which are very simple to wash. We wish the seats offered more when it comes to lumbar support, Yet, combined with the adaptive dampers, they proved to be very comfortable over several hours of bumps and jolts.
New for '22 across upper trim Silverados are the digital gauge pod, and a larger Google-based touchscreen system. The gauges had decent brightness, but the needles were a little small to read instantly. Mostly, we kept our eyes on the HUD projected to the windshield. This shows current speed, plus vehicle pitch and yaw. Earlier systems like this were hard to see at imperfect angles, but this one has great visibility, even with sunglasses on.
Tech Strengths and Foibles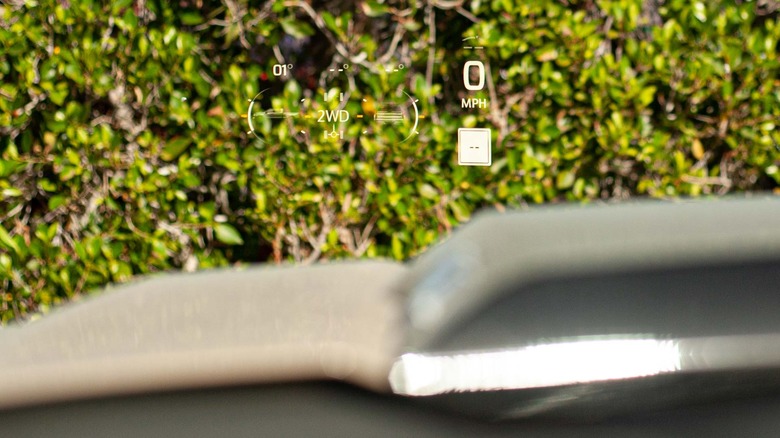 Talon Homer
It's when you really dig into the user interface that you start to find less than stellar things about the new Silverado range, ZR2 included. We mentioned the camera and cruise control issues, then there's that Google infotainment. My co-pilot and I both had trouble getting two different generations of iPhone to talk to its navigation. We suspect there's a compatibility problem between their code and Apple's. Hopefully it can be addressed by the time vehicles reach customers. Regardless, it does have native Google maps integration, which works just fine without a phone. The screen installation is pretty slick, with plenty of physical controls for stereo and climate. The ZR2 package also gets Bose premium audio, along with wireless Qi charging built into the center console.
The steering wheel also has plenty of tactile buttons, for useful functions like advancing music tracks and setting cruise control. The only knock against this wheel is that the paddle shifters are light, cheap-feeling plastic. We'd really expect some aluminum pieces fitted to what's billed as a premium vehicle. The rear-view mirror includes a digital projection screen that pipes in a feed from the rear camera. Viewing a screen here feels bizarre at first, but the wider field of view provided by the camera is a much needed benefit to a vehicle of this size. The front-facing camera, we also got a ton of use out of, since the hood is basically impossible to see over advancing up steep inclines.
Final Thoughts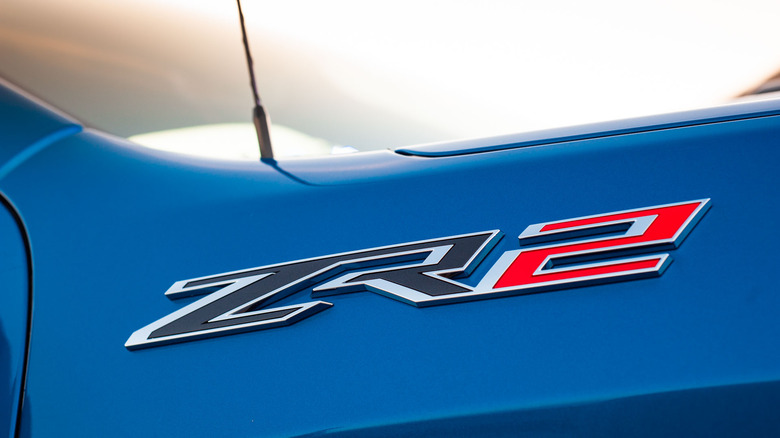 Talon Homer
Save for our minor control and UI issues, the Silverado ZR2 presents an almost flawless off-roading experience to drivers of any skill level. They're on their way to dealers right now, with retail pricing $67,600, plus destination. That puts it right in line with the Raptor, and a good deal under Ram's TRX. We have two questions to ask about ZR2's possible success. First, can it poach Raptor and TRX buyers? Even with a V8, the Chevy is understated compared to the widebody Ford. Twice as understated against the fire-breathing Ram. Will prospective 4x4 buyers be wooed by a more mature off-roader like the Silverado? This market is now also crowded with new-coming cheaper options like the Bronco, and Jeep Gladiator, plus Chevy's own Colorado.
During our weekend with Chevrolet, we briefly drove a base Silverado, with the 2.7-liter turbo four cylinder. That powerplant also makes over 400 pounds of torque, and feels every bit as quick as the 6.2, bringing us to our next question. Does the ZR2 really need a V8? It's not like the difference can be felt while crawling around at ten miles per hour. 
A V8 in a sports car is a perfect combo, but in this truck, the engine feels slightly too utilitarian for its own good. The 'Do it for Dale' crowd would surely consider me a blasphemer for questioning the supremacy of pushrod small blocks, but downsized displacements are the future, and they will be coming sooner or later. Chevy could've taken the opportunity to stuff that latest technology into its flagship truck.