Vivo X Fold Arrives To Take On The Samsung Galaxy Z Fold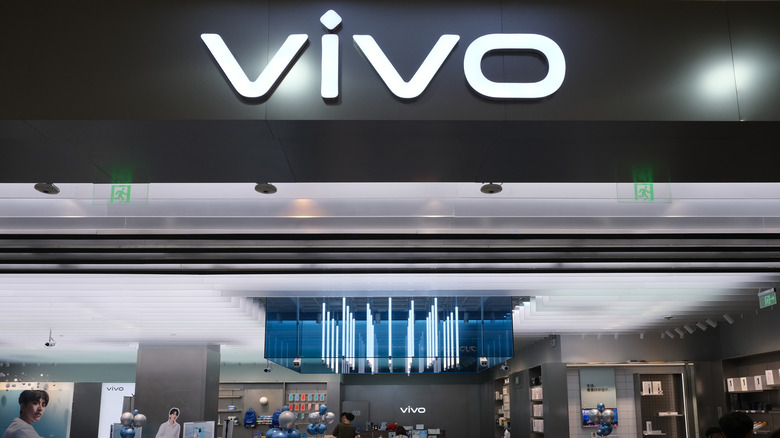 Robert Way/Shutterstock
You know foldable phones are the real deal when a company other than Samsung is trying to make it big in the still-niche market. Although not really that small anymore, brands like Oppo and Vivo aren't huge compared to the world's biggest smartphone makers, which means they might not have as many resources to spend on extremely novel and expensive endeavors.
In fact, neither Oppo nor Vivo may have much wiggle room for mistakes that could cost the companies millions. Despite these odds against them, the Chinese companies are boldly trying to beat Samsung at its own game, either with better designs or better prices. The Vivo X Fold is the latest example of that, as it tries to take the crown away from Samsung — though, oddly enough, by doing so in a way that will still clearly remind consumers of the esteemed Galaxy Z Fold 3 titleholder.
A Samsung lookalike, mostly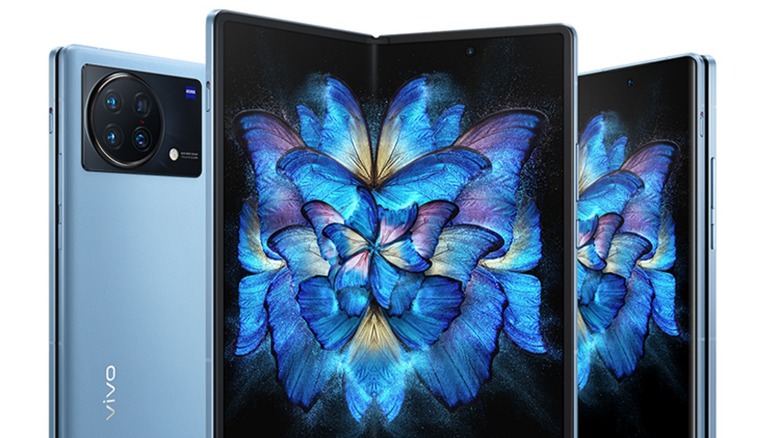 VIVO
Unlike the smaller Oppo Find N, the Vivo X Fold seems to take after the Galaxy Z Fold 3 with a larger 8.03-inch foldable main screen and a tall 6.53-inch external display. This gives the device a relatively "normal" phone shape when folded, but it is wider and taller than the Galaxy Z Fold 3. We'll have to wait for real-world impressions to see how that works out in terms of ergonomics.
This, naturally, does raise questions about the hinge that Vivo is using, which it claims has been tested to survive 300,000 folding actions and has no visible crease. That's a lot more than what Samsung advertises, but the crease part needs verification, of course. The Vixo X Fold doesn't seem to use the "waterdrop" Flexion hinge found on the Oppo Find N, so there might be doubts about whether it can close just as flat without the visible crease in the middle.
Notable features and price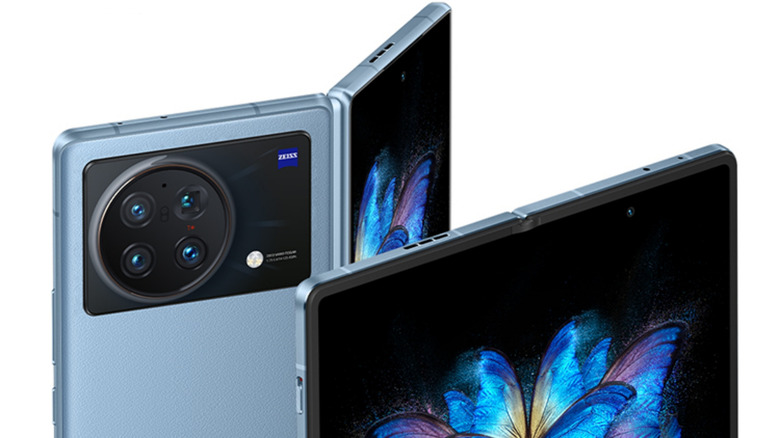 VIVO
The Vivo X Fold isn't simply aping Samsung, though, as it offers a few things the foldable king doesn't. In addition to the Snapdragon 8 Gen 1 that the Galaxy Z Fold 4 will surely get later this year, Vivo actually put some competitive imaging sensors on the phone's back, albeit with a probably divisive design. 
As previously leaked, the phone includes a 50MP main sensor, a 48MP ultra-wide camera, and two telephoto shooters, one of which uses a periscope design to deliver 5x optical zoom. The phone is also the first foldable to use an under-display fingerprint scanner, and it has two of them, one for each screen.
Despite the higher specs, the Vivo X Fold isn't asking for as much at around 8,999 RMB, which is roughly $1,400. Though it's still expensive, that figure isn't as high as the $1,800 starting price for the Galaxy Z Fold 3. Unfortunately, there is no word yet on global availability, and the Vivo X Fold might be stuck as a Chinese exclusive for the time being.