2023 Toyota bZ4X First Drive: An Easy, Breezy BEV That Stays In Its Lane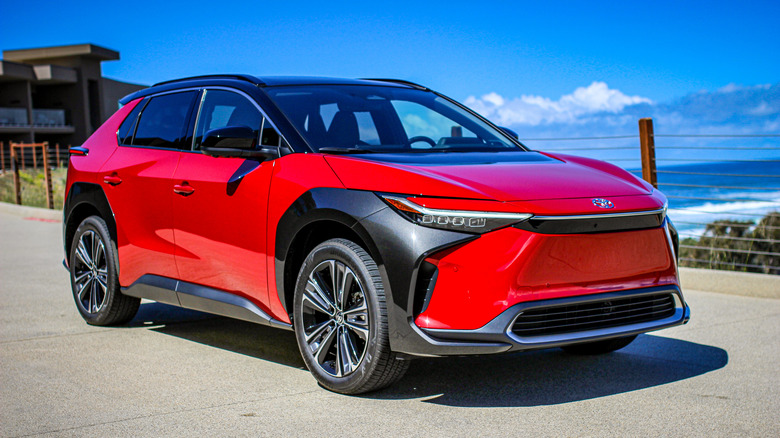 Alex Kalogiannis/SlashGear
EV enthusiasts have been spoiled for choice these days, which is a far cry from the early days of battery-electric vehicle rarity. Now, there's something out there for everyone, but the staggering amount of options could have some shoppers going cross-eyed. Toyota is eager to make things easier by offering up the simplest choice, the 2023 bZ4X, the brand's first national battery-electric vehicle which blends technology with comfort. Toyota's sharp looking crossover does indeed score points for approachability, but ease of use doesn't guarantee a good time. The bZ4X may be easy to drive, but it's difficult to be excited about it.
The Toyota bZ4X is all-electric SUV that's available in two flavors, front-wheel drive and AWD, and just two trims, XLE and Limited. For the FWD versions, the bZ4X offers up 201 horsepower – or 150 kW – and 196 pound-feet of torque. The AWD splits its power between both axles as each get 107 horsepower and 124 pound-feet of torque. Both versions are powered by a 71.4-to-72.8 kWh battery pack. Equipped for level 2 and DC fast charging, the bZ4X can fill an empty pack in 11 hours if charging at home on a level 2 system.
Beyond Zero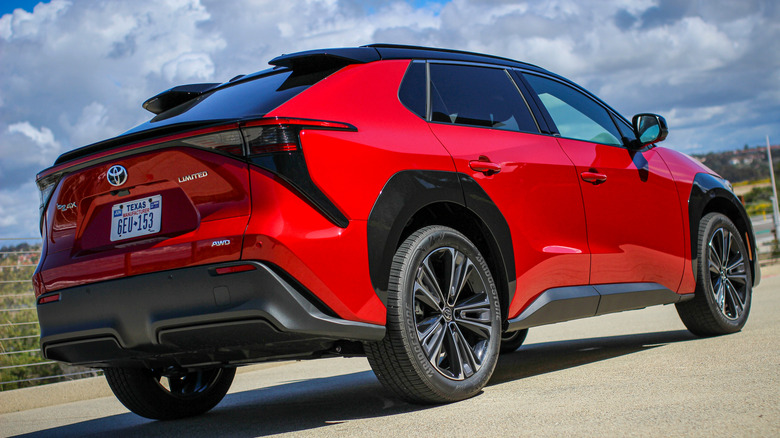 Alex Kalogiannis/SlashGear
As another collaboration with Subaru, the bZ4X is the twin of the Solterra, with the main differences being the Subaru is exclusively AWD and its black body cladding has a matte finish versus the glossy Toyota bits.
The "bZ4X" designation does have a purpose, in case you were wondering. "bZ" stands for "beyond zero," as Toyota is making moves to be valuable to customers beyond just being carbon neutral. 4 refers to the size, and X means SUV. See? Simple.
Included as standard is Toyota's Safety Sense system that packs in dynamic cruise control pre-collision detection, lane departure alert and automatic high beams. In terms of tech, the centerpiece of the bZ4X interior is a 12.3-inch touchscreen thats host to a number of systems. This works with a 6 speaker sound system, and is compatible as standard with Apple CarPlay, Android Auto, and Amazon Alexa. With all these phones abound, you'll need places to charge them, so there are four USB-C ports in the cabin, two of which are in the rear, and one USB-A port up front. You phone will also come into play thanks to Toyota connected services, which let you connect remotely to the car through an app. This app works as a digital key, helps find public charging spots, and monitors the car's charge level.
Decisions were made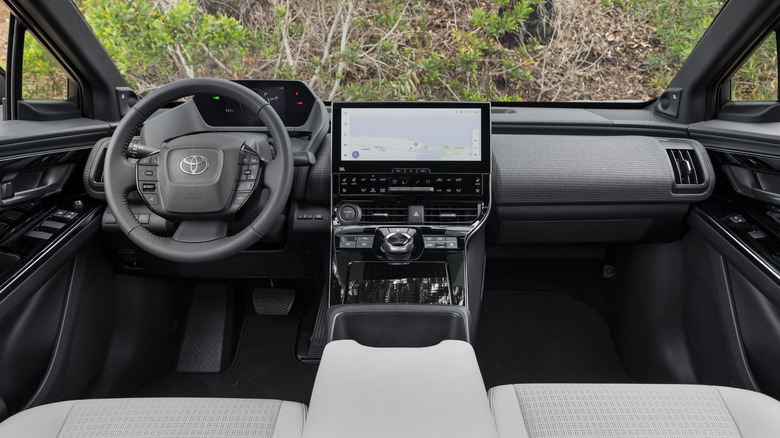 Toyota
The "bZ" in the name might as well stand for "busy" as there is a great deal of style and material choices happening within the car's cabin. It's a mixed bag of different touch points throughout, like hard plastics and piano black surfaces alongside upholstered surfaces that match the seats. The passenger side dashboard is a good example of how this choice is well executed, as this large blank space would stand out as empty without some attention. Adding a swatch of texture to it feels and looks far better than the usual chunk of rubber that would be sitting there. 
In terms of the seats themselves, they are sufficiently comfortable and the softex leather-like material suits the interior nicely. Having heat and ventilation available in the Limited trim goes a long way to further driving comfort, and the option of heated rear seats is a particularly alluring addition. In fact, the rear of the bZ4X is the most comfortable place to be, thanks to the aforementioned materials and options.
A stark contrast to other EV cabins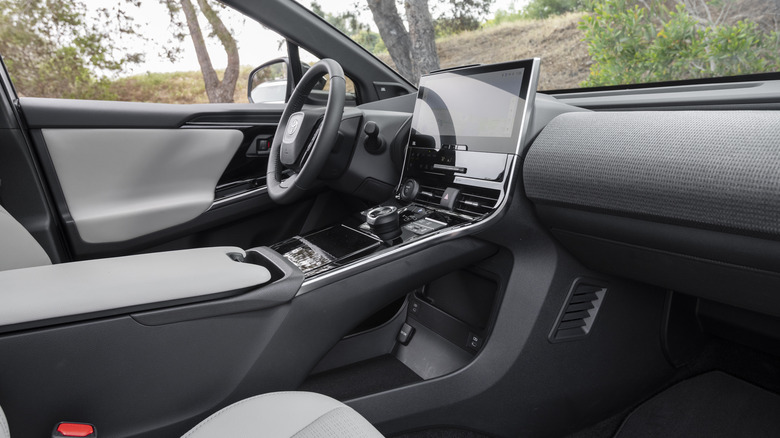 Toyota
Up front, it's a different story for both driver and passenger. EV designers of late tend to take advantage of the freedom given to them in terms of having fewer hardware components to package, thus allowing them to craft very open, airy cabins. The bZ4X's front seating area is in stark contrast to this trend, thanks to the high-riding center console and door armrests. It feels like both front occupants are sitting in their own individual tubs like action figures slotted into a toy vehicle. This is most likely due to the decision to have the infotainment screen and center console be one contiguous unit. 
In terms of input placement, the handful of buttons on display are where they need to be and easy to access, with everything else easily within reach on the 12.3-inch touchscreen. The one exception is the drive select knob, that needs to be pushed down like a pill bottle to operate. That, and remembering it's not in fact a volume knob, takes a little getting used to.
Don't look now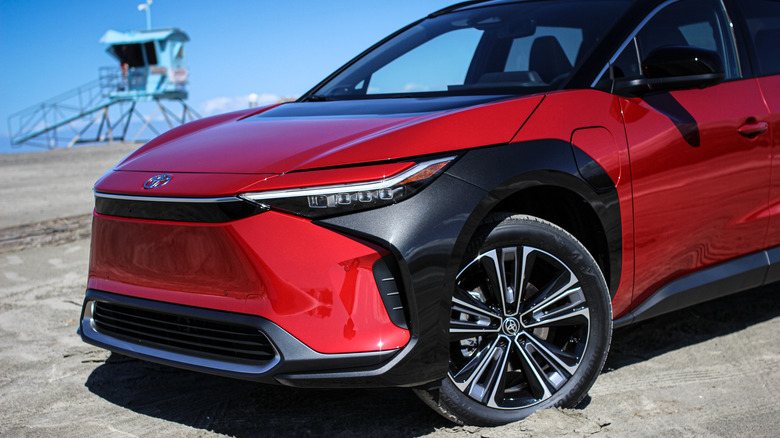 Alex Kalogiannis/SlashGear
What's harder to reconcile with is the visibility of various things from the driver's position. Front visibility is grand and nearly makes up for the iffy view-lines out of the back. What really doesn't help is the positioning of the displays throughout the cockpit. The infotainment touchscreen and various buttons can feel awfully close up, while the driver's gauge cluster is pushed farther away down the dashboard, and going back and forth between the two is a strain on the eyes. Toyota claims the idea of having the gauge cluster in that position is to have it in the driver's eye-line while driving, but while that's a good intention it's just not a great execution. Having all the things a driver would look at on a multitude of visual planes constantly challenges the driver's focus.
The gauge's position also means it's easily washed out by daylight, so half decent weather is oddly detrimental to your driving experience. This is assuming you're one of the lucky operators who can see the gauge beyond the steering wheel in the first place. Depending on your driving position, it's easy to have the top part of the wheel partially or wholly covering the display, forcing the choice of dealing with it or compromising how you'd prefer to be seated. Toyota's reaction to this is to offer the bZ4X with a drive-by-wire yoke as an option, slicing away the top portion of the steering wheel so that it can't block the screen. Literally reinventing the wheel to address a design choice sure seems like an odd tactic, but it's not an option US-based customers will have anyway, so it remains an odd, frustrating quirk.
Breezy slide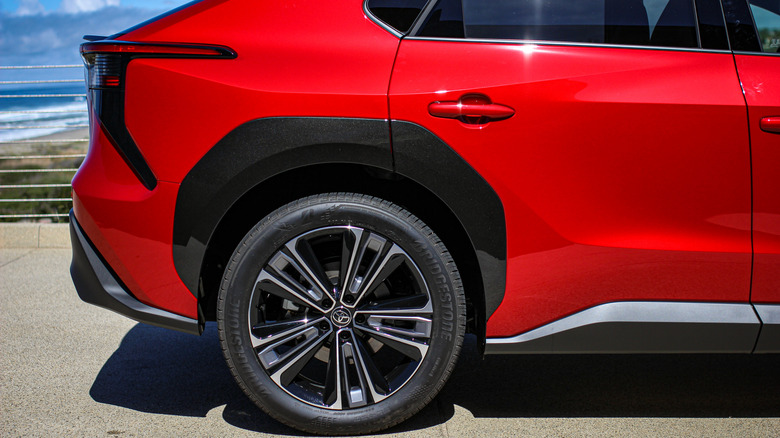 Alex Kalogiannis/SlashGear
Taking the bZ4X for a spin around town is effortless, as the Toyota lives up to its mandate to be an easy and approachable BEV. In the AWD Limited trim, the SUV is very even-keeled in its handling dynamics. Like most EVs, the flat-floor battery gives the bZ4X a low center of gravity for better balance and control. Though it doesn't execute this in any sporty way, it does make the Toyota an easy, no-hassle cruiser. The all-wheel drive iteration goes a little further with capabilities thanks to the X-mode AWD system which will handle soft off-road situations and providing a bit of additional peace of mind.
Even with the benefit of having instant torque, another inherent benefit to EVs, the bZ4X isn't going to get anyone's hair to stand on end. The FWD version struts from 0 to 60 in 7.1 seconds while the AWD version does the same in 6.5 seconds. Despite not getting anywhere in a hurry, you will get there, as the estimated range for the BZ4X is ample for regular use. It starts at 222 miles for the AWD Limited version and 252 miles for the single motor XLE.
Buy default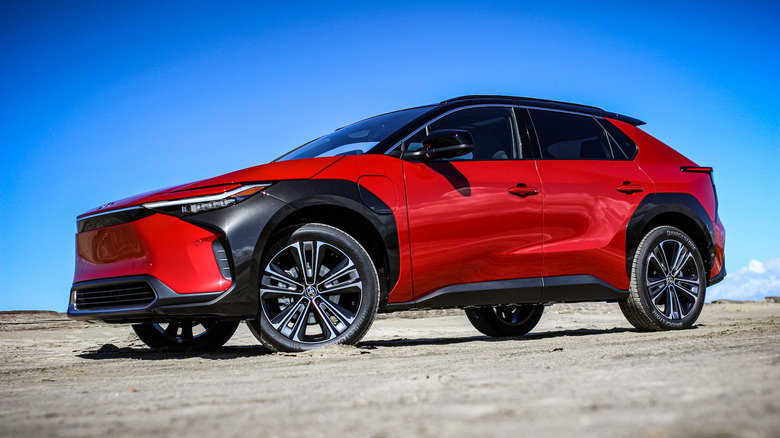 Alex Kalogiannis/SlashGear
The bZ4X starts at $42,00 for the FWD XLE version and up to $48,780 for the Limited AWD model, not including equipment packages and destination fees. It is well suited for daily, comfortable commutes and stays firmly in its bounds: it goes about its business without a smidge of drama, and for those looking for a safe bet with their zero-emissions driving, they need not look further. Anyone else, though, might prefer to shop elsewhere. 
Don't get us wrong, it's perfectly fine to want a simple, comfortable means of conveyance, and not every EV needs to be an electric sugar rush on wheels, but the bZ4X doesn't elicit the same pop and fuzz that its competitors like the Kia EV6 and Hyundai Ionic 5 do. Those might not exactly be barnstormers either, but they have much more charm and personality baked in. The bZ4X's style does most of the heavy lifting in that department, but the rest is just fine, and if "just fine" is enough, the 2023 bZ4X is available this spring.