The Astounding Footage NASA Captured Of Tonga's Volcanic Eruption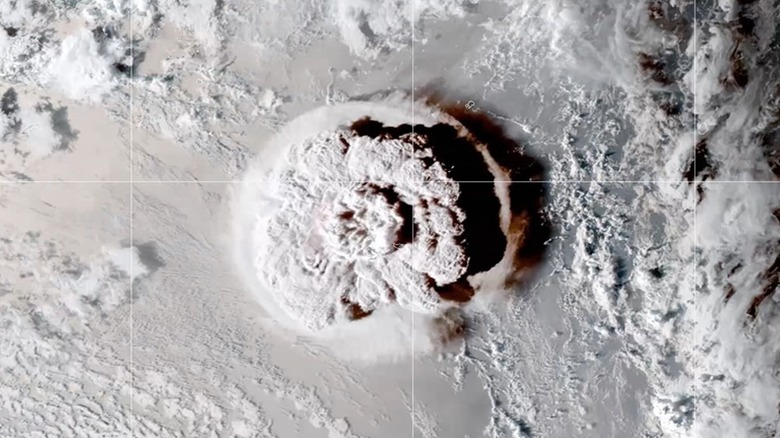 NASAEarthData/Twitter
It was January 15, 2022, when a blast with more than 500 times the power of the Hiroshima nuclear bomb shocked the Pacific. The Hunga Ha'apai Volcano, 40 miles off Tonga, was climaxing with an intimidating eruption after nearly a month of increasing activity.
The eruption's shockwaves triggered tsunamis across the Caribbean, Australia, New Zealand, Japan, and the west coasts of North and South America. Tonga, a Polynesian country that groups 169 islands, of which 36 are home to over 105,000 residents, was the worst hit by the natural disaster.
NASA researchers estimated the volcanic eruption had the force of 10 megatons of TNT, NASA scientists told NPR. Tonga's resulting infrastructure and communication damages left the nation cut off from the world; airports were covered in ash, as well, grounding all flights in and out.
Video footage captured by the ABI instrument aboard the NOAA GOES-West satellite and shared by NASA showed the chilling Tonga eruption in full detail. While the official number of human fatalities totaled at least three deaths, the event, which was dubbed the largest blast of the 21st century, raised tsunami readiness alarms in the U.S. The event happened only a couple of weeks after a NOAA science advisory board warned the U.S. tsunami system is in need of a major technological overhaul. 
An eruption visible from space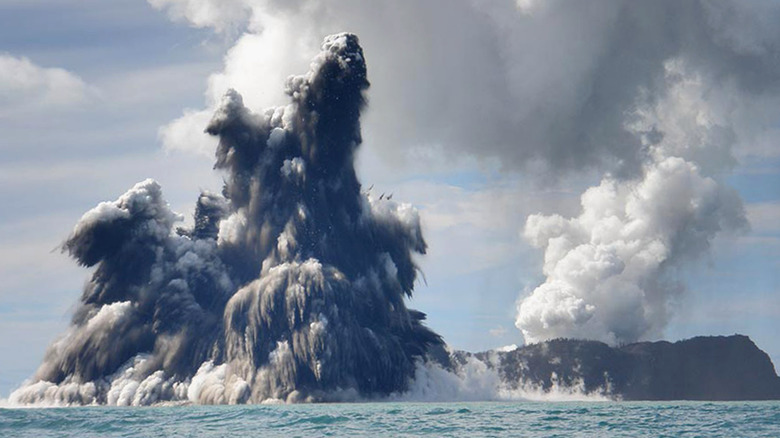 Getty Images/Getty Images
The short but intense NASA video of the Tonga eruption circled the world fast and quickly went viral. In the grey-toned footage, a mushroom cloud is seen expanding with incredible force to form a perfect sphere. A column of ash rapidly climbs into the sky. The underwater volcano surrounded by the ocean erupts, breaking the surface. Instantly, the atmospheric shock from the burst pushes clouds and ocean waters away from the eruption's epicenter. A tsunami moving in all directions soon follows.
NASA explains the video was taken with the GeoColor and Multispectral-blended infrared filters found on the GOES-East Advanced Baseline Imager ABI. The space agency was ready to capture this footage because the Hunga Haápai Volcano had been showing warning signs of an imminent explosion for weeks. The eventual eruption triggered a debate over how prepared tsunami warning systems are for similar future events. One of the greatest lessons learned in the aftermath of the 2004 Indian Tsunami, which killed 225,000 people in 12 countries, is the consequences of deficient early warning tsunami systems.
Amid all of this, NOAA tsunami experts say current early warning systems in the U.S. have gaps, issue contradictory warnings, and are in desperate need of both hardware and software updates. Ultimately, the shocking video taken from space by NASA is more than incredible historic footage — it is a display of technology that can be put to work to save lives.