Samsung Could Make A Major Change To The Galaxy S22 FE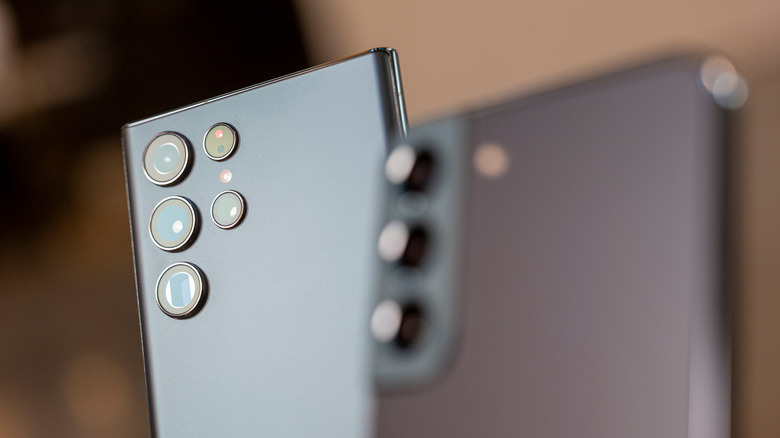 Bloomberg/Getty Images
MediaTek is not a name you usually associate with high-end phones and flagship-grade performance. And even though the Taiwanese chipmaker has released some compelling hardware of late that rivals some of the best smartphone chips available today, the company still doesn't seem to have the same brand recall as Qualcomm. That, however, may change later this year thanks to a massive endorsement from none other than Samsung. 
According to a report by Business Korea, Samsung is contemplating using one of MediaTek's most powerful chips on many of its future flagship-grade smartphones. Among the devices rumored to get MediaTek chips is the Samsung Galaxy S22 FE (likely to be announced later this year), and the all-important Samsung Galaxy S23 series, that isn't due until next year.
If this report – which is still an unconfirmed rumor – turns out to be true, it would be a watershed moment in MediaTek's history. Samsung has traditionally limited itself to sourcing low-end and budget chips from MediaTek, which were typically used on Galaxy M series and A series devices. A step-up to the Galaxy S series device would open up a larger customer base for MediaTek and give a significant fillip to the company's brand recall in the West, where people continue to associate MediaTek with poor performance and low-end phones.
It remains unclear at this point whether Samsung would continue to ship Qualcomm variants of its flagship phones alongside their MediaTek variants – which would mean that MediaTek would effectively be doing what Samsung's Exynos-branded SoCs have been doing for several years now. The report states that Samsung intends to use MediaTek chips on half of the Galaxy S22 FE smartphones it intends to ship. For the Galaxy S23, the MediaTek-based devices could be restricted to some Asian markets, the report adds.
Samsung ditching Exynos altogether?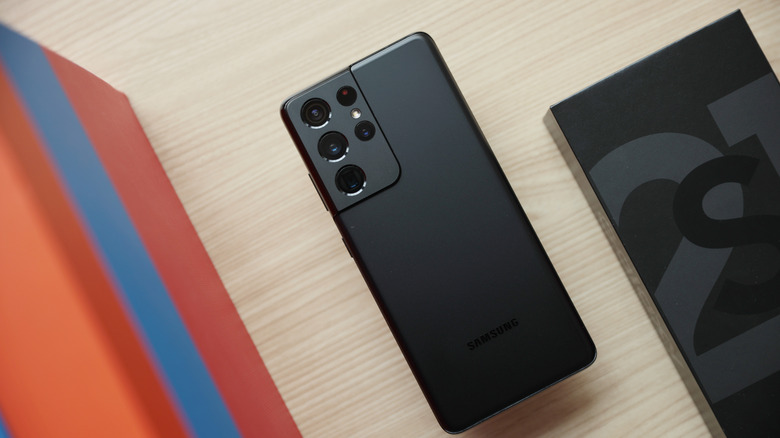 Jack Skeens/Shutterstock
If Samsung's partnership with MediaTek goes ahead as planned, it will be a massive blow for Samsung's semiconductor division — the entity that designs and manufactures Exynos chips. Samsung's Mobile division has been bearing the brunt of all the negative publicity caused by the various performance issues that Samsung Semiconductor's Exynos chipsets have been infamous for. These chips have traditionally lagged behind Qualcomm's flagship Snapdragon chips, and it seems Samsung Mobile has had enough. With MediaTek's new chips — the MediaTek Dimensity 9000 — nearly matching the performance offered by Qualcomm's Snapdragon 8 Gen 1 chip, Samsung's decision to rope in MediaTek to power its next-generation flagships seems like a logical move.
Even Samsung's newest flagship phones from the Galaxy S22 lineup haven't been free of performance-related issues. To keep the performance issue under check, Samsung shipped its phones – both Qualcomm and Exynos variants – with a preinstalled software called Game Optimization Service (GOS) that worked behind the scenes to reduce performance and keep the thermals and other performance aspects in check. What annoyed users, however, was Samsung's cheeky move that stopped the GOS service when the user ran benchmarking apps. The issue snowballed into a massive controversy for which Samsung had to issue a formal apology to its shareholders. The company was also compelled to issue a software update that disabled GOS on all affected phones.
The GOS issue most likely proved to be the last straw for Samsung's Mobile Division because the problem impacted Exynos variants of the Galaxy S22 in a significantly worse and more noticeable manner. If Samsung Mobile takes the significant decision not to use Exynos chipsets on its future flagships, it would be a difficult road ahead for Samsung's chipset business.