2023 Honda HR-V Taps Civic For A Bigger, Smarter Crossover SUV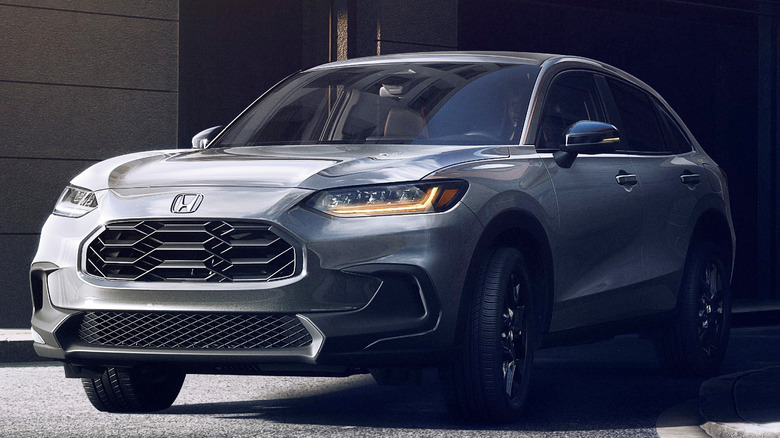 Honda
Honda has revealed its new 2023 HR-V, with the smallest SUV in the automaker's line-up promising to punch above its weight — and size — with tech and more borrowed from the latest 11th generation Civic. Longer and wider than its first-gen predecessor, the new HR-V is set to arrive at Honda dealerships in the US in summer 2022. It's been a full seven years since we first drove the original HR-V, all the way back in 2015. Then, Honda's compact SUV promised something relatively unusual in its rapidly-growing segment, with a starting price under $20k and ingenious packaging strategies borrowed from its Fit hatchback sibling.
Fast forward to 2022, though, and the category is altogether more competitive. Small, affordable crossovers are far more prevalent, and sales have only increased. Honda's second-generation HR-V needs to raise its game, and for that the automaker has turned to its award-winning Civic for some underlying magic.
Honda's 2023 HR-V features more aggressive styling, more practical space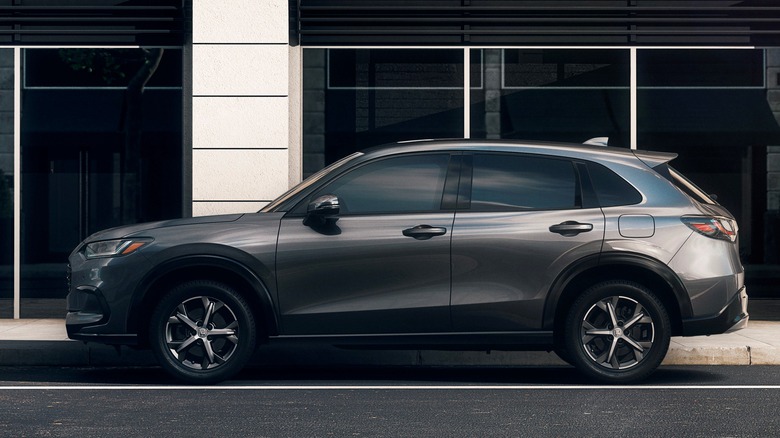 Honda
Where the previous HR-V was based on the Fit platform, this 2023 HR-V uses the 11th generation Civic architecture. That brings with it a longer wheelbase and a wider stance, for a start, plus a longer hood. The resulting combination emphasizes the swooping roofline, but more importantly should mean a more practical crossover overall.
At the front, there's a new grille design with more angular, aggressive headlamps. Gone is the somewhat cutesy appearance of the previous-gen HR-V, in favor of sharper creases and an unusual hexagonal grille mesh. Wider-set taillights echo the front lighting signature, with LEDs used front and rear. There's also a tailgate spoiler, though that's not the only aerodynamic flourish for the second-generation of the HR-V. Honda has tucked the windshield wipers under the hood line, for example, making for a cleaner appearance along with cleaner airflow.
The big details are still to come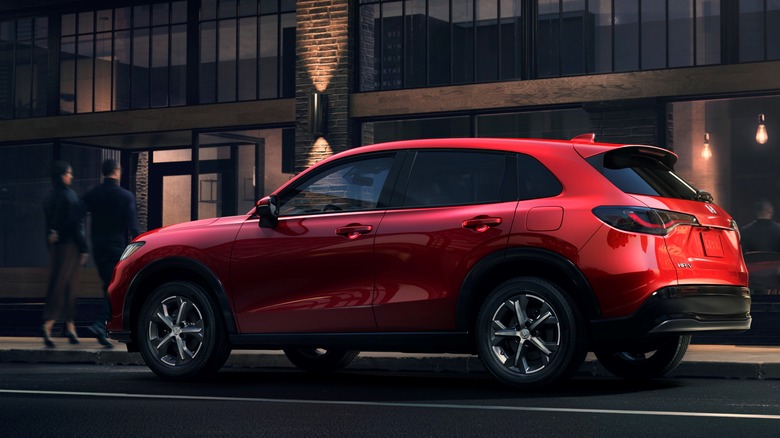 Honda
Certainly, starting with the underpinnings of the newest Honda Civic is no bad idea. Honda's compact has proved to be a hit in pretty much all of its current forms: sedan, hatchback, and Civic Si. Soon, meanwhile, the 2023 Civic Type R will be raising the stakes for performance, too. The 2023 HR-V is unlikely to go in the same sporting direction, but that's not to say some of the other Civic hallmarks haven't been carried over. Visibility, for example, should be improved on the crossover by virtue of Honda shifting the side mirrors to the doors, while the HR-V's cowl is lower too.
As for details like engine, interior, trims, and pricing, Honda says we'll find those things out over the coming months. The new Honda 2023 HR-V is expected to go on sale at some point in the summer of 2022.