Microsoft Edge Vs. Google Chrome: Which Should You Use?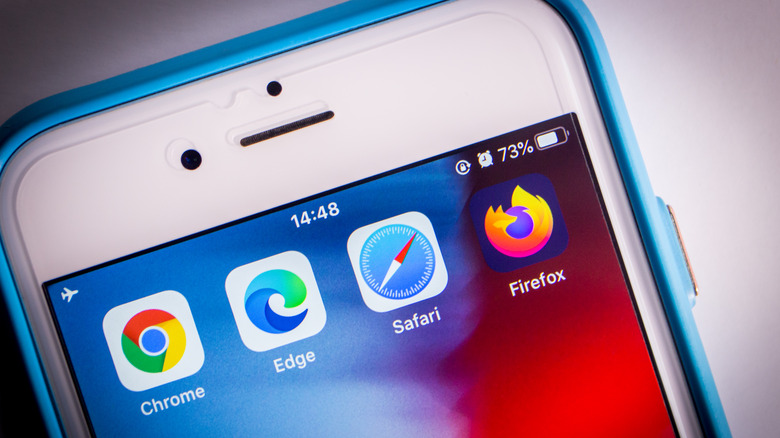 Koshiro K/Shutterstock
Microsoft Edge and Google Chrome are both highly modern web browsers that are accessible on most modern computers. Both web browsers can take you virtually anywhere you'd like to go on the web with a few exceptions, and both are relatively easy to use and are chock full of useful features. On most computers and mobile devices, neither eats up a ton of system resources if you're reasonable with how many tabs you leave open. Of course, not everyone (myself included) is all that reasonable when it comes to opening a bunch of tabs for work, and as a hardcore Chrome user, it's compelling to consider whether or not it's better to switch to Microsoft Edge as my regular work browser while multitasking.
Furthermore, you might be interested in understanding the specific differences between these two browsers for your own needs. Sometimes, you may come across a website that only works with Google Chrome or Microsoft Edge, respectively, which makes it worth at least having both installed on the same device. This comparison guide explains the subtle differences between both browsers, comparing the specific ways that they stand apart in categories such as performance, design, security, and cross-platform continuity for ease of access to websites you've recently visited.
What is Google Chrome?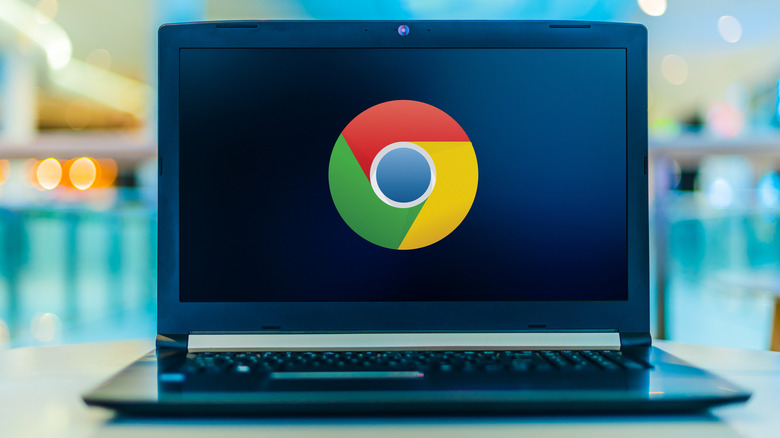 monticello/Shutterstock
Google Chrome is Google's premier web browser, initially released for Windows XP on September 2, 2008, as proprietary freeware. It is now the most widely distributed web browser across the entire web, available on the vast majority of computing devices including iPhones, iPads, Android tablets, Linux computers, iMacs, Windows computers, Chromebooks, and pretty much any laptop. It was the first browser to introduce many of the modern features that now exist in other browsers, such as custom extensions to expand its capabilities, and cross-device syncing which means you can, for instance, pick up your phone and continue reading a page where you left off on your PC.
In the time since its inception, Google Chrome's minimalistic layout and wide compatibility (and customizability) have attracted the adoption of most internet users at some point; peaking at 72% of all internet users in late 2018. By spring of 22%, that number was down to 64.91% of internet traffic according to StatCounter's live tracker. Chrome is still the most used web browser worldwide, by a margin of at least 50% of all web users –- Apple Safari comes in second place with a 9.77% adoption rate as of the writing of this guide.
What is Microsoft Edge?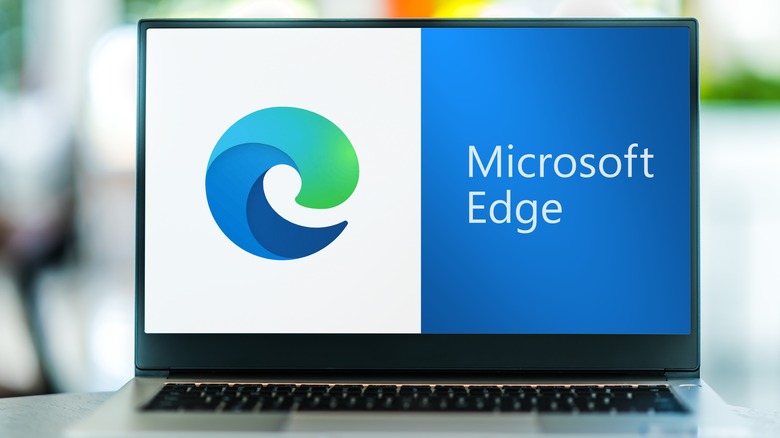 monticello/Shutterstock
Microsoft Edge is basically Internet Explorer 2.0, but far less clunky. In a way, it's Microsoft's direct response to Google Chrome, and the result is a much smoother browsing experience over what used to be a genuinely stiff and often unsafe browsing experience in the now deprecated Internet Explorer –- which is why so many users opted into immediately downloading Chrome or Mozilla Firefox on new Windows computers and setting that to their default browser, abandoning Internet Explorer.
Microsoft Edge is actually worth using, though, and as a default on Windows 10 and 11 computers, you don't need to download and install anything else to get the best browsing experience. Like Google Chrome, Microsoft Edge has cross-device compatibility across every major type of device listed previously minus Linux and Chromebook. Linux support is being tested, but there is no planned Chromebook support at all. For Windows users specifically who haven't upgraded to Windows 10, Microsoft Edge works on Windows 7 and up.
Layout and Presentation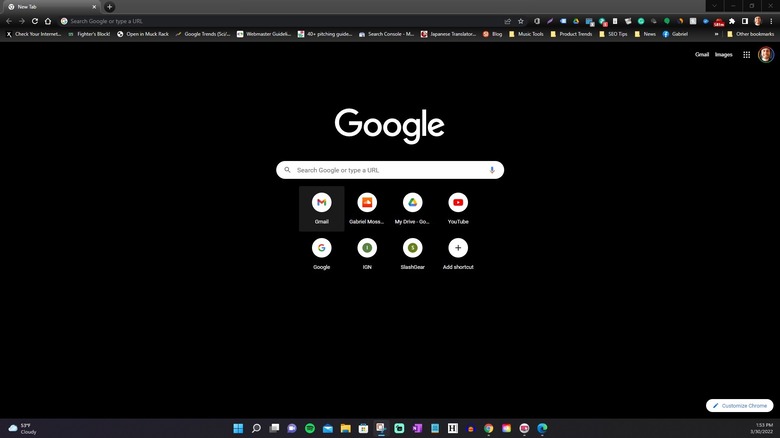 SlashGear/Google
Google Chrome and Microsoft Edge both have pretty similar layouts. Both browsers contain top bars for bookmarks and extensions, respectively. The major difference is what accompanies those bars on the uppermost right side of the screen. Whereas you'll log into your Google account in Chrome, you instead log into your Microsoft account in Edge. Those accounts are where all of the pertinent info about each respective browser is stored, so you'll want to keep things synced up at all times.
The three dots next to your profile picture (in both browsers) open identical menus, albeit with some variation. Chrome is a little bit simpler up-front, and all of its advanced features are hidden away in its "Settings" menu. This makes for a much cleaner and easier appearance; once you actually need to do something specific, the "Settings" menu outlines each individual tab on the left side of the screen. Complicated options are clearly demarcated under an "Advanced" tab.
Microsoft Edge places all of these things in front of you, and as a result, can seem a little more cluttered or complicated. It isn't hard to figure out, per se, and it does spend some time attempting to tour you through its features and settings, but it is less visibly appealing than Google Chrome. Both Google Chrome and Microsoft Edge allow you to install custom themes that alter the appearance and layout of your browser of choice to match your taste across multiple devices.
Resourcefulness and Performance
Google Chrome can be a resource hog if you use it often and keep many tabs open at once. Microsoft Edge can also be a resource hog. Both browsers will attempt to run in the background after closing all tabs until you manually exit them, and that can also drain your system's resources if you let them run indefinitely. The caveat here is that Microsoft Edge is marginally faster than Google Chrome because it eats a smaller amount of RAM. You're also given an option to toggle a CPU-friendly "Efficiency mode" in Edge.
Chrome was also originally pieced together with Apple WebKit software components, but it now runs on its own proprietary Blink engine everywhere except for iOS. This is why it's so flexible, though it's known to be a performance hog when running a high volume of tabs on computers with a low amount of installed RAM. Generally, the sweet spot for efficient multitasking is 8 gigabytes of RAM or higher. Google Chrome has been said to run faster on systems with more RAM, but it seems to scale RAM usage up slightly with the amount of RAM installed. For example, Linus Tech Tips plugged Chrome into a PC with over two terabytes of RAM installed in 2020 and discovered that it occupied a whopping 2.5 gigabytes of RAM while idling.
Features and Extensions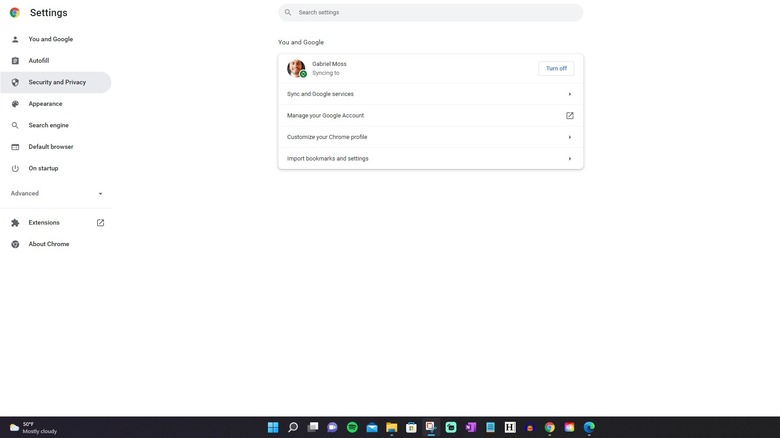 SlashGear/Google
Both Microsoft Edge and Google Chrome have a (largely similar) variety of quality-of-life features and settings, and both can use many of the same extensions. In fact, you can import a significant number of your extensions from Google Chrome to Microsoft Edge. Extensions can be anything from "Grammarly," which improves your writing and spelling by giving you suggestions on the fly, to "Strict WorkFlow," an applet that blocks certain websites for a specific period of time.
You can customize your bookmarks in a bookmarks tab on the top bar in both browsers, but Chrome features an optional reading list and bookmarks column that lets you quickly navigate through your bookmarks on any page. It also has a button on the upper right corner of the screen where you can control your open media tabs, such as YouTube videos, without navigating back to that specific tab. It's neat if you have many windows and tabs open. Chrome can also output to Chromecast devices.
Edge has a few nifty features of its own, including the "Collections" menu that allows you to organize your own collection of websites based on name and type. You can also plug your collections into Pinterest, which sends you recommendations for new websites based on the ones you've already included. It also contains a "Read Aloud" feature that makes webpages more accessible, and a built-in "Editor" that essentially mimics "Grammarly" using Microsoft's own proprietary AI.
Security, Privacy, Cross-Device Compatibility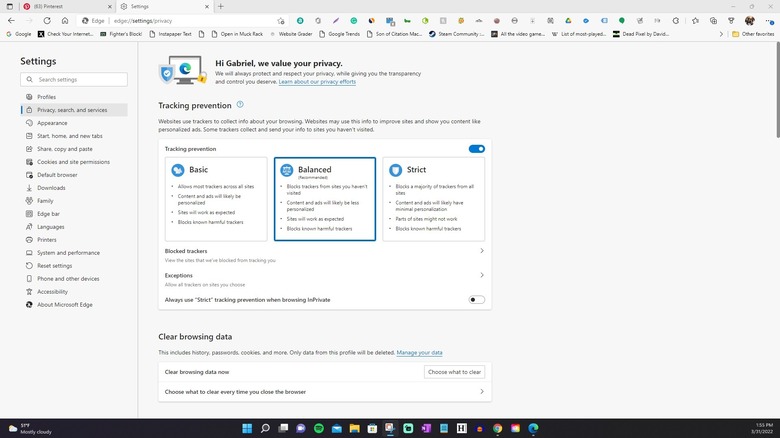 SlashGear/Microsoft
Microsoft Edge and Google Chrome both have security settings, and both Microsoft and Google keep things simple: Once you navigate to the "Privacy, search, and services" tab on Microsoft Edge or the "Security and Privacy" tab on Google Chrome, you're given three big options that contain descriptions with regards to the exact functions they change within your Microsoft Edge or Google Chrome browser.
Microsoft Edge is known to have a more sophisticated internal firewall that speaks to Microsoft Defender SmartScreen, which is more capable of protecting your device from being targeted by bad actors while browsing the web.
The major downside to relying on Google Chrome's Enhanced Security feature, however, is that it's based entirely around giving your personal data to Google. Microsoft doesn't force you to make a decision over whether you're comfortable forwarding your data, it simply gives you more protection when you choose the more stringent security option. However, it can get a little pushy about keeping itself as your default browser.
Google Chrome and Microsoft Edge can both store and sync everything from bookmarks to passwords used across the web, and both browsers allow you to pick up anything you were previously viewing on a different system, provided that you're logged into your account and syncing is enabled. What is stored and synced can also be specified inside of a menu, and this is the case for both browsers as well.
Which should you use?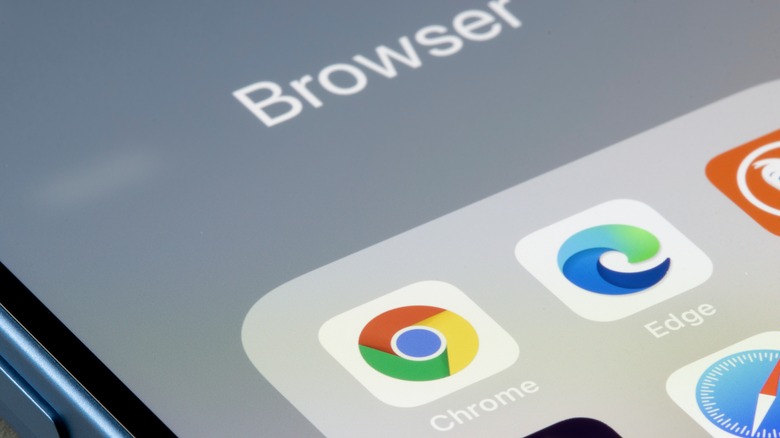 Tada Images/Shutterstock
You really can't go wrong with either browser in most instances, but it does seem like Microsoft Edge is a more accessible browser for working on, and this comes down to three things: the stronger security options, the handy website Collections menu, and the slimmer footprint on system resources.
On the other hand, heavier recreational use, including reading articles on the internet and consuming media such as YouTube videos, is probably more enjoyable to do in Google Chrome, which has a bookmarks side panel and media control bar in its desktop version. Though there is that concern about how much of your data you're willing to hand over to Google to get the best and safest experience.
If a few of Chrome's key issues don't bother you, and that may differ greatly by person or by system (older systems really should default to Microsoft Edge,) there isn't a huge amount of difference between the actual moment-to-moment experience of using both of these easy-to-use browsers. Some websites may require you to load one or the other, so it's good to have both of them at least installed onto each of your devices. At the very least, we're no longer forced to use Internet Explorer anymore, so that's an automatic win for everyone.