How To See The Total Cost Of Your Steam Library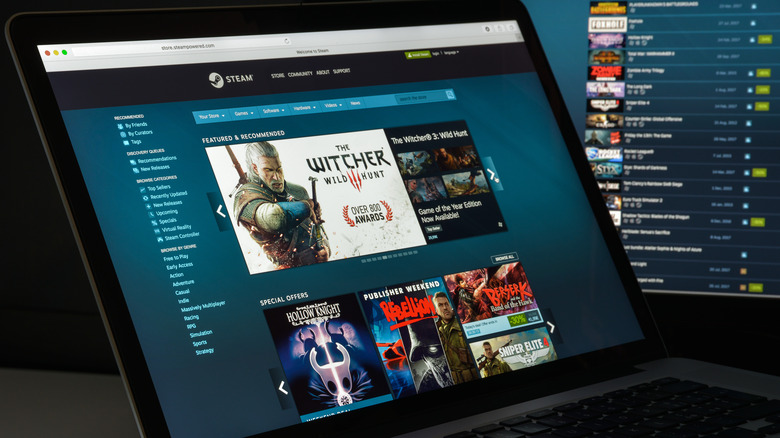 Casimiro PT/Shutterstock
Steam is a digital video game distribution service and storefront that was originally launched by Valve in 2003. It currently hosts more than 60,000 games and averages 69 million daily active users at any given time. It's arguably one of the most successful gaming platforms in the industry today. If you're a PC gamer, chances are you have an active Steam account right this minute.
It shouldn't come as a shock that a great deal of money is being generated by the sale and distribution of these PC games, especially since the beginning of the pandemic. In fact, based on Steam's "2021 Year in Review," the platform saw a 27% increase in spending compared to the previous year. 
Valve has a simple way to check the amount of cash you've spent purchasing games from Steam over the years, broken down into a few simple categories in a system called "External Funds Used." This information portal is very basic, which is unfortunate for those that wish to get a good idea of when they've spent their money, or exactly how they've spent their money on the platform. For example, Valve does not include any data on how many Steam Sale events you've participated in over the past decade.
Instead, this system displays the cash you've spent on Steam in very basic terms — which can still be surprising, if not simply intriguing. And even if you're not all that interested, your spouse or significant other might be — in which case you may want to avoid this priceless bit of information altogether, and let sleeping dogs lie.
How to check your Steam spending totals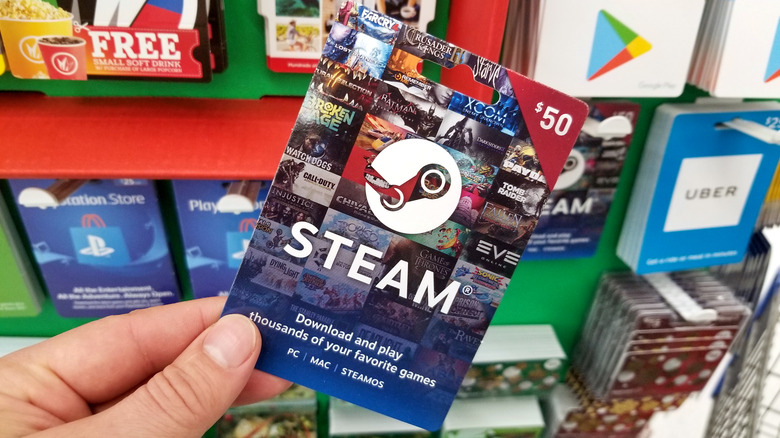 dennizn/Shutterstock
To find out just how much you've contributed to Valve's coffers, use your browser of choice to log into Steam's website (have your login info handy) and head to the platform's External Funds Used page. If you'd rather use Steam's desktop app, take the following steps:
Move your cursor to the upper left corner and click on Help.
Click on Steam Support.
Go to My Account.
Click on Data Related to your Steam Account.
Scroll down and click on External Funds Used.
Both pages show the same information, including TotalSpend, OldSpend, PWSpend, and ChinaSpend. The TotalSpend figure shows the total amount of external funds linked to your account, while OldSpend shows money spent before Friday, April 17, 2015. If your account was ever linked to the "Perfect World" system attached to "Counter-Strike: Global Offensive" or "Dota2," you'll see an amount registered to PWSpend. The ChinaSpend figure refers to all money connected to Steam China. 
You'll need a Steam account with at least a few games purchased with what Steam refers to as "external funds" in order to see totals on this page. You'll only see figures in this system if you made purchases directly through Steam using credit or debit cards or with funds from your Steam Wallet. Games obtained with codes from outside sources or purchased through other portals (i.e., Humble Bundles, Kickstarter, etc.) do not contribute to the cash amounts shown.
Hopefully, you won't be too shocked by what your Steam habit has cost you so far.