Microsoft Just Overhauled Its Android On PC Experience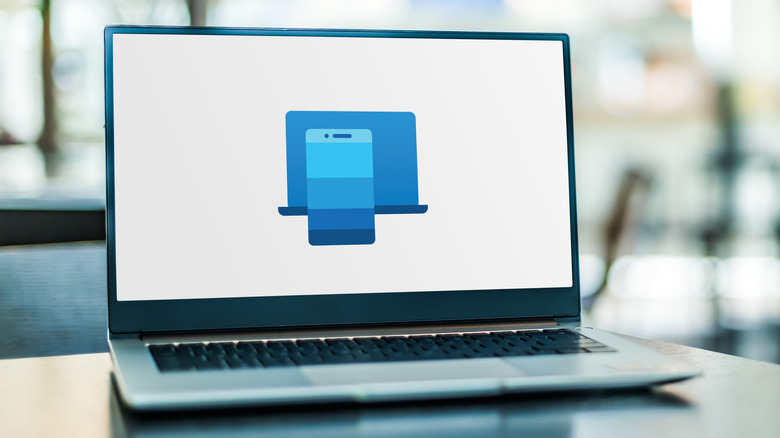 monticello/Shutterstock
In an ideal world, Microsoft would have its own smartphone line and a mobile OS that integrates deeply with its Windows operating system. That almost came to be — or, at least, was prefigured in the last iteration of Windows 10 Mobile on the Lumia 950 XL and the HP Elite x3. Both smartphones were intended to showcase Microsoft's vision of Continuum, which turned the phones into a desktop in a way similar to Samsung DeX. Of course, that's now just a footnote in history and Microsoft has given up all hopes for its own mobile ecosystem. 
The company has been working hard to integrate Android functionality into Windows, however, primarily by providing access to files, apps, photos, and notifications on your phone through a desktop or laptop. That functionality has been around for a few years now in the form of "Your Phone," but Microsoft is giving the technology a facelift and, at long last, a more appropriate name.
Your Phone app reimagined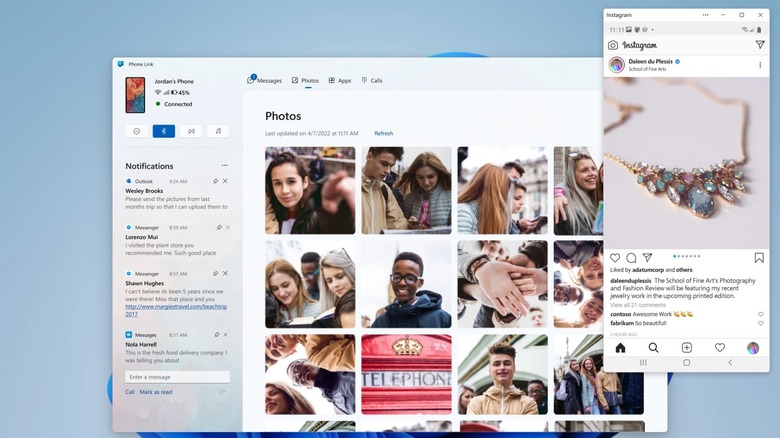 Microsoft
The brains behind these features over at Microsoft might have been exhausted trying to think of a marketable name, as they ended up with something so generic that it's hardly worthwhile. "Your Phone" not only sounds awkward, but it's also difficult to insert in sentences without the quotes. Fortunately, Microsoft has finally given up and is calling it "Phone Link" instead. The Android companion app, on the other hand, will be called "Link to Windows," which is the term Samsung has already been using.
In a nutshell, Phone Link allows you to access some aspects of your Android phone on your Windows PC without having to retrieve the handset from your pocket or bag. Those aspects include accessing photos and messages, copying and transferring files between devices, and seeing notifications so you won't miss a thing. For some phone models, you can even access Android apps right on your PC, though they're actually running on your phone.
"Your Phone," now Phone Link, has grown in features over past years to the point it has gotten a bit cluttered. To address that, the new update adds a tabbed interface so you can more easily get to the content you want with fewer clicks and scrolling. As before, you can also filter out notifications and even reply to messages with your PC's keyboard.
A rose by any other name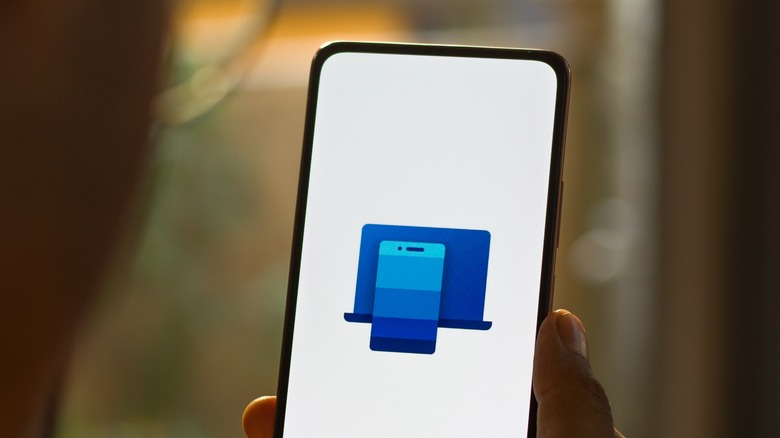 sdx15/Shutterstock
Phone Link is also getting a new appearance, one intended to match the new era of Windows. The desktop app will be adopting Windows 11's Fluent design language, complete with rounded corners and updated icons. To celebrate the fresh new look, Microsoft will also start using the same icon for the Phone Link desktop app and the Link to Windows Android app.
One of the biggest problems with Phone Link has always been its confusing phone support, as different brands and models have access to various, often different, features. For the longest time, Samsung and Microsoft's own Surface Duo enjoyed the best support, which included being able to run Android apps from the phone in their own PC window. This level of integration is finally coming to China via a new partnership with the former Huawei sub-brand Honor. That said, only the Honor Magic V, Magic 4, and Magic 3 series are supported, but more are promised to come.