How This NASA Astronaut Just Broke A Record With Russian Cosmonauts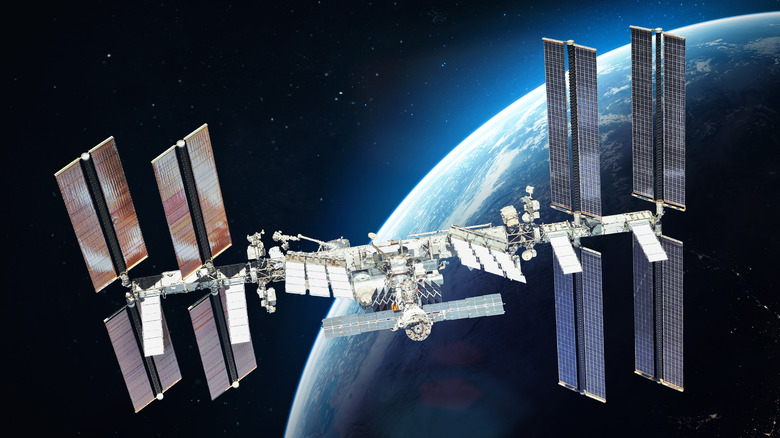 Dima Zel/Shutterstock
On Wednesday, March 30, NASA astronaut Mark Vande Hei returned to Earth after spending nearly a year aboard the International Space Station (ISS). While his trip back would have been considered a routine event under normal circumstances, that certainly wasn't the case this time around.
Mark's return to terra firma comes at a time when the relationship between the U.S. and Russia is at its lowest point in several decades. In fact, the war in Ukraine almost completely overshadowed the fact Mark had spent 355 days onboard the International Space Station — setting a new U.S. duration record for a single spaceflight in the process. The previous U.S. record was for a 340-day stay by astronaut Scott Kelly back in 2016, again aboard the ISS. Accompanying Mark on his trip was Russian cosmonaut flight engineer Pyotr Dubrov, who spent the same amount of time in space.
According to NASA, during his 355-day stay onboard the ISS, Mark completed approximately 5,680 orbits of the Earth, traveling a staggering 150 million miles in the process. This is equivalent to making 312 trips to the moon. The astronaut had been tasked with conducting various scientific activities on the ISS, ones that ranged from plant research to physical sciences studies.
Where and how did Mark land?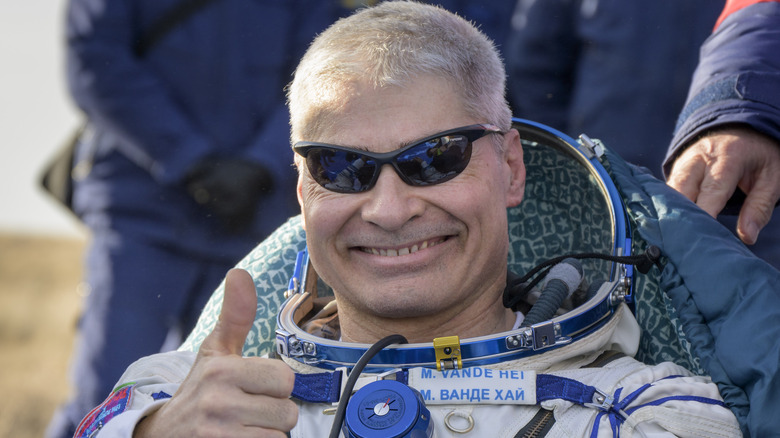 Bill Ingalls/NASA/Getty Images
Mark came back to Earth on board a Russian Soyuz spacecraft that landed in the former USSR state of Kazakhstan, where Russia operates a cosmodrome. Accompanying him on the ride back home were Roscosmos cosmonauts Anton Shkaplerov and Pyotr Dubrov. The return trip started at around 3:21 a.m. EDT, and the trio managed to perform a safe landing nearly four hours later somewhere near the remote town of Dzhezkazgan.
Fortunately, there were no signs of geopolitical tensions during the entire sequence of events — something that was seemingly inconceivable just weeks ago. The crew will undergo statutory post-landing medical checks, following which they will be transported onboard Russian helicopters to the city of Karaganda in Kazakhstan. From there, the trio will go their separate ways, with Mark boarding a NASA plane that'll bring him back to the U.S. following a layover in Cologne, Germany.
Future missions are in limbo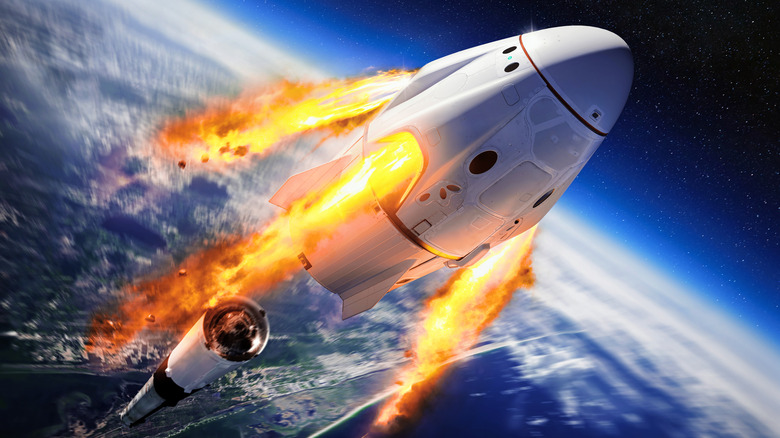 Evgeniyqw/Shutterstock
A lot has changed since Mark entered the ISS in April 2021. While relations between the U.S and Russia were less than friendly at that time, they hadn't yet reached the point where the two countries considered ending their existing space collaboration.
Things took a turn for the worse in mid-February after Russia began a military campaign against Ukraine. That move, and the resultant conflict, saw diplomatic relations between the two countries sour, something that was expected to negatively affect NASA's collaboration with Roscosmos.
There were also concerns about the ISS's future after Roscosmos chief General Dmitry Rogozin took to Twitter and sent veiled threats against the U.S., reminding everyone that Russia controls the thrusters keeping the ISS in orbit, perhaps insinuating the country could, at any time, cause the ISS to crash land on Earth.
Additionally, with NASA dependent on the Russia-operated Soyuz spacecraft for Mark's safe return, there were concerns about the Russian government using him as a bargaining chip. While all this may sound preposterous now, a little over a month ago, nothing seemed off the table.
While Mark's safe return to Earth looks like a step in the right direction, there's still a cloud hanging over future missions that'll involve both Russian and American participants. Russian cosmonaut Anna Kikina is scheduled to be part of SpaceX's Crew-5 mission in September 2022. Similarly, NASA astronaut Frank Rubio was expected to travel to the ISS onboard the Soyuz aircraft later this year. It remains unclear whether these missions still have the go-ahead.