Redmi Note 11 Pro+ 5G Review: Baby Steps Forward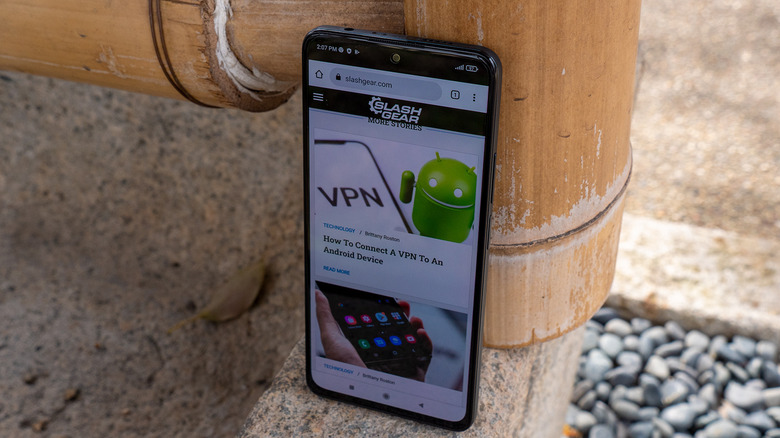 Ewdison Then/SlashGear
Bring on the confusion! Xiaomi started 2022 with a lot of noise, announcing the latest lineup in its Redmi brand of affordable mid-range phones. The Redmi Note 11 lineup already had four models to its name, but who says you can't have one more? There is very little to differentiate the Redmi Note 11 Pro 5G from the Redmi Note 11 Pro+ 5G (note the "plus"), but the company decided to go one step farther and launch two versions of the Redmi Note 11 Pro+.
Fortunately, the distinction really only matters for Redmi customers in India who might feel they're getting the short end of the stick. In a simple spec-by-spec comparison, the global version of the Redmi Note 11 Pro+ 5G definitely promises a lot, but does it actually deliver? We took the handset for a spin to find out if it's worth shelling out extra money for Redmi's highest offering so far.
The design and feel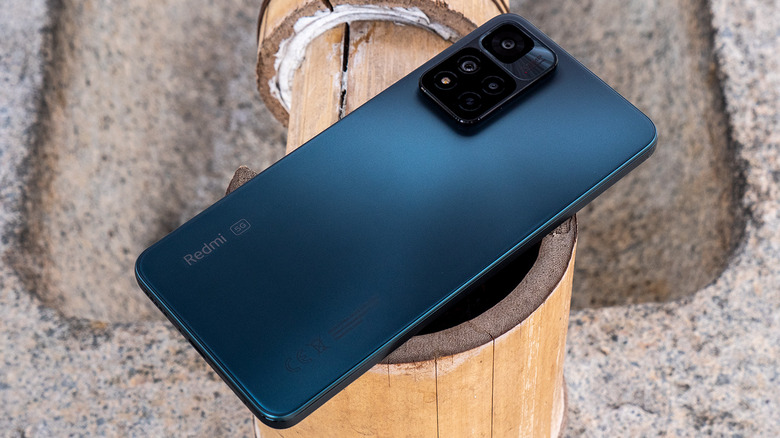 Ewdison Then/SlashGear
Smartphone designs these days have gotten bolder and more audacious, and that's not always a good thing. As camera sensors and lenses grow in size and complexity, manufacturers have pretty much given up on trying to mask the size of their camera bumps. There are, of course, still some tasteful ways these companies have tried to make the bumps less glaring, but the Redmi Note 11 Pro+ apparently didn't get that treatment. In fact, this particular global model stands out from its siblings, and not in a great way.
Instead of the two-step elevation found on the other Redmi Note 11 models, this Pro+ is a single large block. While that does remove the rather awkward and uneven design of the camera bump, it also means that the rest of the camera array has to rise to the same height as the biggest sensor. The end result is a large rectangular block that sticks out from the rest of the body like a sore thumb, appearing like something that was tacked on after the fact. It doesn't try to blend with the rest of the phone, even with the Mysterious Black color.
This is a shame because the rest of the Redmi Note 11 Pro+ doesn't look as bad. The matte glass back manages to steer clear of fingerprints and smudges and provides a better grip than more slippery panels. The plastic midframe doesn't try to masquerade as aluminum, and its flat edges match the predominantly flat form of the phone. Flat is back, or at least smartphone brands following Apple's lead think so.
One particularly notable thing about the Redmi Note 11 Pro+ is its IP53 dust and water resistance rating. The construction definitely doesn't hold a candle to the highest IP68 grade that premium flagships flaunt, but it's better than nothing, which is what most mid-range phones have. Considering the cost involved in this certification, it's surprising Xiaomi spent money on this bullet point at all.
Display and audio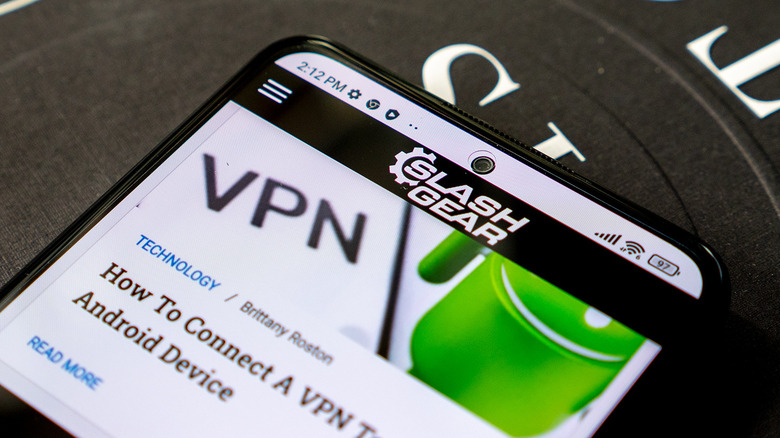 Ewdison Then/SlashGear
While the back of the phone has a design reminiscent of a teenager with a giant zit, the Redmi Note 11 Pro+ 5G's face is fortunately primed and ready for the spotlight. That's not surprising given the Super AMOLED panel, but small flaws here and there could still ruin the user experience. Fortunately, the 6.67-inch 120Hz screen delivers, except in one detail.
The screen is quite bright, both in auto and manual settings, and its colors really stand out as you'd expect. The fast refresh rate sadly applies only to a select few apps, and you really don't have much control over it. It only switches between 60Hz, 90Hz, and 120Hz, lacking the adaptive rate control that more expensive phones have. Still, those specs make the Redmi Note 11 Pro+ great for videos and games, as long as you aren't expecting HDR content.
Despite its theoretical maximum brightness and its wide color gamut, the phone strangely doesn't have support for HDR10. There's really no conceivable reason for the phone to lack support for this standard, as both the chipset and the display are more than capable of handling it. We'll just assume it's a cost-saving measure on Xiaomi's part, for lack of a better explanation.
When it comes to audio, the Redmi Note 11 Pro+ performs admirably but doesn't go out of its way to excel. The earpiece on the top doubles as a second speaker, but there is a set of grilles on the top edge that act as vents for sound to exit. This means audio from the stereo speaker setup isn't going to sound muffled and, as a result, is actually pretty loud. The 3.5mm headphone is a huge plus for some audiophiles, especially considering it is an endangered specie these days, even among mid-tier phones.
Performance and battery life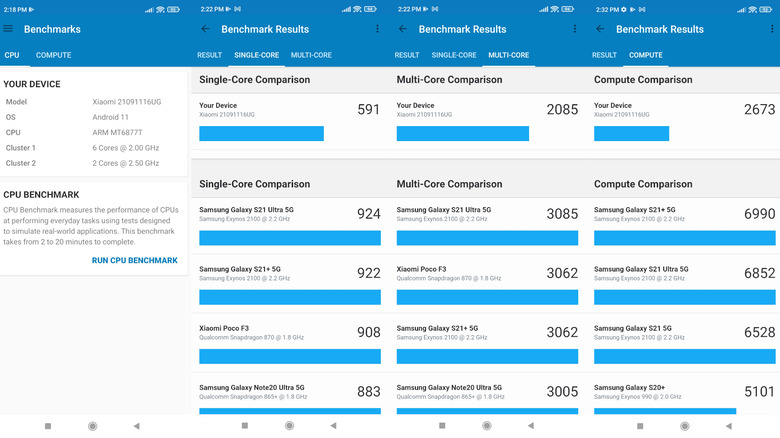 Ewdison Then/SlashGear
What really sets the Redmi Note 11 Pro+ apart from its siblings is its processor. The model ditches the perplexing Qualcomm Snapdragon 695 5G for a MediaTek Dimensity 920 5G from the same tier. MediaTek has received a lot of flak for its affordable yet underwhelming processors, but this is one area where it easily takes the crown from its rival.
In terms of raw performance and benchmark scores, the Dimensity 920 is on par with the Snapdragon 695 found on the other Redmi Note 11 models. It won't be blazing-fast, and you'll notice some games sputter once in a while, but it will get through most of your other tasks without any problem. The phone comes with 6GB or 8 GB of RAM, and MIUI 13 can add 3GB more, though the latter is taken from internal storage, of course. You can also expand the 128GB or 256GB storage with a microSD card, though you'll be giving up a slot for a nano-SIM in the process.
The one area where MediaTek's chip shines is in video-related content, particularly support for HDR formats and, more importantly, recording in 4K. That's why it's odd this Redmi Note 11 Pro+ doesn't have HDR10, but it at least addresses the most glaring flaw of the Redmi Note 11 series in the camera department. This version of the phone also supports NFC, something the Indian model lacks.
Another unique feature for the Chinese and global version of the Redmi Note 11 Pro+ is its battery. Admittedly, it has a smaller 4,500 mAh batter than even the "base" Redmi Note 11S, but it makes up for it with Xiaomi's fastest charging tech. With 120W HyperCharge, the phone can go from zero to full in a little over 15 minutes. Charging speed actually slows down closer to the 100% mark in order to prolong the battery's health.
Cameras and photos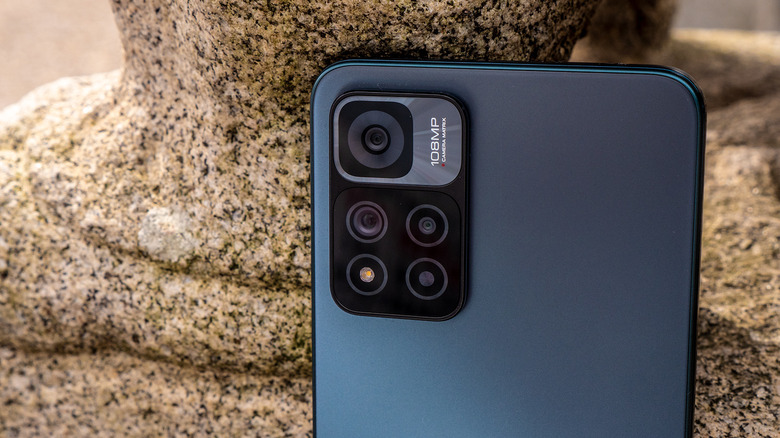 Ewdison Then/SlashGear
Xiaomi hasn't changed the camera formula since the Redmi Note 10. Actually, you might even consider this year's offering to be a downgrade. The company's reason for sticking with the 108MP Samsung ISOCELL HM2 main sensor is that it has optimized its performance to the point it is confident it can still deliver its desired results. That's probably another way of saying it is cutting down on costs by bulk ordering something it is already familiar with.
Of course, using a different processor means there could be some differences, but those differences are hard to discern. With ample lighting, the Redmi Note 11 Pro+ delivers good quality 12MP photos, but anything other than near-perfect scenes causes performance to plummet. While the camera software tries to compensate well enough, noise and the lack of detail delivers unremarkable or downright disappointing images.
This year, Xiaomi ditched the dedicated telephoto camera for some reason, forcing owners to rely on digital zoom instead. The main sensor does offer 2x optical zoom, but its performance is unsurprisingly worse during overcast days and when there's little light to work with. The model also sports a 2MP macro lens that might be fun for some people, especially those with extra steady hands, to make the best out of it.
The 8MP ultrawide camera has also remained the same and fortunately spits out photos that are at least on par with its specs. The 120-degree FOV is the widest among the Redmi Note 11 siblings, which results in a bit of distortion at the edges, despite the camera software's best efforts.
As mentioned earlier, this phone is capable of recording 4K resolution videos at 30 fps, an impossible feat for any phone running on a Snapdragon 695 5G processor. It still boggles the mind why manufacturers, including Xiaomi, have stuck with that silicon, especially if the Dimensity 920 5G delivers more for less. That said, no amount of processing power will change the fact none of the three cameras have OIS, so you better keep a steady hand when recording.
Software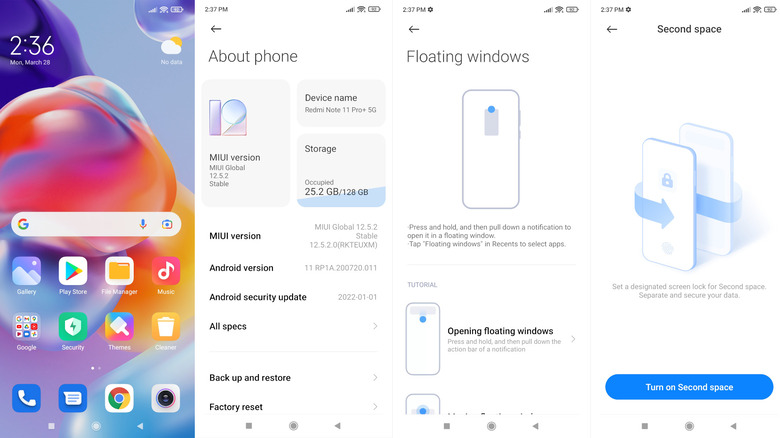 Ewdison Then/SlashGear
The Redmi Note 11 Pro+ 5G naturally runs Xiaomi's MIUI custom Android experience, but in typical MIUI fashion, it isn't as straightforward as it sounds. The phone runs MIUI 13, which, despite its name, is actually still based on Android 11. That creates a guessing game for would-be owners of this phone who wonder when it'll be upgraded to Android 12. If there's any upside, at least it's up to date on security patches (as of the January 2022 release).
The use of Android 11 might not mean much to Xiaomi fans, though, because MIUI 13 packs many Android 12 features, including floating windows, which offer miniaturized versions of apps that can be utilized while multitasking in other apps. This does mean you also get Redmi's special blend of bloatware, which you can, fortunately, uninstall to free up space.
Final take
Ewdison Then/SlashGear
The Redmi Note 11 series, with its four models, is undoubtedly Xiaomi's attempt to stand up to the iPhone 13 quartet with more affordable prices. Unlike those iPhones, however, the differences between the four models are so slim that it creates confusion rather than choice. The global version of the Redmi Note 11 Pro+ 5G does stand out from the others but, unfortunately, not entirely in good ways.
The phone's performance as a mid-range phone is unquestionable and is, in fact, quite decent. The camera bump on its back, however, is almost begging to have a case slapped on it the moment it comes outside of the box. The phone's camera quality is so-so and only notable for its ability to shoot 4K/30fps videos, assuming you're into that kind of thing. 
The biggest clincher, however, is its starting price of $299, which spans up to $330 for the highest configuration. Such inexpensive prices almost make all those small flaws and quirks bearable. You can always use the money you saved to buy a case that will at least make the Redmi Note 11 Pro+ 5G look more presentable.