2018 Audi TT RS Review: The Best Luxury Sports Car For The Money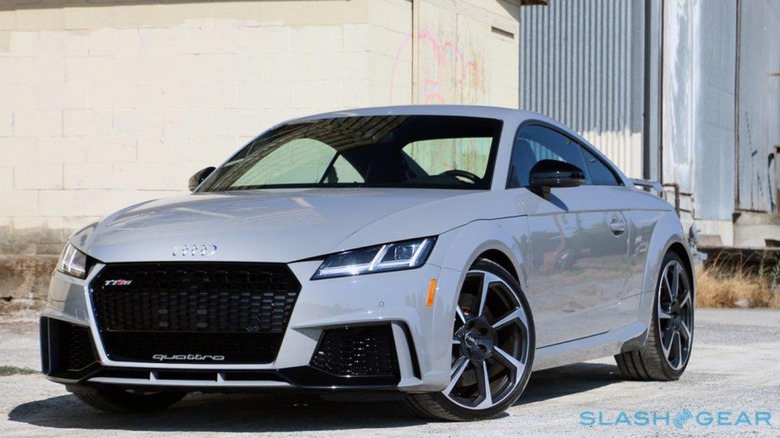 I've never been a fan of the Audi TT, the shape is too bulbous for my liking and I've found previous generations underpowered. So, it's fair to say I approached the 2018 TT RS with trepidation. Could this most-potent of the TT family win me over with its balance of practicality and performance?
I spent a week driving it around town, getting groceries — the trunk will fit a family of three's weekly groceries with room to spare — running errands, and even taking my daughter to daycare in it. Surprisingly it will fit a rear-facing car seat in the back, albeit getting baby in the back required some flexibility on my part, on par with that of a Cirque Du Soleil contortionist. And while the back seat was useable for the baby, no adult above five feet tall, and possessing legs, could possibly sit back there in comfort. Rear seat qualms aside, as the week went on the strangest thing happened.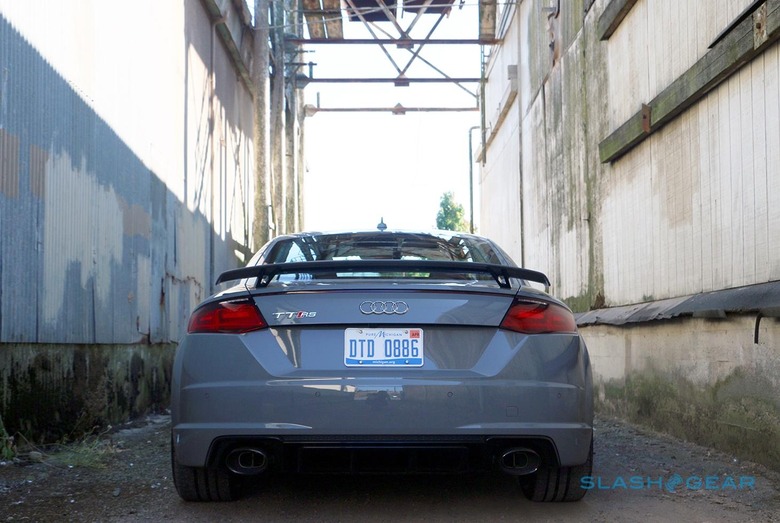 The TT RS started to grow on me.
With its compact size, Quattro all-wheel drive, and 2.5-liter turbocharged inline-five, it is fantastically maneuverable around town. It burbles nicely when you start it up, but isn't loud enough to get the neighbors complaining as you drive down the street.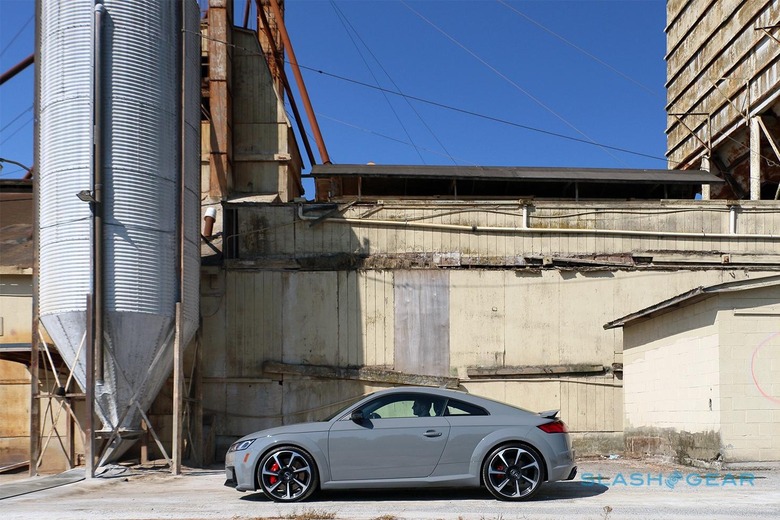 Audi claims it can reach 0-60 mph in only 3.6 seconds, not bad for a car starting at $64,900, and while I didn't time it myself, reaching 60 and beyond comes rapidly and it certainly felt that quick. In fact when you really push it to its limits it performs beautifully. Gripping tenaciously around corners, and growling in a pleasing way that lets other motorists know to make way.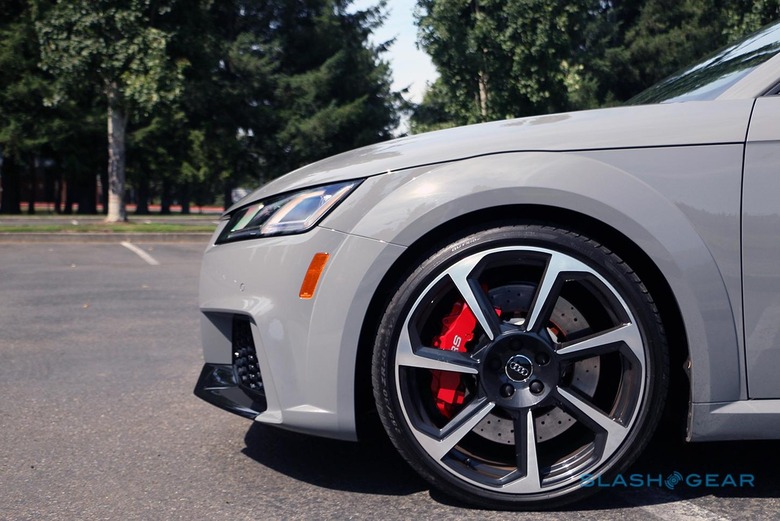 While most gear changes were as smooth as butter in day-to-day driving, I did experience some lurching gear changes from the seven-speed dual-clutch gearbox when increasing speed to overtake on the freeway, as it tried to work out what I was doing. On the whole, though, it was fairly refined. Mid-range torque wasn't quite as urgently present when in fully automatic mode, I'd guess to provide the average driver with a more comfortable experience, so I often put the TT RS in Sport Dynamic Manual mode, making each gear long and forgiving.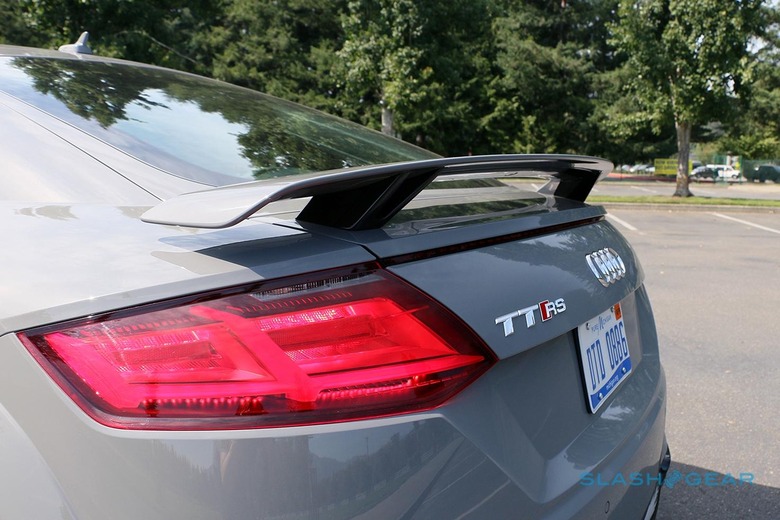 It's actually a very easy car to drive. Some sports cars feel overly challenging, edgy, temperamental, and frankly exhausting by the end of a long day. Conversely, Audi's TT RS certainly feels powerful around town, or on a day-trip through the mountains, but it's also refined, comfortable and downright civilized. There were only a few time where the suspension felt a little too stiff, and those moments were mostly the fault of local councils and their proliferation of potholes.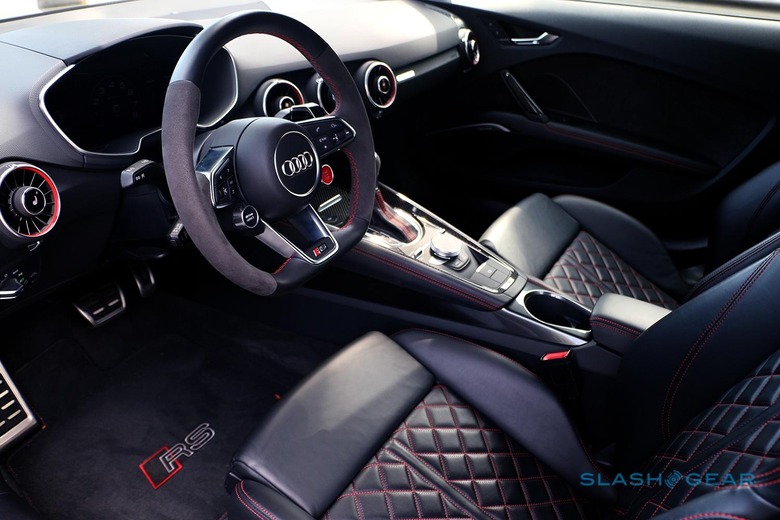 The Audi TT RS interior is distinctly crisp and modern without an excessive center console laden with buttons and knobs or screens. The vehicle I had was equipped with sporty black leather with red stitching and details, lots of Alcantara, and a touch of carbon fiber in all the right places. I did find the shift paddles set too far in to reach easily, even with my notably long fingers. When in Sports Dynamic mode, I moved between the paddle shifters to experience the differences, and while gear changes were immediate, the shifters didn't have much of a satisfying feel when flicking through gears.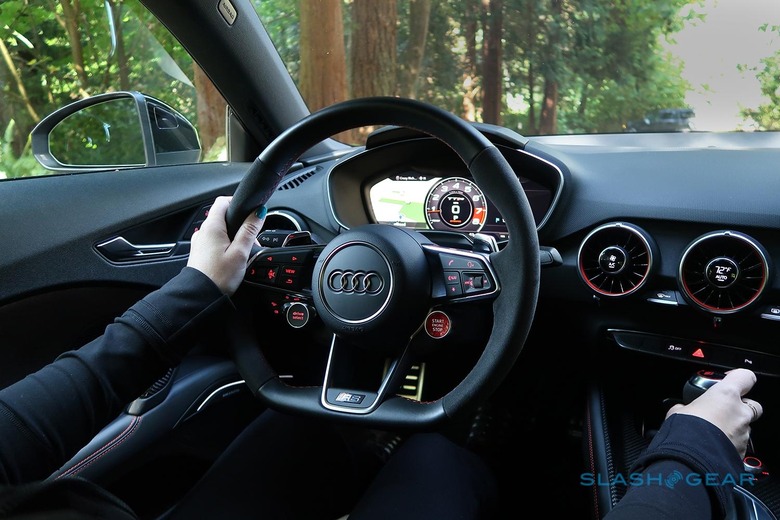 The infotainment system was also greatly improved over previous Audi cars I've driven, and I was pleased to find Apple CarPlay had been included. However, since there's no touch-screen, working your way through the menu felt onerous and not dissimilar to trying to operate your home computer using only the tab key. Former Audi owners will be familiar with this kind of operation on previous version of MMI; those new to it may not be so accommodating.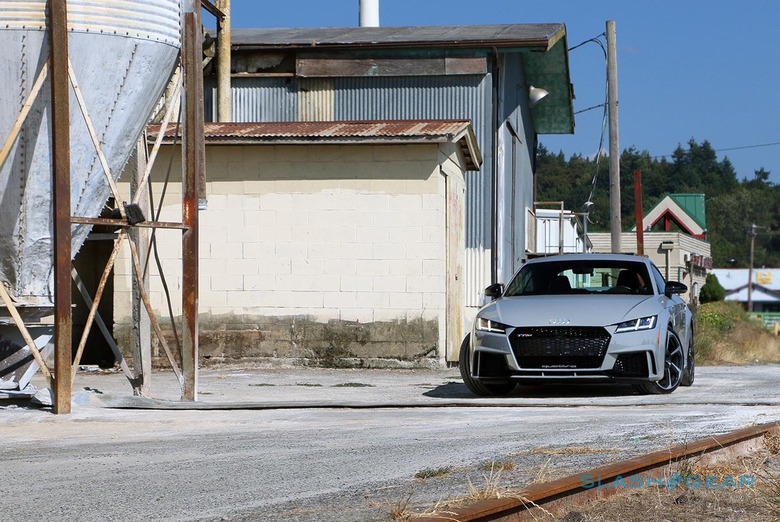 The Bang & Olufsen sound system was excellent, and handled everything from the sunny vocals of the cast of La La Land (my daughter's current favorite) to the throbbing bass of Underworld's dance anthems. I often had the sound system cranked as the road noise was certainly discernible.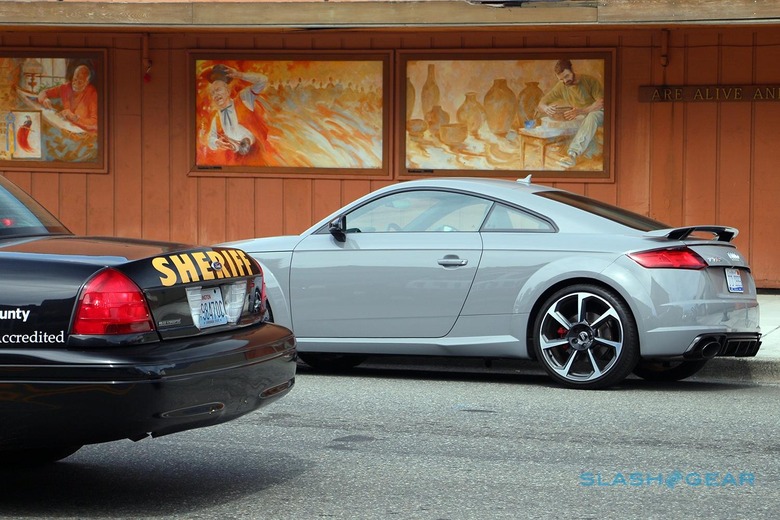 While I'm still not in love with the exterior design, it has definitely been beefed up and looks more aggressive than previous generations. The wheel arches are more angular and the front end looks menacing. While the Nardo Gray has become of a bit of a signature color for RS cars in particular, the paint felt quite flat and benign to my eyes. Were I building my own, I'd have opted for the Catalunya Red Metallic, Vegas Yellow, or even the Ara Blue Crystal.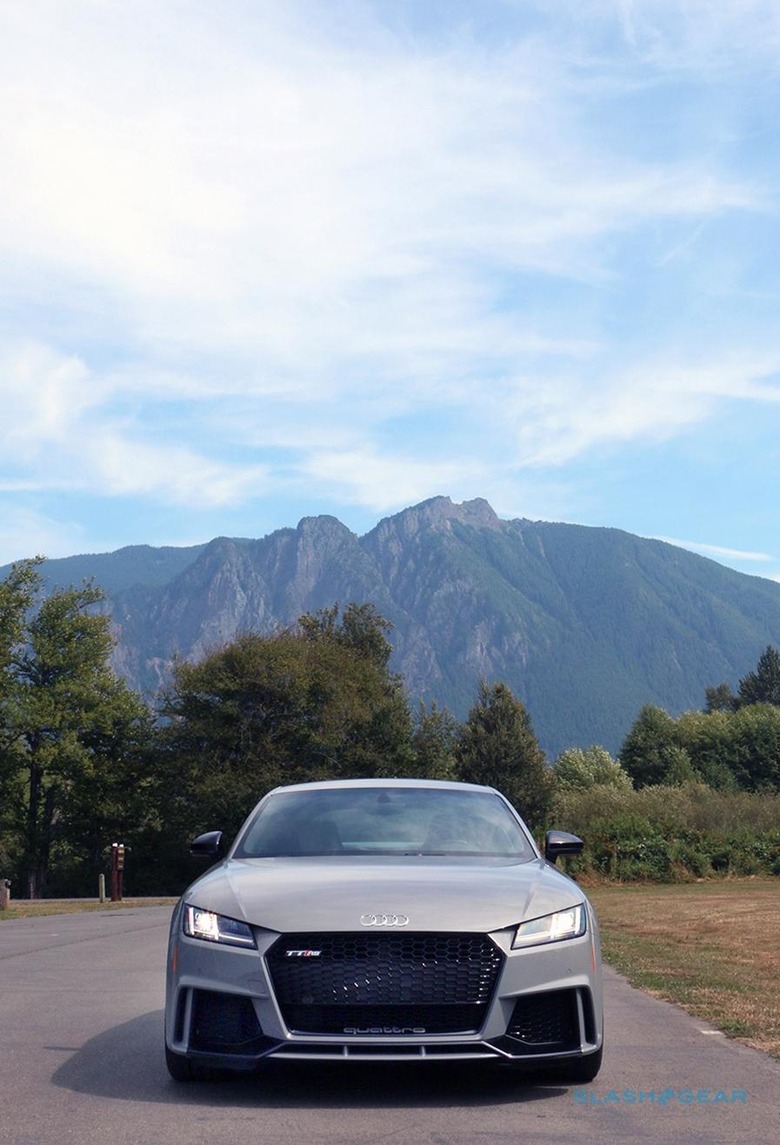 Regardless, I got more than a few compliments on the exterior styling while parking around town. Interestingly, almost all of the compliments I received were from guys in their early 50s, so perhaps Audi has got their targeting spot on... and I'm just in the wrong demographic? Even so, having gone into the week with a healthy dose of skepticism I found myself thoroughly enjoying the TT RS and wishing I could keep it a little longer. Consider me a convert.