The Failed 70s Dodge Magnum You Probably Didn't Know Existed
The classic first to third-generation Dodge Charger was one of the most legendary vehicles of the muscle car era. The Charger gained more prominence in the 1979 "Dukes of Hazzard" TV series as General Lee, the Duke brothers' getaway car of choice against law enforcement. Chargers also saw action in professional NASCAR racing, and Dodge sold limited-edition homologation variants of the Charger R/T and Charger 500 to the buying public by 1968.
Dodge also built the Charger Daytona in 1969, a muscle car designed to dominate the NASCAR circuit. Named after the Daytona 500, the Charger Daytona won its first-ever race in Talladega and broke the 200 mph speed record. Based on the Charger 500, it had a quirky nose cone and a ridiculously tall rear spoiler. It may look cartoonish, but its svelte body produced a 0.28 drag coefficient, impressive for a car from the late '60s.
The Charger Daytona was so dominant that NASCAR had a change of heart. After enforcing new regulations and guidelines, NASCAR banned the Charger Daytona (and the Plymouth Superbird) from professional racing in 1971. Fast forward to 1978 when Chrysler started work on an updated 1975 Charger design to replace the Charger altogether: The Dodge Magnum.
The 1978 Dodge Magnum
Dodge built the Magnum to comply with then-existing NASCAR racing rules. The automaker wanted Hall of Fame racing driver Richard Petty to continue racing in a Dodge, and the old '74 Chargers were no longer compliant with ever-changing aerodynamic guidelines.
Riding on similar underpinnings as the Charger's B-Body midsize platform, Car and Driver wasn't wrong to call the Magnum a "Charger with a new image." Chrysler was short on cash, so it had to work with what it had. Those dual-rectangular headlights with automatic-opening plastic eyelids, bulbous shoulders, and new grille design earned it the nickname "Businessman's Express." This was the type of vehicle a salesperson could drive for hundreds of miles to work and back, highway traffic included.
The Magnum's base engine was a 5.2-liter V8 pumping out 140 horsepower, but the big-block 360 and 400 cubic inch V8 motors (available only in 1978) pumped out 155 and 190 horsepower, respectively. All Dodge Magnums came with a standard three-speed TorqueFlite automatic gearbox with a lockup clutch in the torque converter. All engines featured Chrysler's electronic lean-burn system with variable ignition timing to save fuel.
The Dodge Magnum rolled into showrooms in 1978 in two trim variants: XE and GT, and both came standard with power amenities for the steering, brakes, and seats. It still came with opera windows and vinyl rooftops, and customers had the option of either a T-top roof or a sunroof.
Not fit to race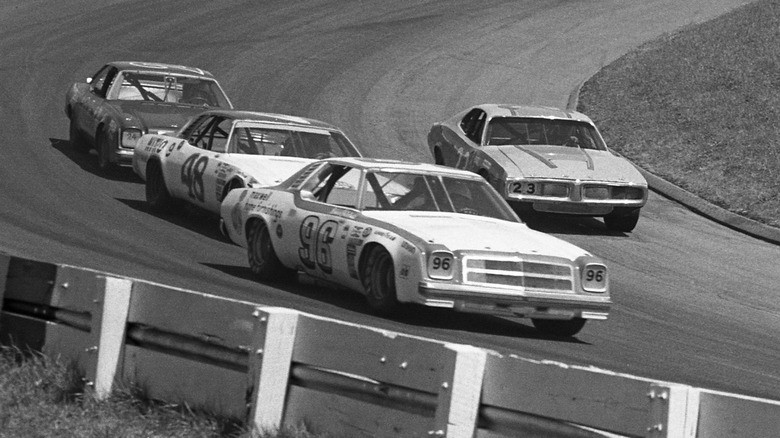 Dozier Mobley/Getty Images
Dodge had a new production midsize coupe with the Magnum. However, according to The Truth About Cars, it failed to meet Richard Petty's expectations, who found the car unstable at high speeds and reportedly said, "The Magnum is undrivable at 190 miles per hour." During the 1978 NASCAR season, Richard Petty and Neil Bonnet's Mopar teams switched to Chevrolet and Oldsmobile.
Dodge discontinued the Magnum in 1979, only two years after its debut. It initially sold well, with 47,827 units reaching customers in 1978, but only 25,367 left the factory during its final model year, no thanks to rising fuel prices starting with the 1970s oil crisis.
Furthermore, Dodge lost its NASCAR reputation with the Magnum. The automaker replaced it quickly with the smaller J-Body Mirada in 1980, which also sold poorly in a short three-year production run. The Dodge Magnum was the last production model to use Chrysler's B-Body platform and is a rare Mopar worth remembering.