KFC Just Roasted The Mercedes F1 Team And Twitter Is Freaking Out
KFC has earned a long-standing reputation for adding strange and unconventional products to its menu, but members of its social media team appear to enjoy causing havoc on Twitter as well. For example, KFC Spain took Twitter by storm in 2020. The fast-food chain and its social media armada are at it yet again, and this time, their sights are locked on Toto Wolff, CEO and principal of the Mercedes-AMG Petronas F1 Team. In the early afternoon hours of March 23, KFC UK took a spare moment to dunk on a recent photo retweeted by account F1 Reaction Pictures, which depicts Wolff rather awkwardly sticking his head into the cockpit of an Akkodis F1 vehicle. The original photo was uploaded by @lewisgfreal.
"Welcome to KFC, can I take your order?" KFC UK tweeted, in a direct quote of the original photo. It didn't take long for the Mercedes-AMG Petronas F1 social media account to figure out what was happening. "We were not expecting this," the account tweeted in response. Keeping the beat, KFC UK escalated things even further.
Twitter users react to KFC's shade
In response to the Mercedes-AMG PETRONAS F1 Team's reply, the fried chicken brand took the gloves off. "Just like you weren't expecting podium on the weekend," came KFC's savage retort. The insult was directed towards Toto Wolff, who has placed high stakes on the success of Mercedes F1 drivers Lewis Hamilton and George Russell. The 2022 Bahrain Grand Prix took place this past Sunday, March 20; evidently, it did not live up to Wolff's expectations for Mercedes F1 drivers Lewis Hamilton and George Russell, who placed third and fourth on the podium, respectively. Naturally, Twitter found the whole ordeal hilarious, and KFC UK's tweet racked up more than 35,000 likes. Twitter users are clearly in on the joke, adding to the carnage with their own takes, like @rabthecrab ribbing Wolff, "Let me see what we can Russell up for you, sir."
The @FormulaReaction account was especially pleased, exclaiming, "KFC WHY ARE YOU IN MY MENTIONS SHJSKSKSKWKWLW (sic)". Not everyone played along, however, and some took it upon themselves to strike back against KFC UK with their own slights against the chicken-slinging Colonel. User @VonLeibeGoat stated, disappointedly, "This is @ChickfilA energy. Sorry KFC." Meanwhile, some users just want KFC to keep its eye on the prize: fried chicken; "Can I order chicken wings without growth hormone pls!?" user @McLarenfansSerb pleaded with KFC.
KFC is riffing on Wolff's recent comments regarding Mercedes F1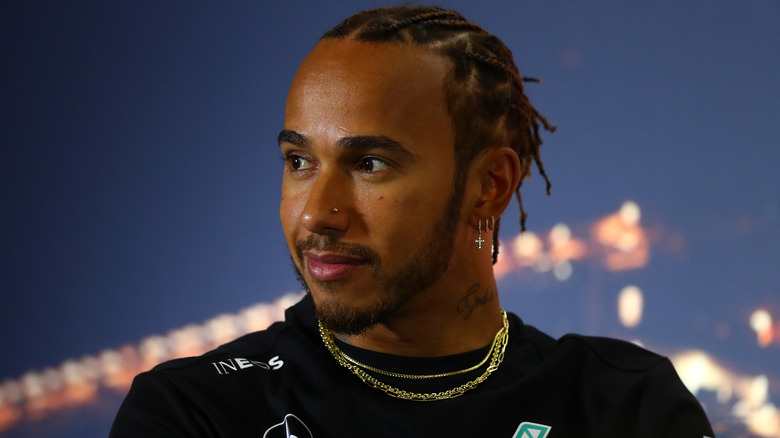 sbonsi/Shutterstock
Express UK reports that Toto Wolff has openly expressed doubts as to Lewis Hamilton's ability to win his eighth all-time F1 title in 2022, which would put him ahead of historic legend Michael Schumacher, who won his last season in 2004. By comparison, Hamilton won his first season in 2008, and both champion title-holders are currently tied with seven World Drivers' Championship wins.
It makes sense then that Wolff is laying on the pressure, especially after Hamilton lost to Red Bull's Max Verstappen during the Abu Dhabi Grand Prix on December 5, 2021. If Hamilton overtakes Schumacher, that will establish him as the single most decorated driver in the F1 world. There's a lot at stake here for Mercedes F1, but at least it all makes for a spectacle that social media brands like KFC can take a few generous cracks at by the end of the day.