Spotify App Will Soon Host Buzzy Live Audio Chatrooms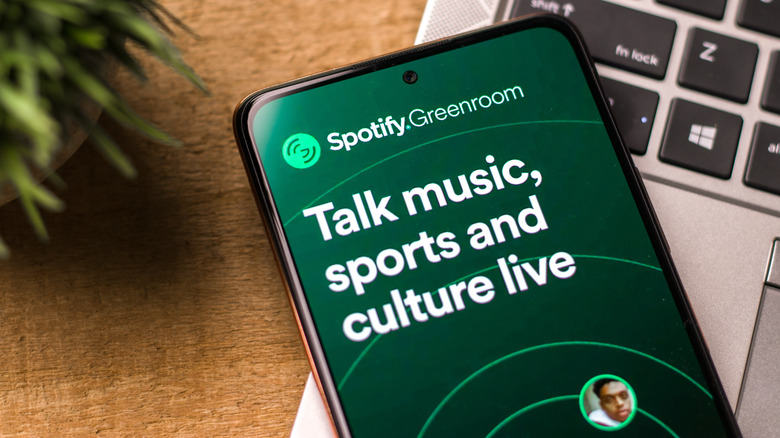 sdx15/Shutterstock
The Spotify app is again expanding the diversity of content it hosts, with the latest addition being live audio chatrooms similar to those on Clubhouse and Spaces by Twitter. As per a Bloomberg report, Spotify plans to merge its dedicated live audio app called Greenroom with its core music streaming app; citing sources familiar with the latest developments, the report also adds that Spotify will rename Greenroom to Spotify Live, which arguably makes a lot more sense as a title. The transition will reportedly happen in the next quarter, and signs have already been spotted in the code of Spotify app's beta build on iOS.
The journey of Spotify's live audio ambitions has been a fairly tumultuous one. The music streaming giant started making moves with the acquisition of Locker Room, an app focused on sports content: Locker Room eventually became Greenroom, and was re-launched as a standalone app to steal some thunder from established players like Clubhouse and Twitter's Spaces. Greenroom's road to the live audio glory has been rather slow though, and it clearly couldn't keep up with the pace of development that Twitter and Facebook enacted for their respective rival products.
Stepping up in a meaningful fashion
Another roadblock in its path to success was the two-app system. Spotify is everywhere but, despite its immense popularity, convincing users to download a second Spotify app solely for tuning in to live audio conversations proved no easy task. It's not hard to see why Spotify would want to fold the product into its bread-and-butter music streaming app, giving the service more of a fighting chance compared to Twitter and Facebook's social media advantage for their respective live audio products. Doing so would also end the hassle of maintaining two separate platforms, and will give Greenroom more exposure with a dedicated spot in the Spotify mobile app.
The company has already organized a growing line-up of influential personalities and distributors to create live audio content for its product. Just last month, indeed, Spotify inked a deal with Complex Networks for four shows that cover everything from sports and wrestling to fashion. It's unclear if Spotify Live will also be intertwined with video podcasts in the future, something Spotify officially launched in June last year, hot on the heels of its Joe Rogan deal that was reportedly worth over $200 million.