Huge Apple Services Outage Takes Out App Store, iCloud, More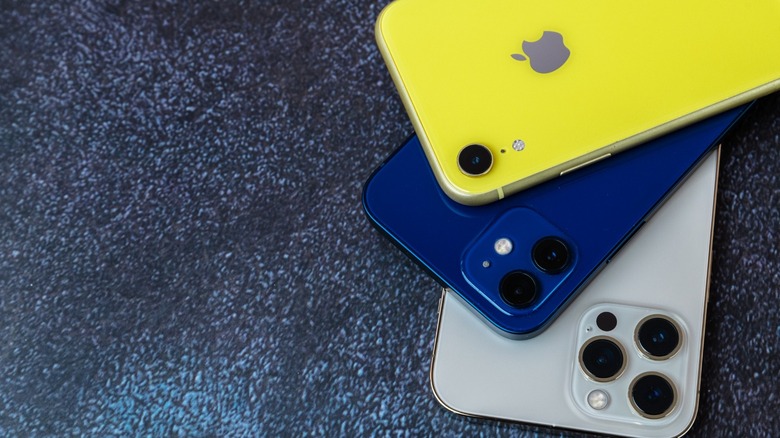 s_kaisu/Shutterstock
If you're trying to access an Apple service at the moment and find your attempts are futile, then you certainly aren't alone. A huge outage has hit several core Apple services today, March 21, leaving a lot of users without access to the platforms many of us use on a daily basis. That's bad enough as it is, but rumor has it this outage is impacting some internal Apple systems, as well, which means it may take the company longer than expected to restore functionality to the impacted services.
It seems this might be just the beginning of Apple's problems, too. Matters appear to have gotten worse quickly as some outages have been solved while more have appeared. Hopefully you weren't looking to listen to music, podcasts, radio, or access the App Store, because those are among the services that are currently down for Apple users.
Outage takes down several crucial Apple systems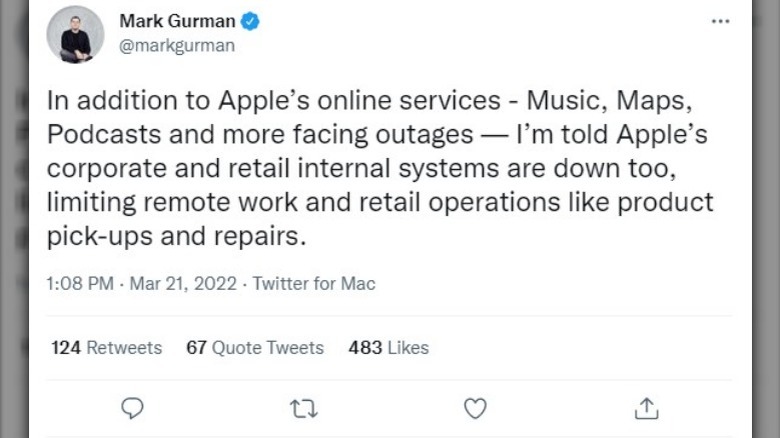 Mark Gurman/Twitter
As outlined on Apple's System Status page, several services are inaccessible at the moment. At the time of writing, the full list of impacted services includes the App Store, Apple Arcade, Apple Music, Apple TV+, AppleCare on Device, Find My, iCloud Account & Sign In, iCloud Calendar, iCloud Drive, iCloud Keychain, iCloud Mail, iCloud.com, the iTunes Store, Maps Display, Maps Routing & Navigation, Maps Search, Maps Traffic, Podcasts, and Radio.
Services associated with iCloud seem to be going in and out. Apple's System Status page allows users to click on an impacted service for more details about the outage. Some of those status messages simply say the affected service "may be slow or unavailable," while others say Apple is investigating problems users have reported, suggesting the company may not have a firm grasp on what's causing some of these issues yet.
On Twitter, Bloomberg's Mark Gurman claims, "Apple's corporate and retail internal systems are down too, limiting remote work and retail operations like product pick-ups and repairs." Whether those alleged internal outages will slow Apple's response in restoring these services is up in the air, but they certainly wouldn't help. We'll see if things get better as we move through the afternoon, so stay tuned.