Gboard On Galaxy Z Fold 3 May Finally Get A Long-Awaited Feature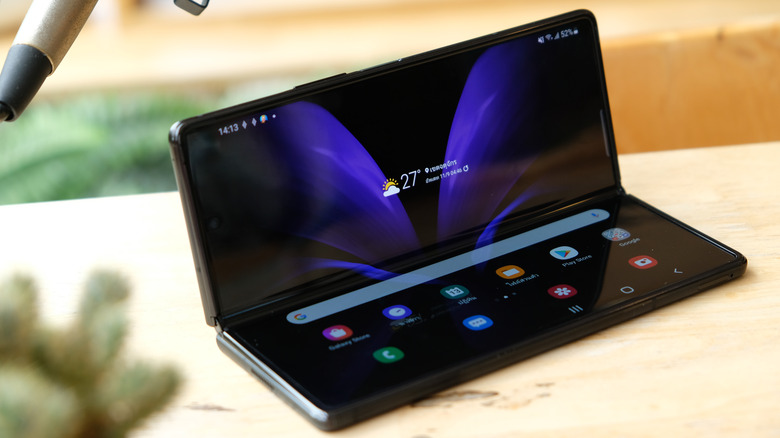 Framesira/Shutterstock
Almost all foldable smartphones are advertised as having some features that make them similar to pocket-sized laptops. The way these phones fold at a 90-degree angle and offer a dedicated keyboard below the fold definitely mimics the laptop-like form factor, but the reality of everyday usage shows these devices are still far from perfect. 
Some foldable users would prefer to simply thumb-type their way to productivity, but as with the smallest tablets on the market, the width of the device presents a major stumbling block, at least when it comes to ergonomics and comfort. Split keyboards have long been an acceptable compromise in these situations, but Google's first-party keyboard has lacked in that regard, which has been a huge pain for foldable smartphone owners who prefer Gboard.
That might be changing soon, however, if the sighting of a split layout means the feature will finally see the light of day. That is, unless Google changes its mind again, of course.
Split decision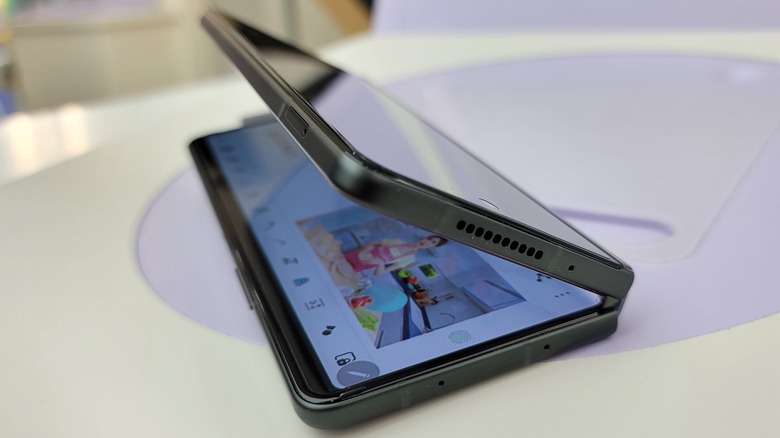 Geewon Jung/Shutterstock
As with many first-party Android apps outside of specific properties like Gmail and YouTube, Google has been late in coming out with noteworthy innovations. For years, the apps like SMS, Clock, and keyboard that Android used were simply based on AOSP (Android Open Source Project), which, while functional, sorely lacked in non-trivial features. Ironically, one of Gboard's most-wanted features actually came from that era but never materialized, leaving Samsung and Swiftkey to take the lead in this app category.
That could be changing soon, based on evidence spotted by Android Police. In the recent beta version of Gboard, there is a new toggle that includes the description, "Split layout to include duplicate keys," suggesting the feature will arrive eventually. That toggle doesn't seem to do anything yet, and there is still no split keyboard layout with Gboard on the Galaxy Z Fold 3, even with this beta version.
This isn't the first time Google's keyboard has shown evidence of a split layout feature, though, which means Gboard fans will no doubt approach the news with cautious excitement. Back before there was even a Gboard, the stock Android keyboard was also found to have a split layout in development, but the option never materialized. Google is notorious for pulling features in development before they see the light of day, so it won't be out of character for this to happen again.
Samsung advantage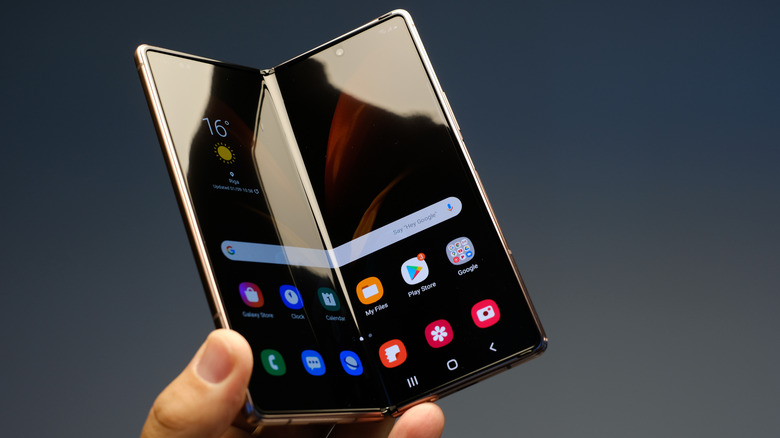 Karlis Dambrans/Shutterstock
Having a split layout for Gboard goes a long way in making the app more usable not just on foldables but also on tablets. It's one area where Apple has long had an advantage, as the company makes it trivial to switch between full and split layouts on iPads using a pinch gesture. Google's implementation is still unknown at this point, but third-party offerings like Samsung Keyboard and Microsoft's Swiftkey require tapping a button to switch between layouts.
Many Samsung fans have a love-hate relationship with the company's first-party keyboard, but Galaxy Z Fold 3 owners have little choice in the matter. Even if they switch to Swiftkey (which has a split layout) or this future version of Gboard, there will still be at least one feature where the Samsung Keyboard has an exclusive advantage. 
For devices with an S Pen, including the Galaxy Z Fold 3 and the Galaxy S22 Ultra, it is possible to scribble with the stylus on any input field and have that converted into text almost instantly. This bypasses the need to bring up the keyboard entirely, but it only works if Samsung Keyboard is set as your default keyboard.