Zigma Aerio 300 Smart Air Purifier Review: A Smart Way To Breathe Better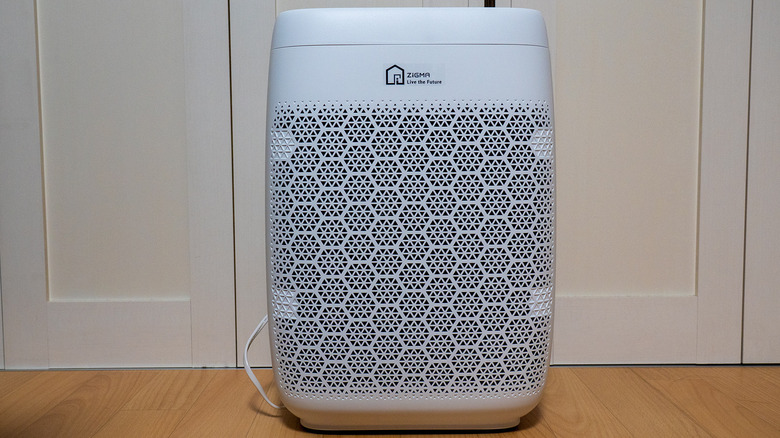 Ewdison Then/SlashGear
Air purifiers have been around for years, but recent global events have made them even more popular. Living accommodations, housing designs, air pollution, and rising power costs have all conspired to force people to keep their windows closed far more often. Air ventilation has become a problem in many homes no matter which part of the world you're in. 
While dirty air does have a harder time getting inside when the windows are closed, the unhealthy air inside can't easily escape as a result, creating a vicious cycle of harmful air. Beyond that, the COVID-19 pandemic has left some people concerned about their home's air quality. 
Fortunately, there's a wide variety of air purifiers on the market designed to address these concerns, ones that come in all shapes, sizes, and prices. Among those models is Zigma's Aerio 300, a product that boldly puts "smart" in its name. We put the air purifier through a few cycles to see if it can really clean up a space's air quality, or if it's just another pretty face to leave unused in a corner of the house.
How it looks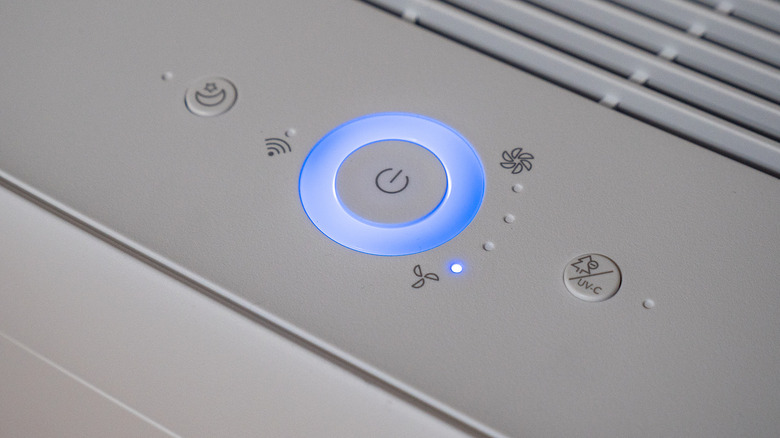 Ewdison Then/SlashGear
The Zigma Aerio 300 isn't something you'd describe as pretty, but it was never meant to be a designer product. The model's boxy design makes no qualms about its utilitarian nature, and the overwhelming presence of holes and vents clearly marks it as something that's related to the air in a room. This product isn't going to win any design awards, but there's more to it than looks, fortunately.
The front of the air purifier is filled with holes grouped in a honeycomb-like pattern that resembles snowflakes. This is where the air is pulled in through the filters to be cleaned and sanitized. Clean air is then blasted out from the top of the machine through large louver grilles. The other sides of the Aerio 300 are pretty barren, except for two sensors on the left side for detecting and analyzing the air quality in the room.
This last bit is important in deciding where to place the air purifier. At 20 x 12 x 8 inches, the whole assembly is a little larger than a trash can, so it will definitely take up some floor space in the room. You also have to be mindful about keeping a gap on the left side for those sensors or you will lose the features that make this air purifier "smart." Fortunately, it won't call attention to itself, visually or audibly, so you can get away with keeping it in a nook or cranny.
Aside from the output vents, the top of the Aerio 300 also houses the primary way to control the smart air purifier, which can, fortunately, be reduced to three buttons. The leftmost button is for toggling Night Mode and Child Lock, while the rightmost button toggles the ionizer and UV-C filtration. The largest button in the middle is for switching between the machine's modes, and it's surrounded by a bright LED ring that indicates the air quality. Using the air purifier is as simple as that, and it thankfully leaves very little room for making mistakes.
Operation and performance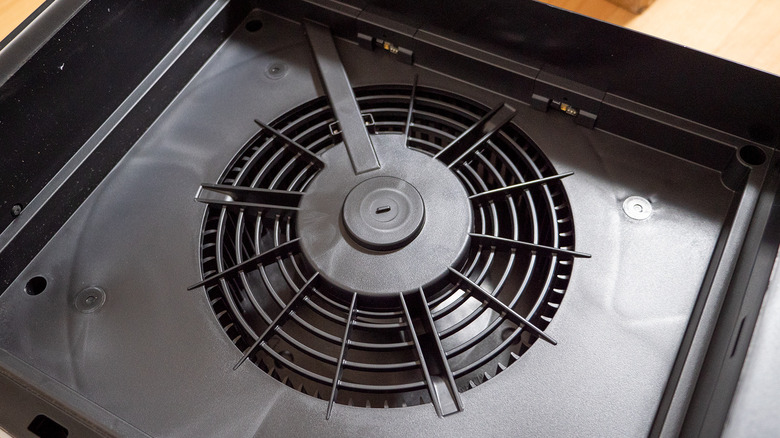 Ewdison Then/SlashGear
Even without the smartphone app (which we'll get to later), the Zigma Aerio 300 is fully usable. That is a huge advantage because it means you'll be more likely to use the purifier if you're not overwhelmed by complicated features and settings. Even better, you can simply leave it on and set it to automatic all the time, and you won't have to bother with it again except to clean or replace the filters.
In addition to its automatic setting, the Aerio 300 has three modes (gears) that dictate the speed of the fan and determine how much force it uses to suck in the air from the surrounding area. The air purifier is advertised as capable of cleaning up the air in a 1,580 sq. ft. area, but that's with the highest mode and an hour of cycling the air. The best results are with small to medium-sized rooms, around 500 sq. ft., more or less.
At its lowest mode or gear, which is also the Night Mode, the air purifier sounds almost like a soft murmur. Unfortunately, when you really kick things into high gear, you'll find yourself raising your voice or the volume to hear anything. That, however, isn't the biggest offense since you can easily set the Aerio 300 to a different mode if you want more peace and quiet.
For some reason, Zigma decided to make the air purifier sound a chime anytime you change a setting, even when you're switching to Night Mode, which defeats the entire purpose. The chime isn't embarrassingly loud, but it's audible enough and happens frequently enough that it becomes irritating very quickly. There is no way to turn off that chime, and, to add insult to injury, it plays even if you're changing the mode through the mobile app.
That odd but annoying quirk aside, the Aerio 300 thankfully works as advertised. Dirty air passes through several layers of materials, the most important of which is the H14 filter element that promises to catch 99.97% of fine dust, pet hair, mites, pollution, and other PM2.5 particles. This filter is fortunately replaceable, and Zigma itself sells them. The air purifier also scores bonus points for making it trivial to pry off the front grille and replace the filter.
Most air purifiers feature an ionizer part that charges air before it goes out, but Zigma took the extra step to have a built-in UV-C light sanitizer as well. This feature has become even more important these days, as it can kill a good amount of viruses and bacteria in the filtered air. This is a 2-in-1 combo feature, and you can't turn on one without the other. This detail might be a bit of a deal-breaker for those worried about the ozone-generating risks of ionized air, though Zigma assures that it has passed all the relevant tests that certify the air purifier's safety.
As mentioned earlier, the Aerio 300 can detect the air quality of the room it's in. Even without the app, it can report the data via the LED ring in the middle of its forehead. The blue LED ring means the air is clear, while green is for "okay" quality, orange says it's time to clean the air, and red means something might be burning already. That's not to be confused with the blinking red light, which indicates it's time to replace the filter.
Smart features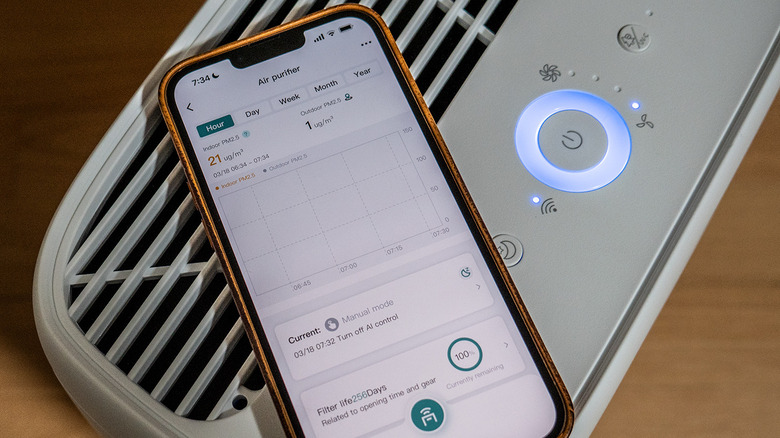 Ewdison Then/SlashGear
This wouldn't be a smart air purifier if it didn't pair with a phone or connect to your Wi-Fi network, and Zigma delivers on that basic requirement. Unfortunately, it really does only the bare minimum and doesn't seem to offer much else. The device does connect to smart assistants like Amazon Alexa and Google Assistant, but you probably won't even use it that way because of what it offers.
Setting up the Aerio 300 with the phone app and Wi-Fi network is pretty trivial, especially if you've gone through the same process with other smart home appliances. The one quirk, which probably shouldn't be a surprise by now, is that it only works with 2.4GHz Wi-Fi bands. This is a common malady with smart appliances, so you might not be too shocked if you already own robot vacuums.
The Android and iOS apps offer the essentials: it lets you turn different modes on or off, and replicates almost everything that's available via the physical controls. The companion app also lets you schedule times when the air purifier kicks in, but, unfortunately, there doesn't seem to be logging of any sort to review past data. The app also shows information about air quality, environmental data, and the filter's estimated life, so you'll know days beforehand when you need to replace it.
Oddly enough, there is one smart feature that's not accessible from the physical buttons, but can be enabled using the app: an AI-powered auto mode that takes into account not only the quality of indoor air but also the forecast for outdoor air, as well as your personal schedule. The AI learns the latter over time, and you'll need to manually correct mistakes if you want to adjust its brains. It would have been nice to have this function available on the air purifier itself, but maybe it was intended to make the app more special.
The Aerio 300 can be connected to smart assistants, but you can only use them to turn the machine on or off, toggle Child Lock, and toggle the Ionizer/UV-C sanitizer. You can't even change the mode or gear using your voice, so it's pretty useless for anything else. Hopefully, Zigma has plans to improve the situation with future updates.
Final take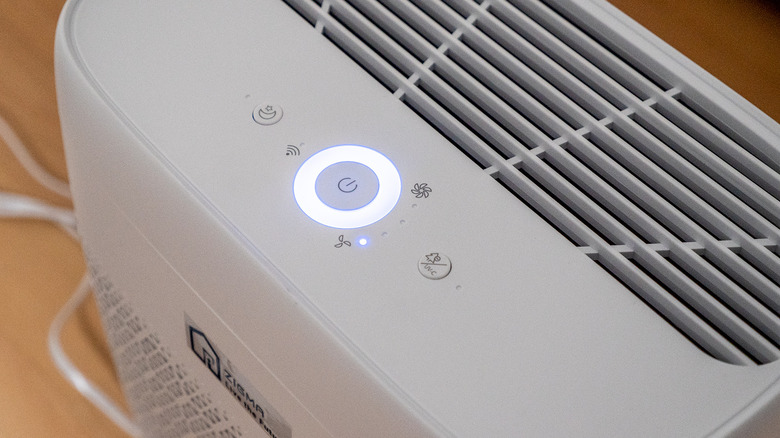 Ewdison Then/SlashGear
The Zigma Aerio 300 Smart Air Purifier's nondescript appearance belies the features that it packs inside. Although it is already on the larger side of things, it's surprising the unit isn't larger considering it includes replaceable H13/H14 filters, an ionizer, and a UV-C lamp. Its mostly quiet operation makes it comfortable to use in mid-sized rooms, but it can also effectively clear out the air in larger rooms if you can live with a bit of noise or don't mind longer cleaning cycles.
We'll have to begrudgingly admit the air purifier meets the bare minimum of being a smart appliance, but we definitely wish it had more to offer. Those could probably be fixed with software updates, which will hopefully include a way to turn off that incessant chime notification. 
With a price tag of $199, however, we're willing to forgive some of those flaws, especially if there's a promise of future improvements, as you'll be hard-pressed to find anything like the Aerio 300 when it comes to the mix of features, performance, and affordability.