Xbox Game Pass Closes Out March 2022 With F1 Racing And A Bunch Of Indies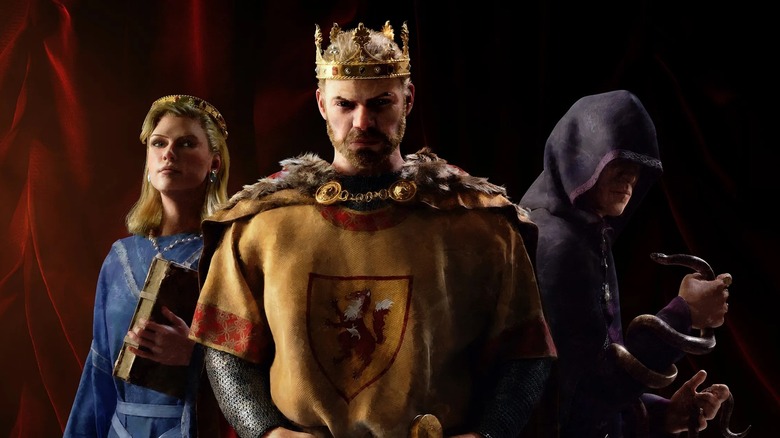 Paradox Interactive/Microsoft
We find ourselves smack in the middle of March (more or less) and that means another batch of games on the way to Xbox Game Pass. It's a relatively quiet stretch of weeks for Xbox Game Pass subscribers in that there aren't really any blockbuster titles slated to hit the service, but for those who like indie games and Formula One racing, there are still some exciting additions on the way.
In fact, if you're an indie games fan, you've got a great couple of weeks ahead of you, because seven of the eight upcoming additions were published through the ID@Xbox program. Not only that, but three of those seven are day-one releases for Xbox Game Pass, meaning they'll be available through the service the same day they launch elsewhere. This batch also brings with it a curiosity, as a strategy game that's long been associated with PC gaming is heading to Xbox Series X soon.
Xbox Game Pass additions for late March 2022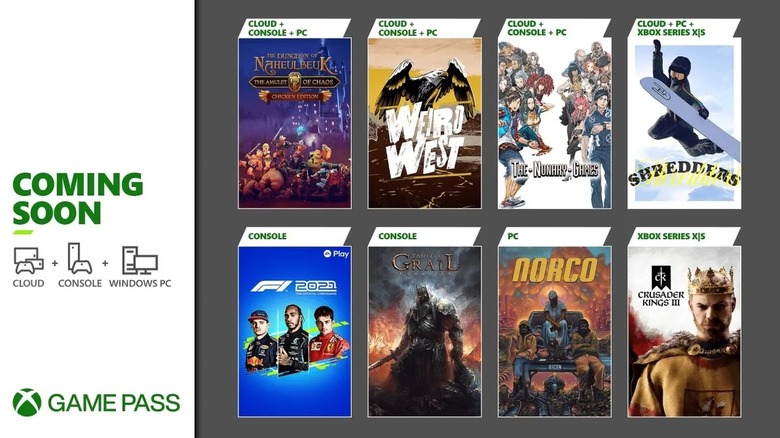 Microsoft
As revealed on Xbox Wire today, Xbox Game Pass is getting eight new games over the next two weeks. The new titles should start appearing on Thursday, March 17, with "Shredders" (cloud, PC, and Xbox Series X|S) and "The Dungeon of Naheulbeuk: The Amulet of Chaos" (cloud, console, and PC) joining the service. "Shredders" is one of the day-one releases for Xbox Game Pass, so if you're looking for a new snowboarding game, that might be worth checking out.
The additions continue on March 22 with "Tainted Grail: Conquest": a roguelike indie game that will be joining the console version of Game Pass after previously being available through the PC version. It will be joined by "Zero Escape: The Nonary Games" on the cloud, console, and PC versions of Xbox Game Pass. March 24 will see the arrival of "Norco" (PC) – another day-one release – and "F1 2020" (console) via EA Play.
On March 29, "Crusader Kings 3" will become available for Xbox Series X|S. The grand strategy game is already available on Xbox Game Pass for PC, and – as this is the first time a "Crusader Kings" game has come to console – this is a pretty big launch. The new additions wrap up on March 31 – the last day of the month – with "Weird West" (cloud, console, and PC), the final day-one release in this batch of games.
New Xbox Touch Control titles and departing games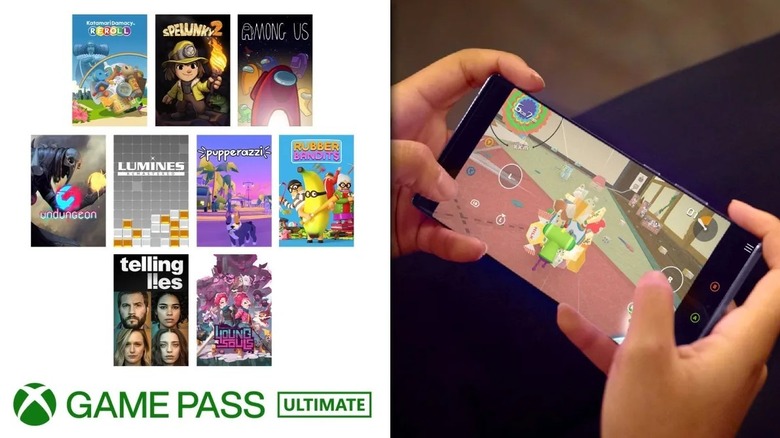 Microsoft
As is usually the case, there's a new set of cloud games getting touch controls with this update, too. Nine games in all have been outfitted with Xbox Touch Controls: "Among Us," "Katamari Damacy Reroll," "Lumines Remastered," "Pupperazzi," "Rubber Bandits," "Spelunky 2," "Telling Lies," "Undungeon," and "Young Souls." This fresh support means that you can stream these games to Android and iOS devices without needing to pair a controller first, potentially making them more convenient choices for gaming on the run.
On the flip side, there's also a list of titles that will soon be retiring from the virtual Game Pass shelves. Microsoft has confirmed several games that are leaving the service on March 31, including "Madden NFL 20," "Narita Boy," and "Shadow Warrior 2," which will impact the cloud, console, and PC iterations of Game Pass. On April 11, "Destiny 2: Beyond Light," along with the "Shadowkeep" and "Forsaken" expansions will be leaving the PC version of Game Pass, so get in time with these games while you still can.