Google Tries To One-Up iMessage With Messages Update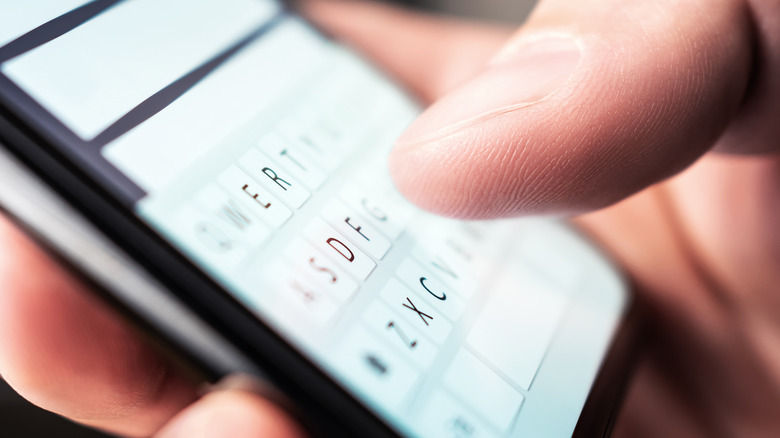 Tero Vesalainen/Shutterstock
Google has detailed a whole bunch of new features that are making their way to its Messages app, some of which make cross-platform (read: between Android and iPhone) messaging a lot more bearable. The key to it all is RCS (Rich Communication Services), the next-gen SMS experience that brings over the cool features from messaging apps like WhatsApp and Telegram to the Messages app on Android. Let's start with the elephant in the room — emoji reactions, or the lack of them.
So far, emoji reactions for the Android-iMessage tunnel were actually translated as such in text form. For example, the LOL emoji reaction was literally transcribed "laugh out loud" in the conversation chain. Needless to say, nobody liked it, and a lot of Android phone users have actually been kicked out of conversations for the same. This finally changes with the latest update. Emoji reactions sent from an iPhone will now appear as emojis in the Messages app. The feature is currently live for English users, but support for more languages will arrive soon.
Lossless video sharing, sort of
Another huge drawback of the cross-platform messaging experience was the inability to share high-resolution videos. That's because the aging SMS and MMS channels have their own limitations when it comes to sharing multimedia content. iMessage, which relies on a high-bandwidth internet connection, doesn't feel any such bottlenecks. However, for chats between an iPhone and Android user, multimedia sharing defaults to the older protocol on Android phones, resulting in blurry photos and videos.
To get over the limitation in somewhat of a stop-gap fashion, Google is pushing the Photos app integration into Messages. With the latter in place, users can now share videos as Google Photos links, rather than sending them as a multimedia file. This way, the iPhone user on the receiving end can see the video in all its Pixel-dense glory. A similar strategy will soon be implemented for images, as well. However, this is not a fool-proof solution to a deeply-entrenched problem.
A little history that is no mystery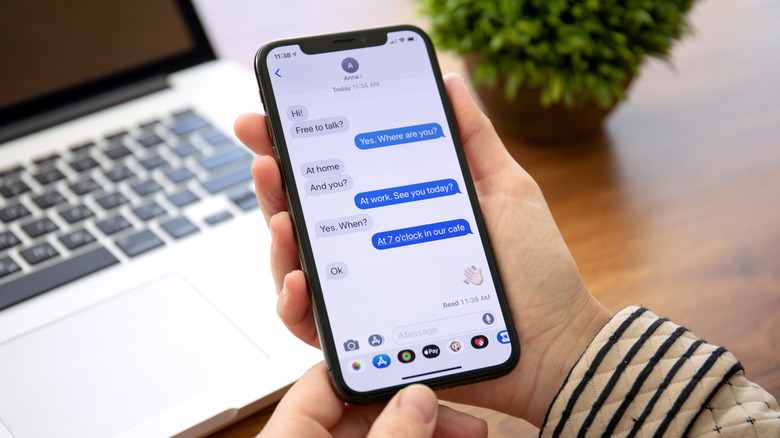 DenPhotos/Shutterstock
In an ideal world, the promised solution to get rid of all texting woes would be the adoption of a common messaging tunnel — and that tunnel is called RCS. Google has been pushing for Apple to adopt RCS, but that likely won't happen anytime soon. iMessage lock-in is a major factor that keeps a lot of iPhone users loyal to its ecosystem. Or in simple words, a lifelong tour ticket to Apple's walled garden.
Apple wouldn't want to lose that crucial leverage over its user base. Just look at the green versus blue bubble debate on social media, and read stories of how people have been ostracized for bringing Android's green bubble to a blue-dominated chat. Milwaukee Bucks coach, Jason Kidd, once punished the whole team because former Bucks center Thon Maker had an Android phone that put green text bubbles in the team's chat group.
A whole bunch of new tricks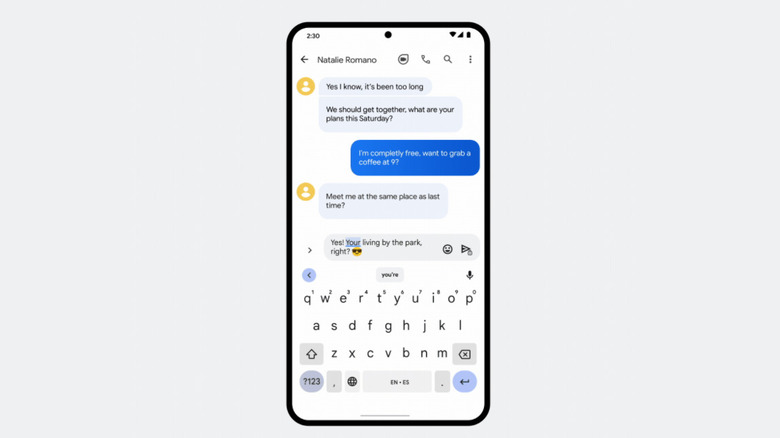 But there's more in Google's bag of messaging goodies. Messages will now automatically sort all text chatter across two separate tabs — Personal and Business. Users can also enable a system that automatically deletes all OTP (One Time Password) messages after a span of 24 hours as a safety measure. The app is also borrowing the nudge feature from Gmail, which reminds users to follow up on important conversations that may have slipped from attention after a few days.
Taking a leaf out of Facebook's social media textbook, the Messages app will remind users of an acquaintance's birthday. Of course, that will only happen if a person's birth date has been saved in the contacts card. Folks who rely on Gboard as the default keyboard for the Messages app can now create unique combinations from a selection of over 2,000 building blocks in the emoji kitchen. Oh, and there's also a grammar correction feature from Gboard that works just like Grammarly, but for Messages.