Intel, Arm, Google And More Want To Tear Up Traditional Chip Design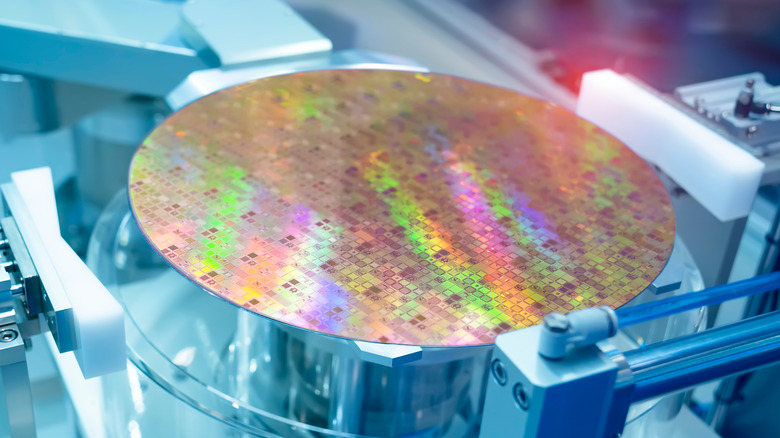 asharkyu/Shutterstock
A consortium of the world's leading semiconductor companies and tech giants just announced a new Universal Chiplet Interconnect Express (UCIe) specification. The companies behind the announcement is a veritable who's who of processor and smart device design, including: Intel, AMD, Arm, Google (Google Cloud), Meta, Microsoft, Qualcomm, Samsung, and Taiwan Semiconductor Manufacturing Company (TSMC). The announcement opens up the door for faster and easier development of SoCs (system-on-a-chip) design while also allowing for chips that are better tailored to suit specific requirements.
SoCs have become very popular over the past couple of decades, particularly in mobile devices like smartphones, tablets, and laptops as they are able to combine multiple components (or chiplets) like a CPU and GPU into a single package on a die. Many other chiplets also form parts of these packages including neural processors and image signal processors (ISPs). Having all of these components included in a single package delivers a system that is both efficient and cost-effective. 
More customized SoCs are on the way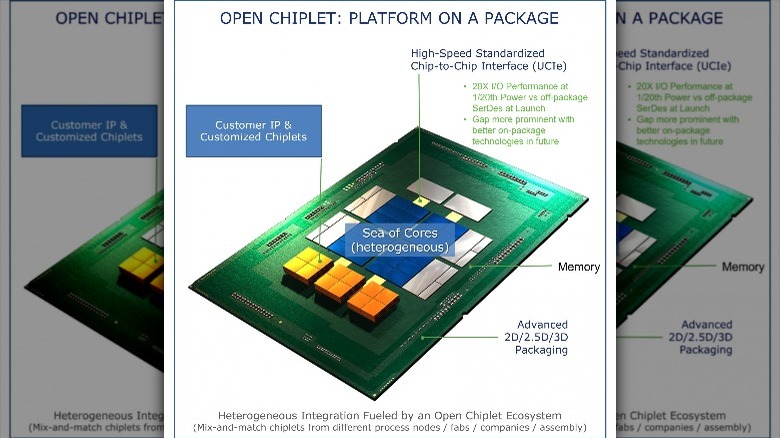 Business Wire
Up until now, there hasn't been a universal standard in terms of how chiplets connect to each of the other components that make the SoC. UCIe changes the game in this regard, opening up the door to a much wider array of design possibilities for device makers. Ultimately, this is expected to yield better devices for consumers. As the press release explains, "UCIe is an open specification that defines the interconnect between chiplets within a package, enabling an open chiplet ecosystem and ubiquitous interconnect at the package level." The specification also leverages the well-known PCIe standard.
PCIe works on a scale where users can pick and choose which cards they want to fit in a home-built PC. UCIe will work at the chip level in the same way, allowing compatible chiplets to work with other chiplets regardless of OEM. It will mean that instead of having exactly the same Snapdragon 8 Gen 1 in a smartphone, a smartphone OEM could work with Qualcomm to tailor a design that uses chiplet IP from another designer like Google. Or Samsung could create a new SoC with chiplet IP from Microsoft as well as AMD. From a consumer perspective, it will mean less generic SoCs and more interesting and customized device experiences.
Apple and NVIDIA are notably absent from the consortium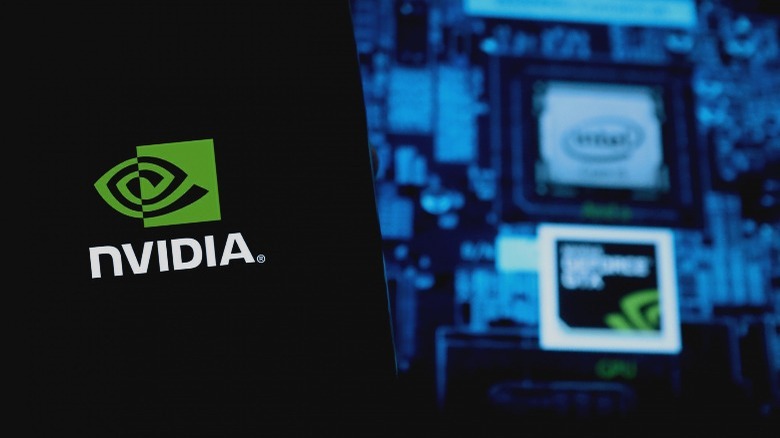 DANIEL CONSTANTE/Shutterstock
Apple and NVIDIA are a couple of notable omissions from the new consortium. While NVIDIA's absence at this juncture could be explained by its failed bid to acquire Arm and thus having had other priorities, Apple's is more understandable. Apple has invested billions upon billions of dollars in developing its custom Arm-based designs which are made using multiple chiplets created with prized IP. Few, if any, of the chiplets in Apple's SoCs would be made using 'off-the-shelf' designs thus making its involvement in the consortium a moot point. If anything, the consortium's formation may make it easier for competing OEMs and chip makers to create more competitive solutions.
Intel's membership of the consortium is interesting on at least a couple of levels. At the moment, it is not particularly well known for manufacturing SoCs, although it does make x86-based SoCs that typically find their way into its own NUC PCs and other OEM devices, usually at the entry-level end of the market. However, as Tom's Hardware reports, the new Intel Foundry Services business will be operating like TSMC, and may well soon be making Arm-based SoCs and other silicon. Further, Intel is also open to developing custom x86-based CPUs which would mean the integration of third-party chiplet blocks into such a design. Again, the result would be to create a much more tailored chip than a typical off-the-shelf component.
More differentiated and interesting devices inbound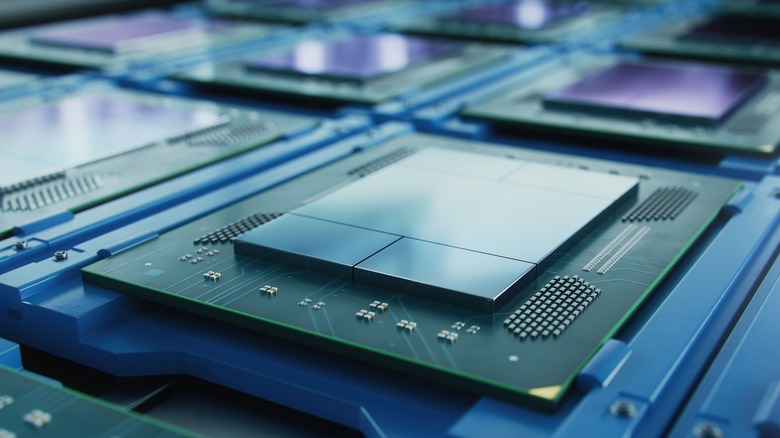 SweetBunFactory/Shutterstock
Intel's Sandra Rivera, Executive VP Intel Corporation and GM, Data Center and AI explains the benefits for customers this way: "Integrating multiple chiplets in a package to deliver product innovation across market segments is the future of the semiconductor industry and a pillar of Intel's IDM 2.0 strategy. Critical to this future is an open chiplet ecosystem with key industry partners working together under the UCIe Consortium toward a common goal of transforming the way the industry delivers new products and continues to deliver on the promise of Moore's Law."
The announcement of the new UCIe interconnect standard for chiplets is undoubtedly a very exciting development for consumers and no doubt many OEMs. If it all goes to plan, it will lead to devices that are more differentiated and less generic. In many ways, it is the total opposite in approach to the one that Apple has taken to achieve the level of differentiation that is the hallmark of its products. Whether the UCIe model will be successful is something that only time will tell, but it certainly holds a lot of potential and we can't wait to see the first SoCs that will benefit from this radically different approach to chip design.