POCO X4 Pro Review: A Good Screen But Not Much Else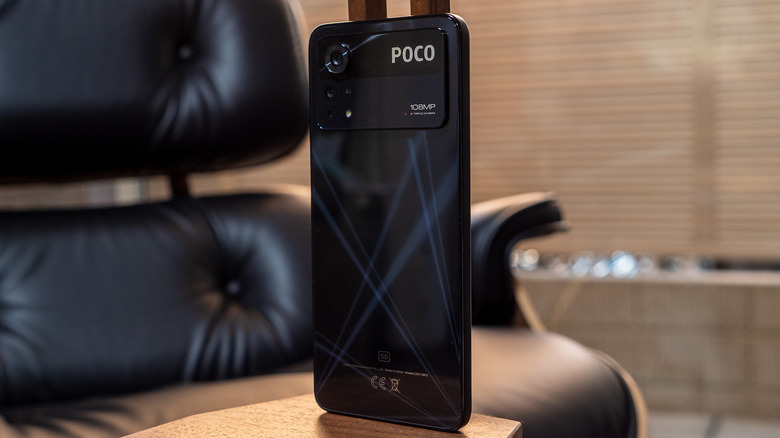 Ewdison Then/SlashGear
POCO, the Xiaomi brand spinoff, has always been about price, no matter how the company tries to move away from that narrative. The very first POCOphone F1 definitely sparked interest and generated sales thanks to its combination of high-end specs and a dirt-cheap price that would make Xiaomi's cheapest phone blush. Of course, some cut corners were expected given its price tag, but the sacrifices seemed worth it. Since then, POCO has started to diversify its mobile portfolio, dabbling in the mid-tier smartphone market with its X series.
This year, the company has tried to make a valiant effort to upgrade that line to "mid-range flagship" levels, which is quite a bold claim for a model that has to keep its price low. We tested the POCO X4 Pro to see if it lives up to the company's marketing claims and here's what we found.
Elements of design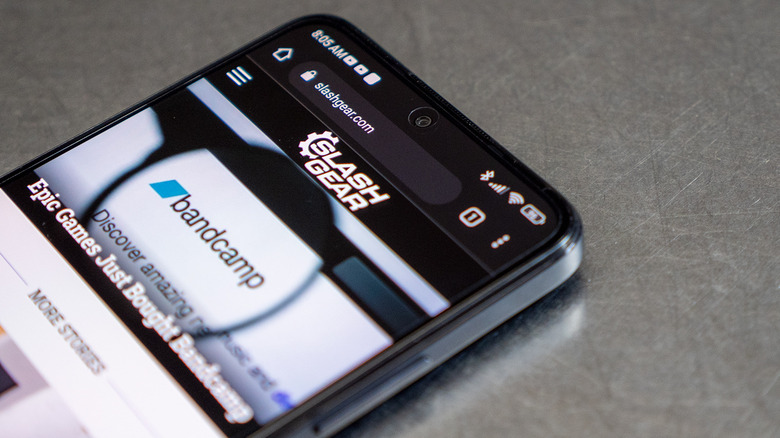 Ewdison Then/SlashGear
"Eye-catching" is probably the most neutral way we could describe the POCO X4 Pro's design. It embraces the new trend of flatness almost to an extreme while still being pleasant to look at. The design gives the phone a lot of character without going overboard, like the POCO X3 Pro before it.
While some phones this year switched back to using flat edges, the POCO X4 Pro uses a flat screen and a completely flat back panel as well, though both faces do have a slight curve at the edges where they meet with the mid-frame. 
The camera bump is also a flat block that nearly spans the whole width of the phone. It doesn't have to be that large since it only houses three cameras and an LED flash. The rest are just embellishments, though it does give the camera module a more symmetrical appearance.
This newest POCO phone is unsurprisingly an all-plastic affair, which has its pros and cons. It'll survive bumps better than glass but also gets scratches more easily. It also feels lighter in your hand, but you'll definitely feel the cheaper material. On the upside, the phone does have an IP53 rating, which is better than nothing.
Despite the less-than-premium material, POCO does manage to still make the X4 Pro look visually interesting. Utilizing some lighting tricks, its special engraving makes it look like there are spotlights coming from the lower corners of the phone. The same play of light can also be observed from the main camera, smoothly guiding the eyes to the main points of interest on the phone's back.
Display and audio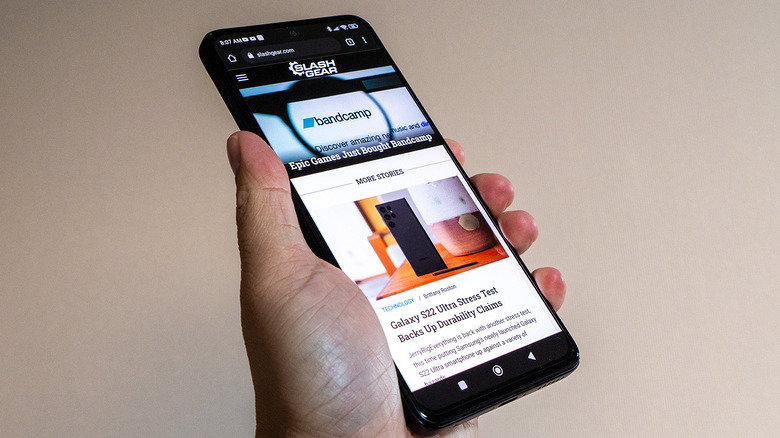 Ewdison Then/SlashGear
If there is one thing the POCO X4 Pro might be remembered for, it will be its new display. Large, bright, and responsive, the 6.67-inch AMOLED screen is something you may expect to see in more expensive models. Sure, it might not actually be the best in class, but you won't be missing out on much with this more affordable handset.
Colors appear lush and vivid, blacks really give depth to videos, and its max 1300 nits brightness (700 nits standard) makes it very usable outdoors. The 120Hz refresh rate is increasingly common in smartphones, but some of its mid-range peers max out at only 90Hz. Gamers might be excited about the 360Hz response rate, but that won't be the bottleneck in gaming, as we'll see later.
Mid-range phones have also started to sport stereo speaker setups, but most make do with using the earpiece speaker for the second audio output. The POCO X4 Pro, on the other hand, has a dedicated grille for the speaker on its top edge, right alongside that rare 3.5mm headphone jack. This gives music a fuller sound in addition to a loud volume, though probably not in the best quality that can be offered by more professional speakers. For that, you at least have that headphone jack to compensate.
Performance and battery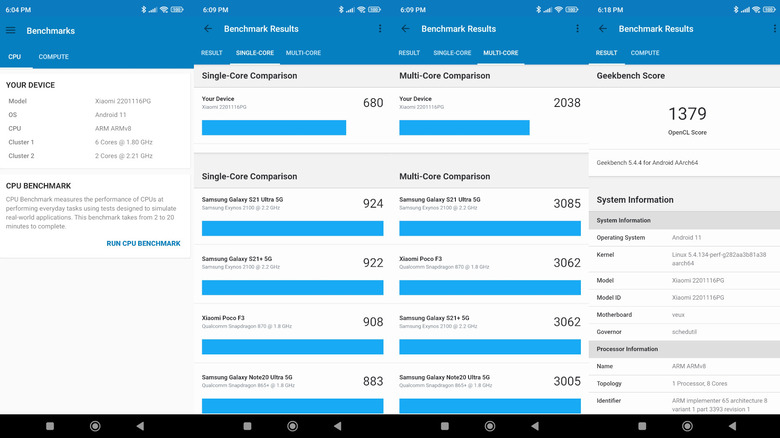 Ewdison Then/SlashGear
The POCO X4 Pro's mid-range nature is marked by its use of a Snapdragon 695 5G. While the processor itself is well-equipped for most tasks, it is one of Qualcomm's more questionable chipsets in the 600 series. It's not that the performance is terrible for its tier, just that it has a few quirks that make us question why phone makers stick with it.
Actual performance, especially in synthetic benchmarks, ranges from average to good, though you should expect a few frame rates to drop in graphics-intensive games like "Genshin Impact." One of the biggest flaws of the Snapdragon 695, however, is in the imaging department, where video recording capabilities are capped at 1080p resolution and 30 or 60 fps. No matter how powerful your camera might be, you won't be able to squeeze more out of it in this regard.
The phone does have a massive 5,000mAh battery, which puts many premium flagships to shame. With Xiaomi's 67W turbocharging tech, you only need about 40 minutes to go from zero to 100%. Despite the plastic back, you won't see any wireless charging features here. That's not unexpected, but hopefully, mid-range phones will start moving to accommodate that feature this year.
Cameras and photo output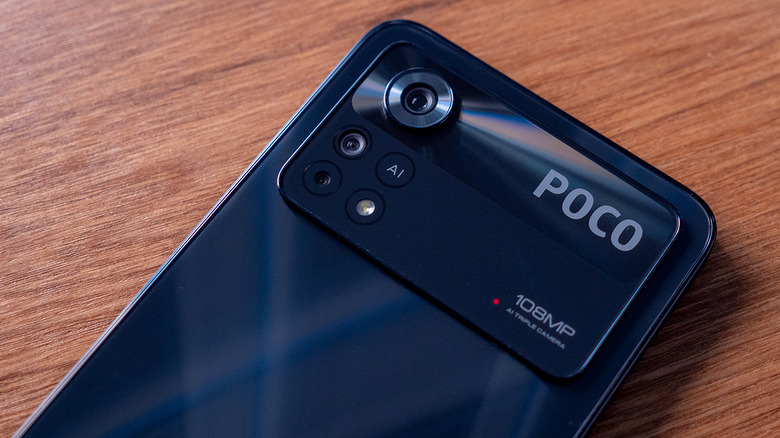 Ewdison Then/SlashGear
POCO utilizes Samsung's biggest sensor for its newest phone, placing a 108MP camera as the main star of its array. It is also a clear example of how pixel counts don't always count. It's not terrible, but it doesn't exactly wow, either.
By default, the camera outputs a pixel-binned 12MP photo with accurate colors and well-balanced exposure. If you want more details per pixel, you can switch to the full 108MP output, though it will suffer a bit in terms of color. The main camera unsurprisingly falters when there isn't much light around, and you'll find yourself activating Night Mode more often than not. Unfortunately, the lack of OIS makes that less accurate and less impressive.
There's an 8MP ultra-wide camera that could be best described as "meh." It gets the job done and nothing more. There is also no telephoto camera to speak off, so you'll have to make do with the 2x zoom of the main camera.
There is another member of the camera crew, and you probably won't' be surprised that it's a 2MP macro shooter. There's not much that can be said about it, given the poor quality of its output and unimpressive magnification range. Even less impressive, however, is the video recording capabilities of the POCO X4 Pro. Without OIS and capped at 1080p30, it's a bit more painful to record moving pictures unless you set your expectations low.
Software and usability experience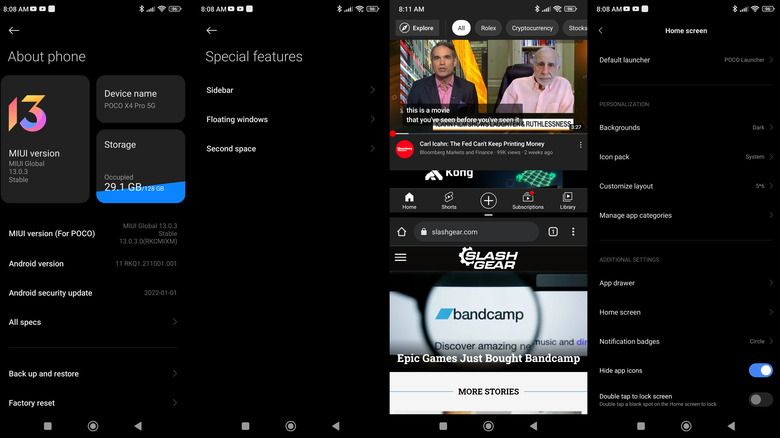 Ewdison Then/SlashGear
As a Xiaomi sub-brand, POCO uses its parent's MIUI software, which is currently at version 13. Despite that number, this means the POCO X4 Pro is still running Android 11 at this point. Sadly, Xiaomi remains unreliable when it comes to Android upgrades, and it naturally affects POCO's phones, as well. To date, the brand has made no strong commitments regarding its software support strategy.
MIUI itself is still one of the most heavily customized Android experiences in town. The company has dialed it down a bit in past years, at least moving away from looking like an iOS clone. Recently, however, it has ramped up its changes, even going as far as borrowing some ideas from Apple again.
There is a ton of customization options in the POCO X4 Pro, and some might admittedly be desirable, like support for floating windows and a quick launch sidebar.
Is the POCO X4 Pro worth buying?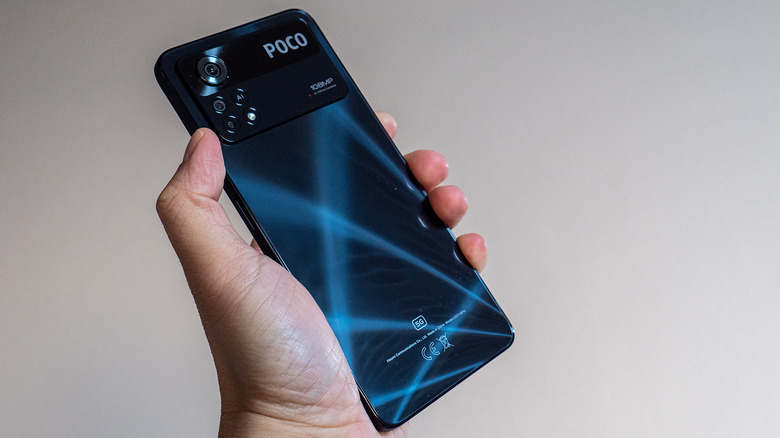 Ewdison Then/SlashGear
When compared to its immediate predecessor, the POCO X4 Pro is undoubtedly a worthy upgrade. The switch to a large 120Hz AMOLED screen alone is worthy of praise. Its design is definitely noteworthy, though plastic might not sit well with some people. Its homage to classic features like a headphone jack and storage expansion is appreciated, as well. With a starting price of €299 (roughly $340) for the base 6GB RAM and 128GB storage model, that actually sounds like a steal.
Unfortunately, the devil is in the details. The Snapdragon 695 5G, while okay, comes with some limitations that affect not just performance but also the camera. Those cameras are also good but don't stand out in any special way. And as users become more conscious of the software they're using, Xiaomi's lackluster track record is becoming more prominent. 
With a very crowded mid-range market, the POCO X4 Pro may no longer be able to distinguish itself with low prices alone, and it might find it a bit harder to pull in more customers until it figures out a new formula to use.