Realme 9 Pro+ Review: Mid-Range Shutterbug With Party Tricks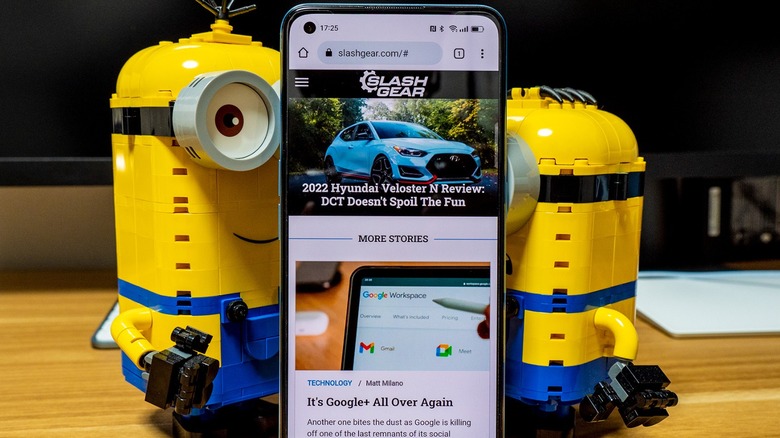 Ewdison Then/SlashGear
It's hard not being Samsung or Apple in the smartphone market, especially when you're a sub-brand of a bigger name. You almost have to do double the work to justify your existence, let alone why people should pay attention to your newest flagship model. Fortunately for Realme, things seem to be working out fine. According to some market analysts, the former OPPO sub-brand has become one of the fastest-growing names in the market thanks to its focus on a younger audience, as well as making 5G phones more affordable. 
With success, however, comes more challenges and growing expectations to stand out from the crowd, often resulting in gimmicks that don't deliver what they're supposed to. The new Realme 9 Pro+ seems to teeter over that line, so we recently tested the phone to see if there's more to it than meets the eye.
Design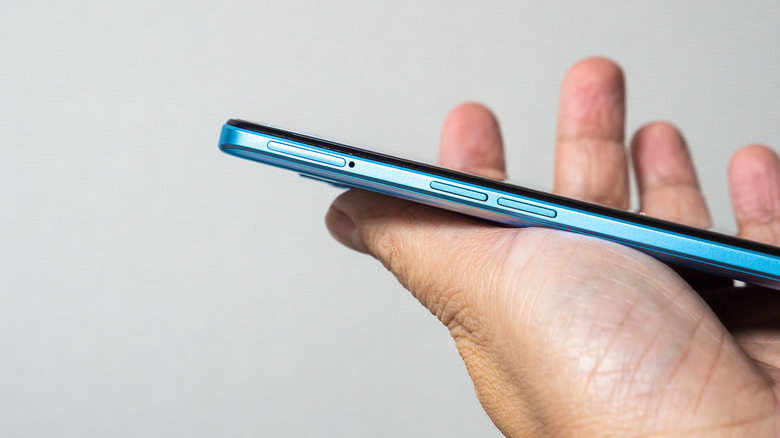 Ewdison Then/SlashGear
The Realme 9 Pro+'s design pretty much exemplifies the delicate balancing act between trying to be eye-catching without being obnoxious. At first glance, the phone doesn't set itself too far apart from familiar shapes and design cues. The plastic mid-frame does have flat edges, which seem to be the trend these days, but the curved glass back harkens back to the old days. The punch-hole camera cutout in the corner of the screen is also a design choice from the past, with most other companies putting the hole dead center nowadays.
The phone, however, does have one trick up its sleeve: the back panel. This, however, applies only to the Sunrise Blue color option, which has a hue that changes from sunrise to dusk when exposed to UV light. We've seen this before on the Vivo V23 5G, but the effect is somewhat less impressive on that device. The Realme 9 Pro+'s shift from gold to blue is a bit more striking and noticeable, though the phone's glossy glass back distracts rather than emphasizes the model's color-shifting feat.
The rest of the phone's body similarly falls between expectations. On the one hand, it doesn't come with any other unexpected surprises and gimmicks, other than the hidden heart rate sensor that we'll get to later. On the other hand, this also gives the Realme 9 Pro+ a sense of familiarity, which can actually be refreshing and reassuring in the midst of rapidly-changing smartphone designs.
Display and Audio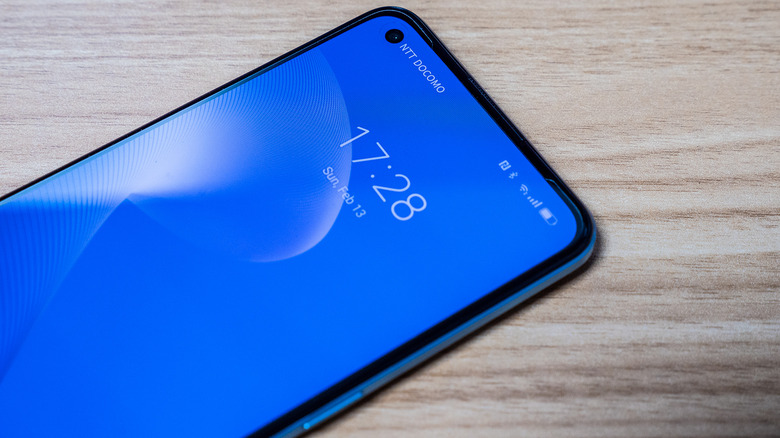 Ewdison Then/SlashGear
The Realme 9 Pro+ comes with a 6.4-inch screen that just about hits the right spot when it comes to size. This display uses a Super AMOLED panel that, as you might expect, is quite bright and vivid, perhaps even too saturated depending on the preset you're using. Either way, the screen is usable even under sunlight when its brightness is set to the maximum. Viewing angles are also superb, and blacks are rich and deep, making the phone great for watching HDR content.
The screen supports a 90Hz refresh rate, and it switches between 60Hz and 90Hz, depending on what's being used. Browsing and the system UI benefit the most from the faster refresh rates, while games seem to be fixed at 60Hz. Unsurprisingly, there is no option to force everything to 90Hz, but you can lock the screen down to 60Hz.
The display hides a fingerprint scanner underneath, but that isn't the only biometric sensor there. The Realme 9 Pro+ is perhaps the first of its kind to have a heart rate sensor integrated with that fingerprint scanner, bringing back a feature long lost from recent smartphones. Its accuracy still needs to be tested, but an approximate reading is still better than none, especially if you're not the type to wear a smartwatch.
Having stereo speakers on a mid-range phone is definitely a rarity, so Realme scores points for utilizing the earpiece as the second speaker. The output was loud, crisp, and clear, with just enough bass to be enjoyable. For audiophiles in the audience, there is a 3.5mm headphone jack to deliver even better audio using your favorite gear.
Performance and Battery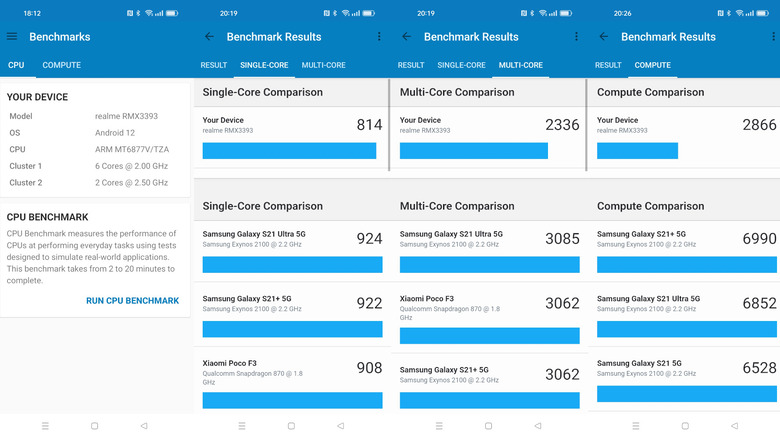 Ewdison Then/SlashGear
The Realme 9 Pro+ is unmistakably mid-range in its hardware configuration, starting with a MediaTek Dimensity 920 5G processor. RAM is available in 6 or 8 GB options, while storage is available in 128 or 256 GB. Unfortunately, there is no room for a microSD card slot, which is often a prized feature in this tier.
The performance doesn't stray from the Vivo V23 5G, which also used the same chipset. In not so many words, it can chug through most common smartphone tasks without breaking a sweat but will choke a bit on games unless you dial down their settings. On the upside, those games won't burn through your hands, as thermal management for both the processor and the phone seem to be adequate. It's definitely better than the Snapdragon 695 5G on the Redmi Note 11 Pro 5G we reviewed, as that Qualcomm silicon not only underperformed but also limited what the phone's camera could achieve.
The Realme 9 Pro+ doesn't have the largest battery in its class, but the 4,500 mAh pack is good enough to last a whole day. Of course, your mileage will vary depending on what you use it for, but the phone's less powerful and power-hungry hardware works in its favor in this regard. The model is also equipped with a 60W fast-charging capability, which takes just about an hour to charge from empty to full.
Cameras and Photography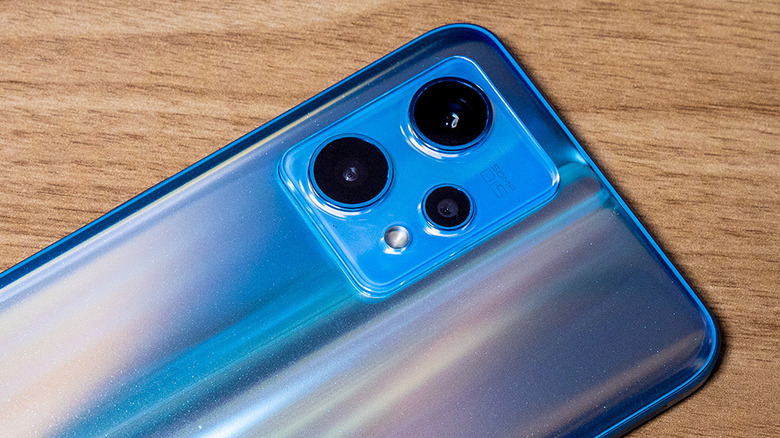 Ewdison Then/SlashGear
The phone's biggest surprise isn't its color-changing act but its unassuming cameras, specifically the main one. Given the camera bump design, you'd almost expect its performance here to be quite mediocre, but that couldn't be farther from the truth. For a mid-range phone in this price tier, it's actually impressive.
The 50MP Sony IMX766 main sensor might not sound like much, but a large lens aperture and OIS can make a world of difference. The images it produces do tend to look a bit more saturated than normal, but the quality is otherwise commendable. Details are quite good, even at night without Night Mode turned on, but you'll need to use that mode if you really want to brighten things up.
The 8MP ultra-wide camera is usable; don't expect too much from it, though it does handle lower light levels pretty well. There's not much to be said about the 2MP macro camera, and few will probably use it that much anyway.
The camera app has your usual set of features, including an AI Mode that can sometimes be a bit too aggressive with saturation. There are some interesting modes like Street Mode, which configures the exposure so that headlights turn into light trails, and Dual-View, which lets you record with both the rear and front cameras at the same time. Unfortunately, Realme has decided to move some common toggles like the timer to the three-dot menu, forcing users to take extra steps to set that up.
Software Experience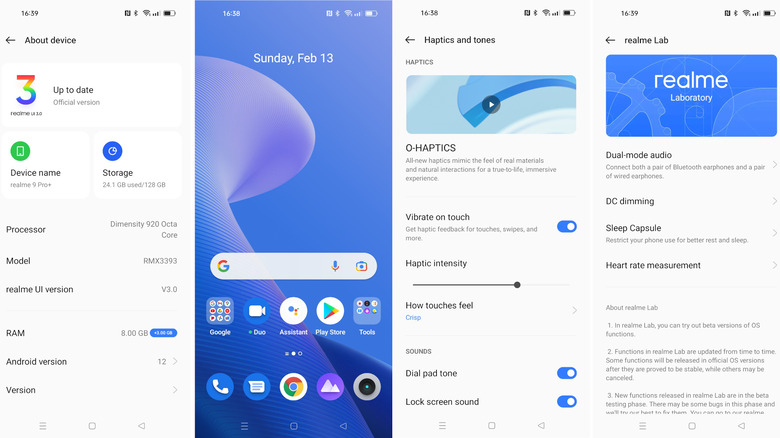 Ewdison Then/SlashGear
The Realme 9 Pro+ runs version 3.0 of the brand's custom UI, which is, thankfully, already based on Android 12. This means some features, particularly those related to privacy, are available right out of the box. Those include the Privacy Dashboard, notifications when the camera and mic are in use, and even dynamic Material You theming.
It's still a customized experienced, though it doesn't stray too far from what Android users would expect. There are quite a few desirable features, including a dual audio mode that can play the same audio on wired and wireless earphones at the same time, ample design customization options, Kids Space and Simple Mode, a smart sidebar, the ability to view notification history, and other Realme UI 3.0 features.
Unfortunately, the phone does also come with a ton of bloatware, some of which can be removed. Given the small, fixed storage space, pre-installed apps mean users pay a cost they never asked for and have to do more work to free up space.
Final Take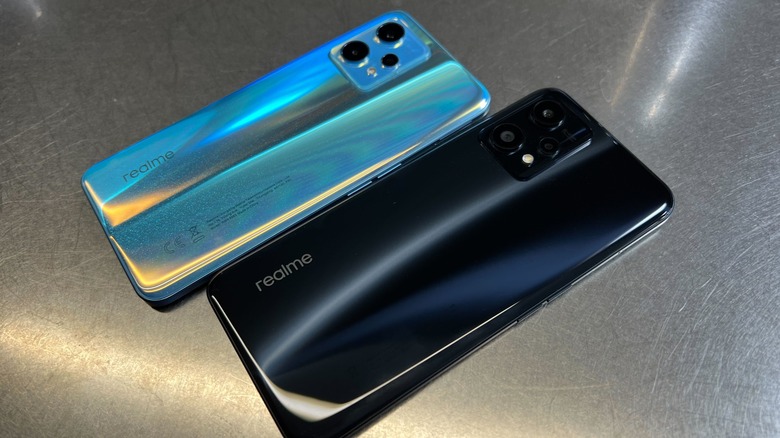 Ewdison Then/SlashGear
The Realme 9 Pro+ is an example of a phone that needs a second and harder look to really appreciate its value. At first glance, this model seems like a bland handset that relies on a visual gimmick to get noticed, and some people might, unfortunately, stop at that. It would be a shame, though, since the phone really does have more to offer.
It might not be the fastest kid on the block, but its camera chops will definitely leave a lot of owners satisfied. It delivers a solid set of features, especially when it comes to the display and sounds, and packs battery life that won't leave you too worried. 
Sure, Realme could have slapped on a microSD card for good measure or pushed the refresh rate up to 120Hz. But with a starting price of around $240, it's actually not that bad overall.