Ford Model E: What This New Division Means For The Company's EV Business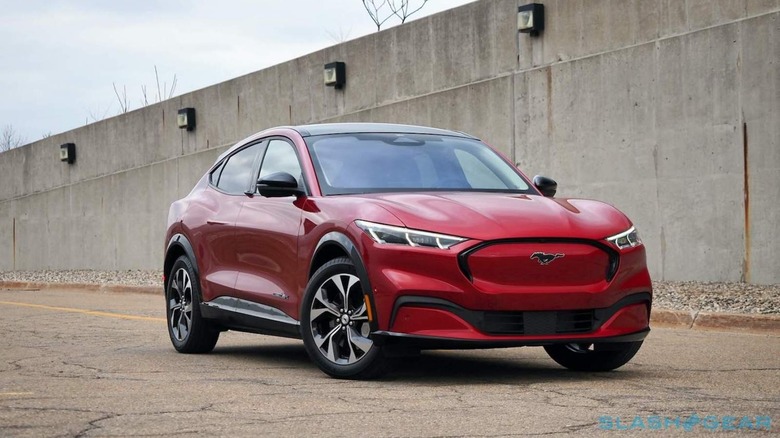 Ford is splitting its business in two, creating a new division called Ford Model e for its electric vehicles while maintaining its internal-combustion operations as Ford Blue. The announcement follows some high-profile launches of Ford EVs over the past 12-18 months, including the Mustang Mach-E electric crossover, the e-Transit electric cargo van, and the fast-approaching F-150 Lightning electric pickup truck. Despite some initial skepticism, the response to those vehicles has been generally glowing. Some enthusiasts may have criticized the decision to apply the Mustang name to an all-electric SUV, but that hasn't stopped positive reviews and strong sales for the model. As for the F-150 Lightning, reservations in the hundreds of thousands have forced Ford to accelerate production plans, significantly increasing them compared to the original roadmap for the truck.
Now, electrification — along with advanced connected vehicles — will be getting its own division. It's an extension of the Ford+ plan which the automaker revealed back in May 2021, detailing just how it would transition away from ICE to zero-emissions and, eventually, carbon-neutral operations.
One Ford - three businesses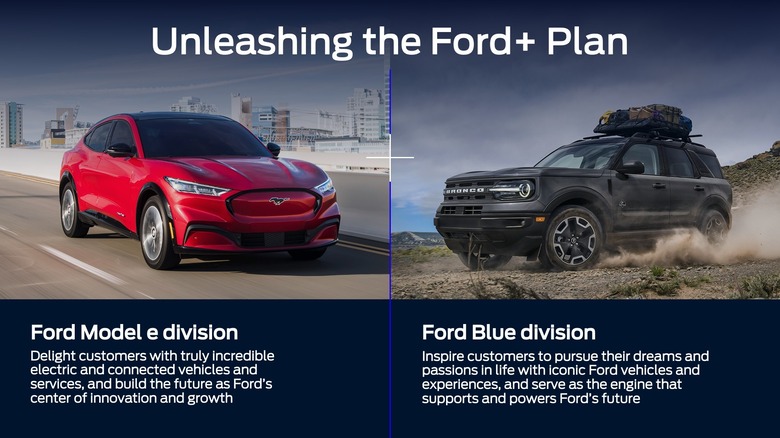 Ford
Ford Model e – a nod to the company's earliest cars – will be "distinct, but strategically interdependent" with Ford Blue. It'll operate alongside Ford Pro — which services commercial and government vehicles — and build on existing dedicated teams which Ford had established to develop models like the Mustang Mach-E and the F-150 Lightning. All three businesses are expected to have discrete P&Ls by 2023.
Ford President and CEO Jim Farley will be president of Ford Model e, the news release confirms. Doug Field, who returned to Ford in September 2021 after a stint at Apple, will be Ford Model e's chief EV and digital systems officer. He'll also be responsible for leading development of the software and embedded systems for the whole Ford group. That overlap will be key to the new organizational structure. Ford Blue will be focusing on some of the classic nameplates, like F-Series, Ranger, Maverick, Bronco, Explorer, and Mustang, which will include investing in new models, derivatives, and ICE advances. However, it'll also be using the software and systems that Ford Model e develops, effectively picking the best of what the new business comes up with to power its non-electric models.
As well as software, Ford Model e will be working on the whole EV lifecycle, including EV platforms, batteries, e-motors, inverters, charging, and eventual recycling. It'll also be looking at fully-networked vehicle architectures, for areas like always-on connectivity, comprehensive over-the-air software updates that go beyond just tweaking the infotainment, and generally delivering new mobility experiences.
More EVs, lower costs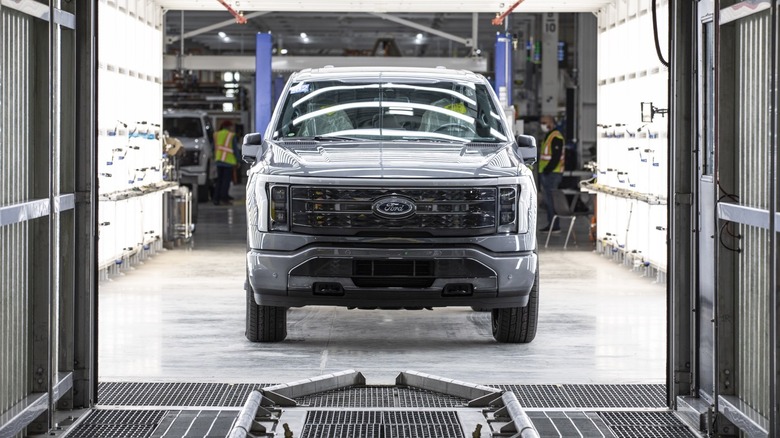 Ford
"This new structure will enhance our capacity to generate industry-leading growth, profitability and liquidity in this new era of transportation," John Lawler, Ford's chief financial officer, said in a statement. "It will sharpen our effectiveness in allocating capital to both the ICE and EV businesses and the returns we expect from them – by making the most of existing capabilities, adding new skills wherever they're needed, simplifying processes and lowering costs." As for those lowered costs, Ford has reiterated today that it expects $11.5 billion to $12.5 billion in company adjusted EBIT for 2022 as a whole. That would work out to an 8% margin, but the automaker now says it's on track for a 10% margin by 2026. Significantly reduced ICE structural costs will contribute to that particularly.
By 2026, Ford expects to be producing more than 2 million electric vehicles each year, or around a third of total volumes worldwide. That should rise to more than half by 2030. One-hundred percent of the electricity used in Ford's manufacturing operations should be from local and renewable sources by 2035.
For consumers looking for new cars, meanwhile, this should mean a lot more choice. Ford has already promised an aggressive uptick in EV options on dealership lots, with the current range of electric models expanding until there's an EV variant of everything across the board. While for the foreseeable future trucks like the F-150 Lightning are expected to remain in relatively short-supply, the goal is to alleviate those bottlenecks with new facilities like the Rouge Electric Vehicle Center in Dearborn, Michigan.