Poco X4 Pro 5G Is A Budget Phone With Brag-Worthy Specs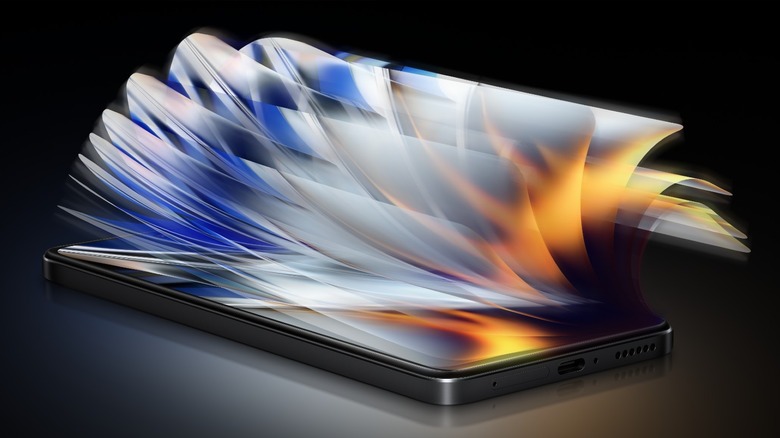 POCO
Poco, the company that started as a Xiaomi brand, has unveiled its new Poco X4 Pro 5 and M4 Pro smartphones, both introduced as part of the company's Mobile World Congress 2022 lineup. Poco says the X4 Pro 5G has the distinction of being its latest flagship model, offering consumers everything from 67W fast charging to a Qualcomm Snapdragon 5G processor and an AMOLED display with a 120Hz refresh rate.
As expected, the Poco M4 Pro comes in second to its more capable sibling, offering generally noteworthy specs without blurring the line between the two models. Consumers can expect an AMOLED 90Hz display, about half the camera resolution of the X4 Pro 5G, and 22W fast charging, which is still pretty decent. Of course, Poco's most appealing aspect isn't a feature at all, but rather its generally low price point. Consumers in covered markets will be able to get the X4 Pro 5G flagship with a starting price of €299, which works out to around $335 USD.
Poco X4 Pro 5G focuses on the display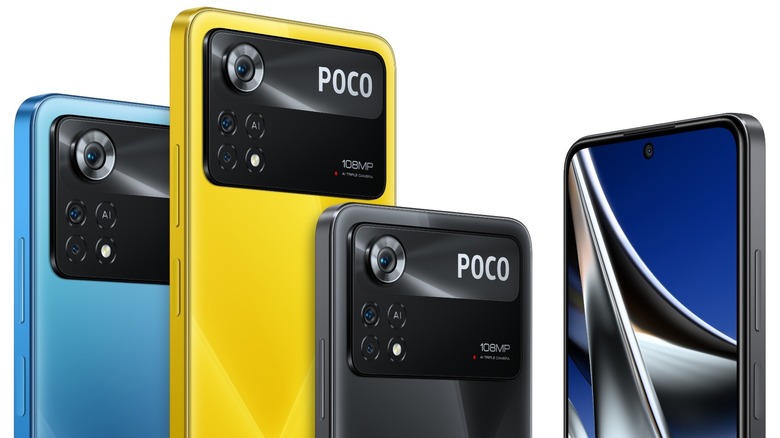 POCO
Despite its comfortably low price point, Poco positions the X4 Pro 5G as a daily driver that offers an overall "flagship-level experience." At the top of that high-end experience resides the display, which, at least on paper, appears very impressive for a handset that technically falls within the "budget" category.
The flagship sports a 6.67-inch AMOLED panel with DotDisplay tech, the aforementioned 120Hz refresh rate, and a 360Hz touch sampling rate. Of note, this is the first Poco "X" series device to earn itself an AMOLED screen, giving consumers loyal to the brand a good reason to upgrade.
The display has a 2400 x 1080 resolution (FHD+) and a DCI-P3 color gamut, plus the company says this model comes with an SGS Eye Care certification, which is supposed to make the device easier on one's eyes when used for long periods of time.
Joining the display is Qualcomm's Snapdragon 695 5G processor, which is a mid-tier chip and entirely expected on a handset aiming for a low starting cost. Multiple configurations will be offered, but customers who don't mind paying a bit more can get up to 8GB of RAM and 256GB of storage. On top of that, Poco includes Dynamic RAM Expansion Technology to earmark 3GB for extra RAM capacity — this should, ideally, make more intensive applications like certain mobile games run better.
The rest of the specs are decent, too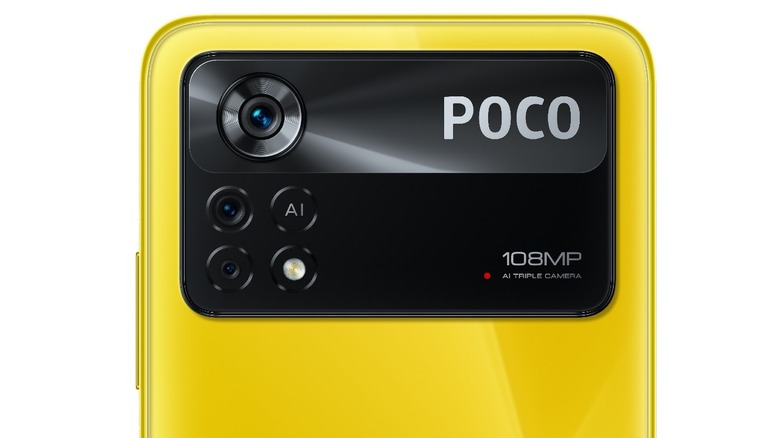 POCO
As for the other specs, Poco has managed to strike a solid balance between features and cost. Users can expect a 108MP main camera, and though the high resolution doesn't necessarily guarantee good image quality, it should be noted the sensor is generously sized at 1/1.52-inches. This is the first time Poco has used a sensor that large, plus it boasts 9-in-1 binning tech, the combination of which should ensure ample lighting for solid quality.
Joining the main camera is an 8MP ultra-wide module and the 2MP macro camera that has proven popular with Chinese phone manufacturers. The front camera, meanwhile, has a decent 16MP sensor alongside a panorama selfie mode. Camera features round out with a dual-video (front and back cameras) shooting option and various modes and filters.
Rounding out the specs is a 5,000mAh battery capacity that'll get users through a full day of usage, according to Poco. Just as important as the battery capacity is the 67W "turbo" fast charging, which Poco claims can get the battery to a 70% charge in 22 minutes.
There's 5G connectivity, of course, as well as stereo audio. Finally, the flagship runs MIUI 13, the latest version of Xiaomi's custom Android interface.
It's unclear which markets will get the Poco X4 Pro 5G and when the company plans to release the model. However, we do have some pricing and configuration info: the 6GB/128GB version will cost €299, while the 8GB/256GB version will be pricier at €349. This model will launch in "Poco Yellow," Laser Blue, and Laser Black color options.
Poco M4 Pro's lower price will cost you features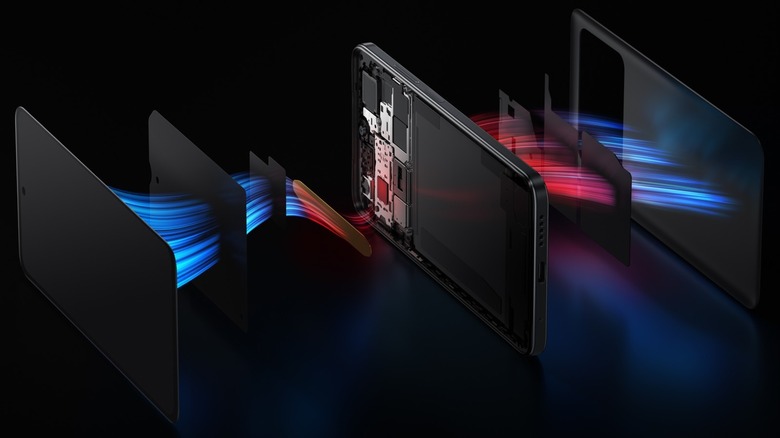 POCO
Joining the flagship model is Poco's new M4 Pro, a cheaper alternative to the X4 Pro 5G that, among other things, comes with reduced camera and display specs, as well as the notable lack of 5G connectivity. Consumers who don't mind sticking with 4G LTE for their mobile-streaming needs should note the relatively steep drop in features comes with a similarly lower price tag: the 6GB/128GB version will be priced at €219, while the 8GB/256GB version will be priced at €269.
The M4 Pro features a 6.43-inch AMOLED display with DotDisplay tech, a 90Hz refresh rate, and a 180Hz touch sampling rate. As with the X4 Pro 5G, there's also a DCI-P3 color gamut and SGS Eye Care Display certification, plus the addition of Seamless Display certification. Consumers get the same FHD+ resolution, but the camera is trimmed at 64MP for the main shooter. There are the same 8MP ultra-wide-angle and 2MP macro cameras, however.
The performance will be a bit lower due to the use of MediaTek's Helio G96 paired with the ARM Mali G57 MC2 GPU. The battery sports the same 5,000mAh capacity, but there's only 33W fast charging, which will get users to a full charge in around an hour. Of note, this model also packs Dynamic RAM Expansion Technology for the same extra 3GB of memory.