HyperX's New Gamer Mouse And Keyboard Promise Performance On A Budget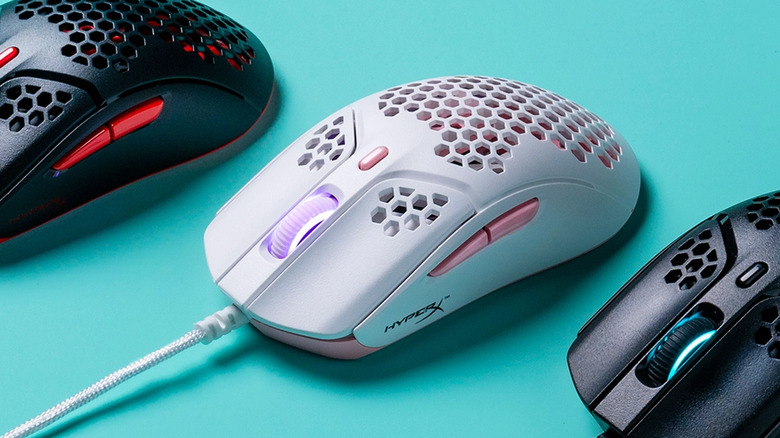 HyperX
HP's HyperX brand has two new peripherals designed for PC gamers: the Pulsefire Haste wireless mouse and the Alloy Origins 65 mechanical keyboard with new switch options. HyperX says its new products pack features designed specifically for gaming, including everything from durability to quick responses and, in the case of the mouse, a unique ultra-lightweight design.
The Alloy Origins 65 is a 65-percent form factor update to the Alloy Origins 60, one that offers certain keys users may find convenient while maintaining a relatively small size. The mouse, meanwhile, is notable because of its "honeycomb hex shell" design with open holes to increase ventilation and help shave a few grams of weight. Though the mouse is wireless, HyperX reassures gamers with the promise of low latency which should, hopefully, make it suitable for fast-paced action games. The keyboard, on the other hand, connects to PCs using a detachable USB-C cable.
Pulsefire Haste mouse boasts an ultra-long battery life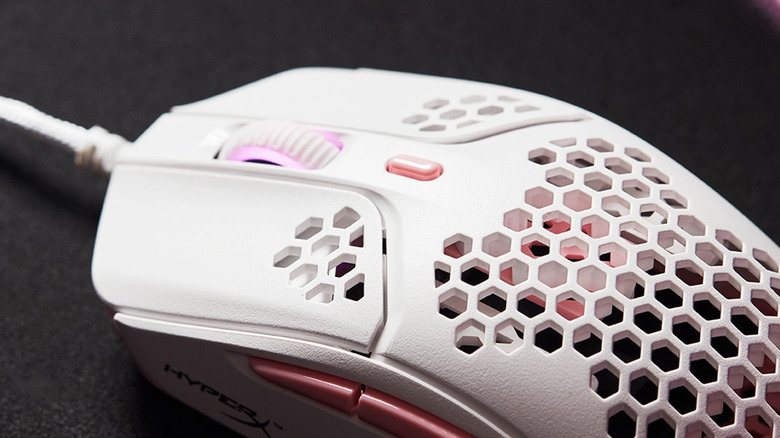 HyperX
The HyperX Pulsefire Haste gaming mouse features wireless 2.4GHz connectivity with a 1ms report rate, according to the company. That's combined with 400/800/1,600/3,200 DPI presets, though HyperX says the native DPI can go up to 16,000. Users concerned about responsiveness in fast-paced games have the option of connecting the mouse over a wired connection using an included USB cord.
HyperX says its HyperFlex USB cable is made with an "ultra-flexible paracord material" designed to facilitate "effortless movements," underscoring the focus on rapid responses to in-game activities. Virgin-grade PTFE skates round out that aspect of the design, enabling users to easily move the mouse due to a low level of friction.
The most eye-catching aspect of the mouse is its honeycomb design, making the overall weight come in at around 2 ounces, assuming you're in wireless mode. Other notable features include a 370mAh battery offering up to 100 hours of continuous use, though that's with the lighting turned off.
The mouse includes per-LED RGB lighting, as is common among gaming peripherals, plus there are TTC golden micro dustproof switches in the buttons able to withstand up to 80 million clicks, according to HyperX.
The Pulsefire Haste wireless mouse is available in the US now through HyperX's online store for $79.99; both white and black versions are offered.
Alloy Origins 65 brings RGB colors and new switches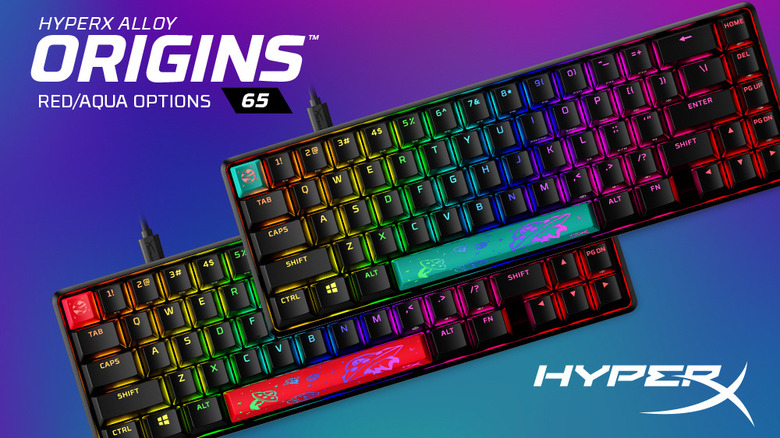 HyperX
The new Alloy Origins 65 mechanical keyboard, meanwhile, is a wired accessory with a detachable USB-C cable, RGB backlit keys, ABS keycaps with laser etching, and two new switch options: HyperX Red linear switches and Aqua tactile switches.
Because this is a 65-percent form factor keyboard, there's room to include the page up and down keys, arrow keys, and a delete key. This could make the keyboard more useful as a daily device used for both gaming and general computing tasks — though, as HyperX points out, the smaller size means there's enough room left on the desk for a mouse to comfortably move around.
Notable features include support for per-key RGB lighting, 16,777,216 colors, five user-adjustable brightness levels, 100% anti-ghosting, media control keys, a dedicated "game mode," and support for Windows 7 through Windows 10 (there's no mention of Windows 11 specifically, though it'd be surprising if it didn't also work on this latest version of the operating system).
In addition to the Alloy Origins 65 shipping with the two new switch options, HyperX says its smaller Alloy Origins 60 can also now be purchased with the HyperX Red linear and Aqua tactile switch options.
Both keyboard options with Red/Aqua switches are now available in the US for $99.99.