Qualcomm's New 5G And WiFi 7 Tech Is About More Than Just Speed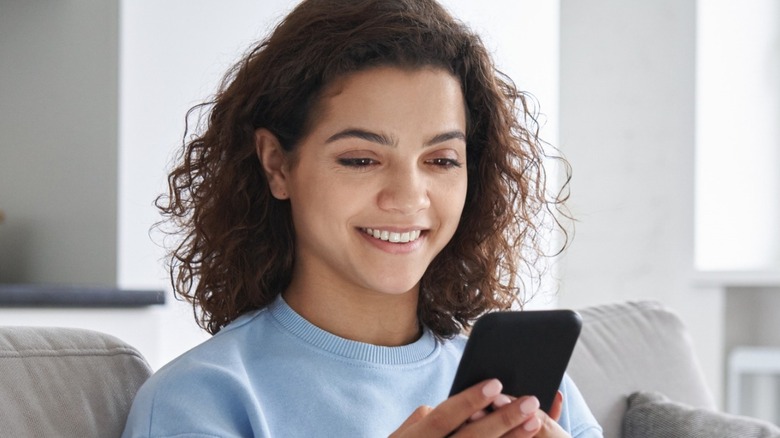 insta_photos/Shutterstock
Qualcomm made two big announcements at MWC today, revealing its next-generation 5G modem in the Snapdragon X70 and the FastConnect 7800, a new commercial WiFi 7 system that's arriving just as WiFi 6 seems to be gaining ground in the consumer space. While increased speeds and better connectivity are obviously big factors with any new 5G or WiFi modem, they aren't the only things worth paying attention to in Qualcomm's new offering.
That's because Qualcomm is making a relatively big deal about power management. These new modems should be more efficient than their predecessors, which should lead to longer battery life in the phones and devices they reside in. In fact, for regular consumers, those increases in efficiency could prove to be the biggest noticeable change in these new platforms. Then again, with Qualcomm promising an integrated AI processor in the Snapdragon X70, better power efficiency might have a competitor for the modem's most intriguing new feature.
Qualcomm Snapdragon X70 first details
If you follow mobile news, chances are by now you've heard of the Snapdragon X-series, a line of 5G modem-RF systems that began with the Snapdragon X50 and is now entering its 5th generation with the X70. The X70 introduces the Qualcomm 5G AI Suite, which will use an AI processor to do things like dynamically optimize connections, select networks, and tune antennas for higher speeds. Qualcomm says that the X70 uses "A1-based mmWave beam management for mobility and coverage robustness," so at least in that regard, it may help ease one of the shortcomings of mmWave 5G connections.
Qualcomm says that the X70 is still capable of reaching 10 Gigabit peak download speeds like its predecessors, but aside from the AI features, the big improvements come in power efficiency. The X70 uses "Qualcomm 5G PowerSave Gen 3," as it's officially called, which works in tandem with other features like that AI antenna tuning we mentioned before to make it so maintaining a 5G connection won't cause as much power draw as it did in previous X-series modems. This, in turn, should result in longer-lasting batteries, which is always nice to see.
As good as all of this sounds, it's going to be a while until the X70 debuts in smartphones. Qualcomm says that it will begin sampling the modem to its customers sometime in the second half of 2022, and it then expects the X70 to start appearing in consumer devices in late 2022.
Qualcomm FastConnect 7800 serves up WiFi 7 connectivity
The other announcement Qualcomm made today is a bit of an oddity. With most of the world's consumer devices still transitioning to WiFi 6, Qualcomm is looking even further into the future by introducing its FastConnect 7800 platform, which meets the WiFi 7 specification. In its announcement today, Qualcomm says this is the first WiFi 7 commercial solution on the market.
In any case, FastConnect 7800 uses High Band Simultaneous Multi-Link that uses four streams from two separate WiFi radios to tap into the 5GHz and 6Ghz bands, presumably resulting in faster speeds and lower latencies. With HBS Multi-Link, Qualcomm says the FastConnect 7800 leaves the 2.4GHz band open for Bluetooth and low-bandwidth connections, which is important because Bluetooth is a big part of this new platform.
The FastConnect 7800 system uses Snapdragon Sound, which promises CD lossless (16-bit 44.1kHz) and high resolution (24-bit 96kHz) Bluetooth audio quality, along with a 68ms gaming mode. The platform supports Bluetooth 5.3 along with LE audio, so in devices using this radio, we can hopefully expect sound over Bluetooth to be significantly improved. Qualcomm even says that system enhancements made to the 7800 platform will result in 30-50% power savings over the previous generation, so once again, power efficiency is a core focus. FastConnect 7800 is sampling now to Qualcomm's business partners, and the company expects to see commercial availability for the platform in the second half of this year.