Lenovo's 2022 ThinkBook Lineup Is Its Thinnest Ever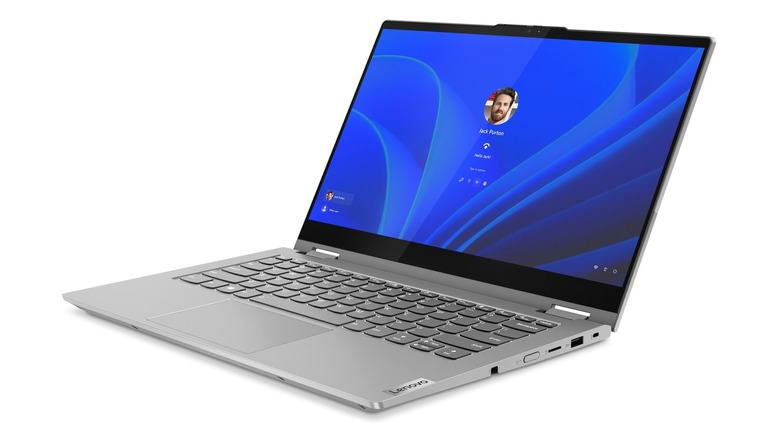 Lenovo
Lenovo is leaving no stone unturned in making MWC 2022 a launch platform for a large chunk of its 2022 product lineup. Early on Monday, February 28, 2022, on the sidelines of the MWC, the company added two new products to its famed ThinkBook lineup of business-oriented notebooks. The new products include the new ThinkBook 14s Yoga Gen 2 and the ThinkBook 13s Gen 4i.
In case you aren't aware, the ThinkBook lineup specifically targets small and medium-sized companies by offering them products that offer great hardware at compelling prices. As evident from their names, the ThinkBook 14s Yoga Gen 2 succeeds the 'original' ThinkBook Yoga from late 2020, while the ThinkBook 13s Gen 4i is a 2022 update to last year's ThinkBook 13s Gen 3.
As you'll see in the images below, these two products are pretty different from each other in terms of their features and positioning. While the ThinkBook 14s Yoga boasts of a convertible form factor and flaunts its note-taking abilities, the ThinkBook 13s looks relatively 'mainstream.'
These notebooks will go on sale starting April 2022, with both products getting the same entry price of $849. The ThinkBook 14s Yoga Gen 2 will come in two color options; Abyss Blue and Mineral Grey, while those interested in the ThinkBook 13s Gen 4i will be able to buy the product in Cloud Grey and Arctic Grey colors.
In the sections below, we'll take a detailed look at the key specifications and special features of these two ThinkBook products.
ThinkBook 14s Yoga Gen 2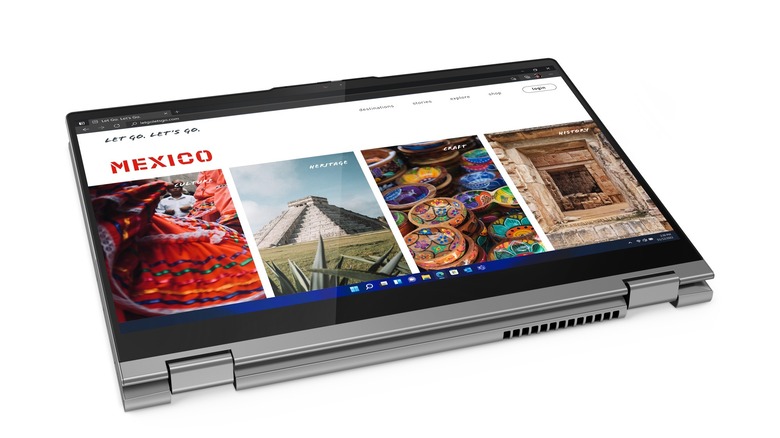 Lenovo
The ThinkBook 14s Yoga Gen 2 is near-identical to its predecessor from 2020 in terms of design but has received a bunch of hardware upgrades to make it appealing to the 2022 buyer. Key upgrades include the processor, which sees an upgrade from the older 11th Gen Intel Core processors to the latest 12th Gen Intel chips (up to Core i7). The graphics capabilities see an improvement with support for Intel's Iris Xe graphics. In addition, the product supports up to 40GB of DDR4 RAM and gets dual SSD options thanks to the presence of two M.2 PCIe slots.
The capacitive touchscreen display used on the ThinkBook 14s Yoga Gen 2 measures 14-inches across and supports FHD resolution. It has a peak brightness of 300 nits and comes with Gorilla Glass protection for scratch resistance. The display is also DolbyVision certified and covers 100% of the sRGB color gamut. The convertible design of the notebook ensures that the display can be folded 'downwards' to convert the machine into a large 14-inch tablet.
Like its predecessor, the ThinkBook 14s Yoga Gen 2 comes with a SmartPen that gets its own slot where it can be safely stored when not in use. Apart from supporting standard note-taking and jotting features, the SmartPen can also sketch designs and sign documents. In addition, with improvements to Windows Ink on Windows 11, the notebook also offers improved haptic feedback while using the SmartPen.
Physical connectivity options on the ThinkBook 14s Yoga Gen 2 include one Thunderbolt 4 port, a USB Type-C 3.3 Gen 2 port, twin USB 3.2 ports, an HDMI port, an audio port, and a microSD card slot. Wireless options include support for Wi-Fi 6E and Bluetooth 5.1. The product ships with a 60Whr battery that can be charged using the supplied 65W adapter.
ThinkBook 13s Gen 4i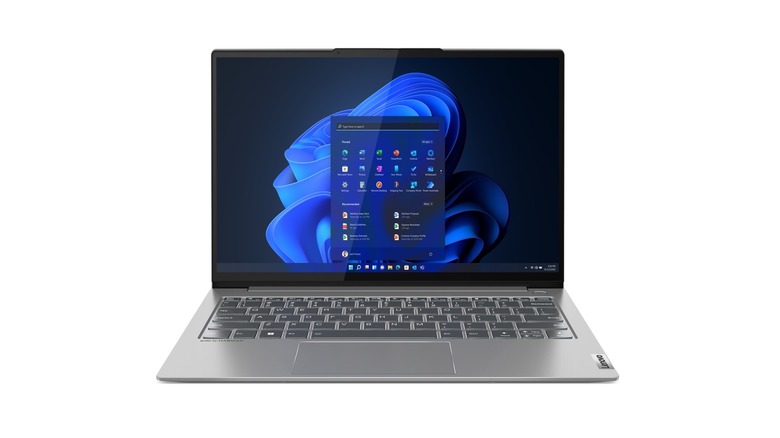 Lenovo
Like its convertible sibling, the ThinkBook 13s Gen 4i gets 12th Gen Intel processors and comes preinstalled with Windows 11 Pro. The machines support up to 32GB of dual-channel LPDDR5, 4800 MHz RAM, and support up to 1TB of storage using M.2 PCIe Gen4 SSD.
The 13.3-inch display on the ThinkBook 13s Gen 4i is sharper and brighter than its convertible counterpart and boasts 2.5K (2560 x 1600 pixels) resolution in the 16:10 aspect ratio. This combination, however, is only available on the higher configurations of the machine.
Most buyers are likely to stick with the more affordable variant that will ship with a standard FHD display and a lower 300 nits peak brightness. Another key aspect of the display is that it supports a 180-degree lay-flat mode.
Connectivity options on the ThinkBook 13s Gen 4i include twin Thunderbolt 4 ports, one USB-A port, a single HDMI port, and an audio jack. Wireless connectivity options include Wi-Fi 6E and Bluetooth 5.1. The battery on the ThinkBook 13s Gen 4i is slightly smaller than the one on the ThinkBook 14s Yoga Gen 2. You do, however, get the same 65W adapter for charging the notebook.