Lenovo YOGA 720 15" Review: A Sleek But Heavy Windows Laptop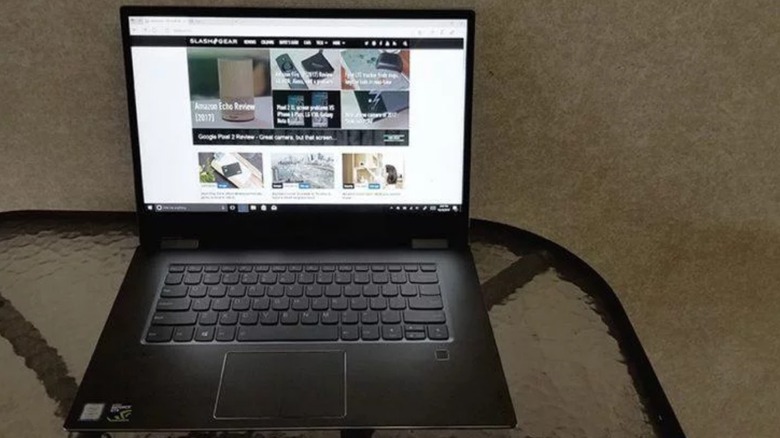 Images by Brittany Roston for SlashGear
This year has brought one of the most beautiful and capable Lenovo YOGA laptops we've seen so far: the YOGA 720. This laptop — the 15" version, in this case — sports a sleek all-metal body alongside an Ultra HD glossy display, powerful graphics, and an excellent keyboard. Like other YOGA models, the 720 is also flexible, able to fully transform into a 'tablet' or sit at any angle between. What's not to like?
Hardware & Design
The YOGA 720 is an impressive beast, emphasis on beast due to its relatively heavy weight. Everything about this laptop's design screams premium, and that impression holds up true during usage. The YOGA 720 has one of the most comfortable laptop keyboards I've ever typed on; just the right amount of travel and resistance with near-silent operation and wide spacing.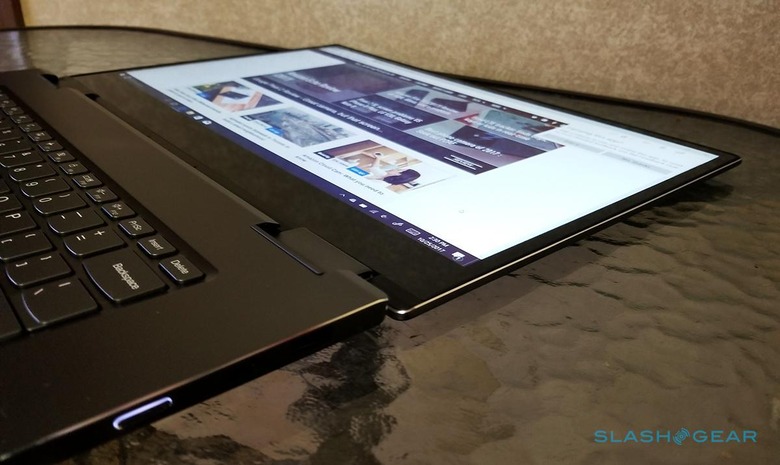 The power button on the edge sits flush with the metal, though Lenovo put in the effort to distinguish it with a glowing LED rim. The lid has a smooth metal design interrupted only with the shiny YOGA logo. The display takes up most of the underside; the dark bezels around it are very slim, leaving little space wasted.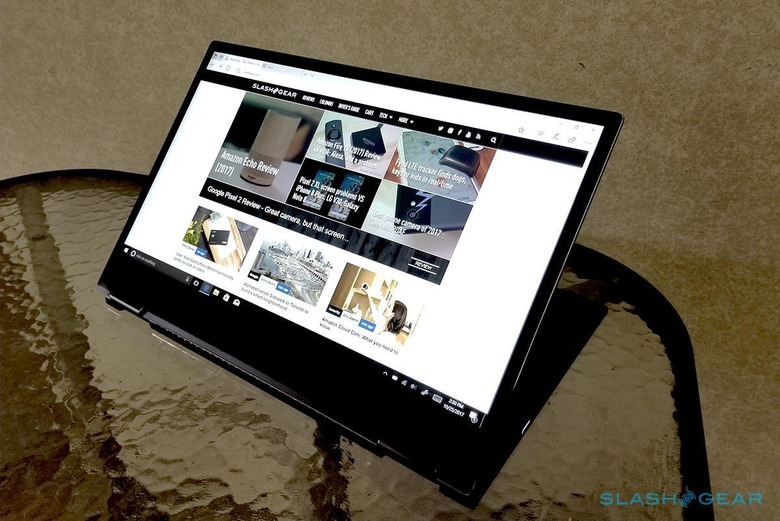 Lenovo packs some excellent hardware into its YOGA 720 model, notable among it being up to an Intel Core i7-7700HQ 2.8GHz processor and NVIDIA GeForce GTX 1050 2GB graphics. Buyers can get up to 16GB of RAM and up to a terabyte of storage. Other features include USB-C, dual JBL speakers, a 720p webcam and Windows Hello support, and the choice between either a Full HD or an Ultra HD display (full specs below).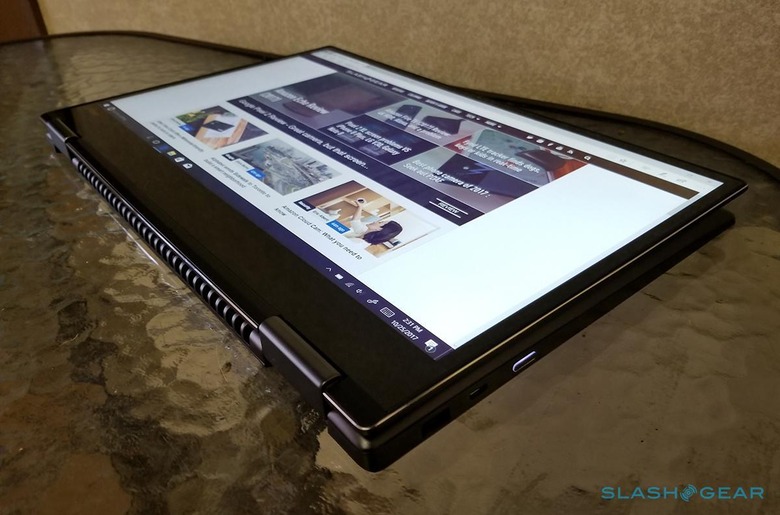 In true YOGA fashion, the display has 360-degree hinges that enable users to tilt the screen fully backward so that the lid sits flush with the bottom of the laptop. The hinges are capable of holding the screen at any angle between 'laptop' and 'tablet' modes, the latter of which pairs nicely with Windows 10's automatic tablet-mode switching feature. It is, obviously, much thicker than an actual tablet, but slim enough to be reasonable for tablet-like usage.
TECH SPECS

Processor: Up to 7th Generation Intel® Core™ i7-7700HQ Processor (2.80GHz 6MB)

Operating System:

- Windows 10 Home

- Windows 10 Pro – Lenovo recommends Windows 10 Pro

Display:

- 15.6" UHD (3840 x 2160) IPS LED Multitouch with integrated camera

- 15.6" FHD (1920 x 1080) IPS LED Multitouch with integrated camera

Graphics: NVIDIA GeForce GTX 1050 2GB

Camera: HD 720p

Memory: Up to 16GB DDR4 2133 MHz

Storage: Up to 1TB PCIe SSD

Battery: Up to 9 hours with FHD display

Audio:

- 2 x JBL speakers

- Dolby Audio Premium

Security: Fingerprint reader

Ports:

- USB Type-C with Thunderbolt

- USB 3.1

- 2 x USB 3.0

- Audio jack

Connectivity: 802.11ac WiFi + Bluetooth 4.1

Dimensions: 14.3" x 9.5" x 0.75"

Weight: Starting at 4.4lbs

Colors:

- Iron Grey

- Platinum Silver
Battery & Performance
This section starts with the usual caveat: your experience will depend on your model's configuration. Our review unit features the Intel Core i7-7700HQ processor, plus 8GB of memory, meaning it is close to the top-tier model but not quite all the way there. As the benchmarks below show, the laptop packs a big punch.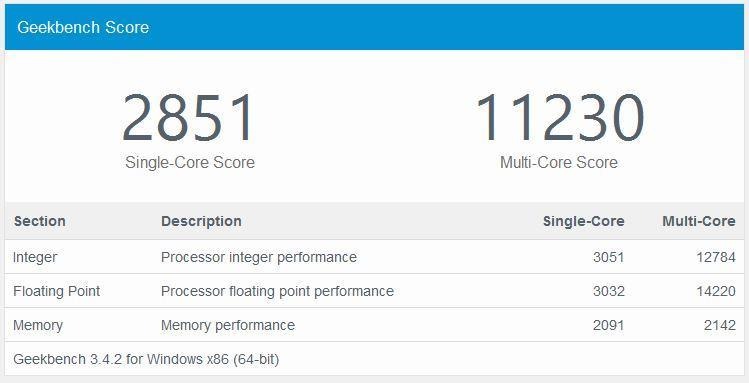 As far as everyday usage goes, the YOGA 720 is speedy and performed without any issues. The laptop handles more demanding software like Photoshop like a champ, and you could use this model for gaming or VR if you're so inclined.
Things we like
The YOGA 720 is a bundle of good things. The design, hardware, display, and keyboard are all great with few compromises or deficits between them. The display, though glossy (which some find annoying), is crisp, very bright, and very saturated, though the colors aren't overblown. The keyboard is very comfortable to type on with near-silent operation, the design is attractive, and the excellent hardware options make this a potential winner for a variety of users.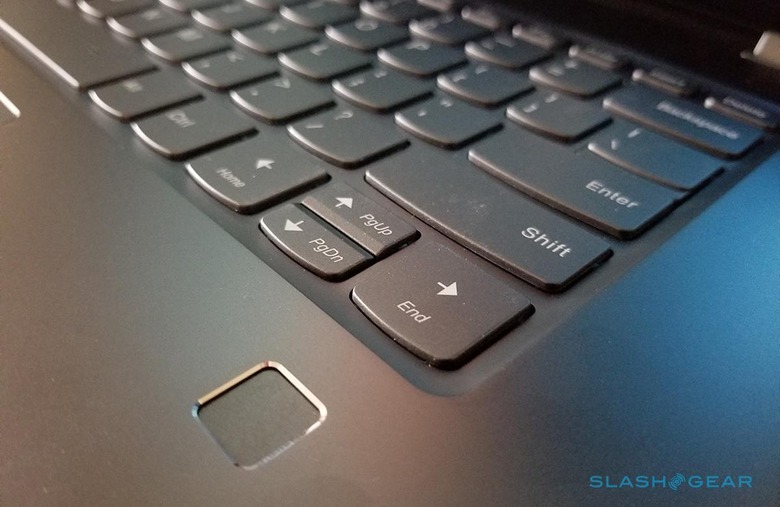 Joining those aforementioned upsides are dual JBP speakers, both of which are located on the underside on the curved part of the outer edges. This placement allows the audio to bounce off of a desk or table surface, which serves as a pseudo-amplifier. The audio is robust and, when compared to other laptops' audio, it is surprisingly capable. You're not going to blow away external speakers, of course, but these JBL offerings are able to hold their own if you're watching a video or playing music through the device's own audio system.
Things to consider
While I very much enjoy using the YOGA 720, there are some points to note: it doesn't have an SD card slot, it doesn't have HDMI, and the USB-C port isn't used for charging. None of those are deal-breakers for me, but it is easy to see how some buyers may choose to look elsewhere.
The lack of an SD card slot, for example, means having to break out the USB adapter when there are images to transfer. The lack of HDMI means using an adapter to plug it into a display or projector. And the lack of USB-C charging means carrying around the laptop's big charging cord.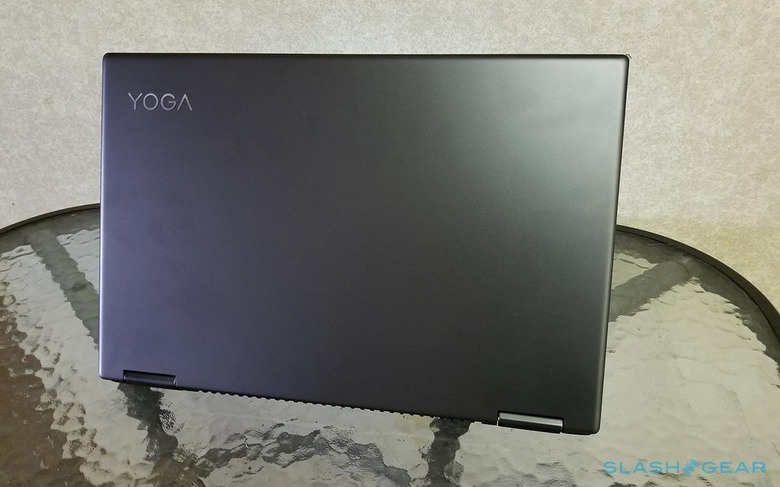 Joining that is the minor 'issue' of easy smudging from fingerprints, which show up as dark marks on the otherwise beautiful lid. That's an annoying problem, as it felt embarrassing for others to see the number of prints, but it isn't practical to avoid causing them and they're not easy to wipe away without a moistened wipe.
Finally, with a starting weight of 4.4lbs, the YOGA 720 isn't light in the hands and, most importantly, it isn't light on the back/shoulders. If you're someone who does a lot of traveling and/or a lot of walking with your laptop and you need this level of power, you'd probably do well looking for something that weighs less even if it is more expensive.
Wrap-up
To put it simply, I really like the YOGA 720. Though it does have its downsides — the lack of SD card slot being the most annoying for me — they're not unusual compromises and they're increasingly found on other similar laptops.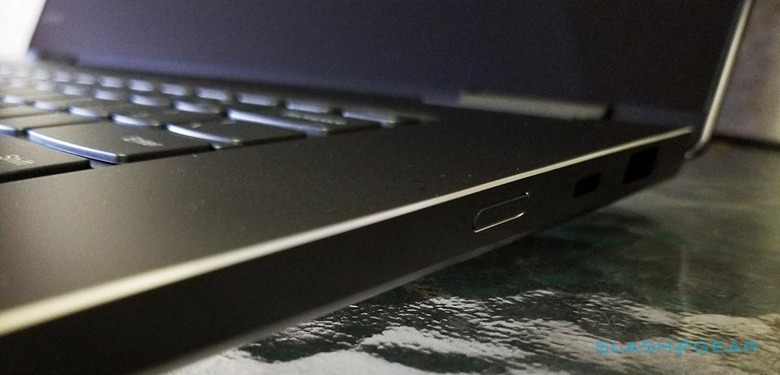 What the YOGA 720 does offer, though, is great and didn't disappoint during my time with the laptop. The design is great, the hardware options are great, and the display is top notch. If you can look past the missing ports and the fingerprint-prone exterior, there's nothing to dislike about this model.
Available now on Lenovo's website starting at $1,099.99 USD.