Elden Ring Performance Issues Are Leaving Some Gamers Furious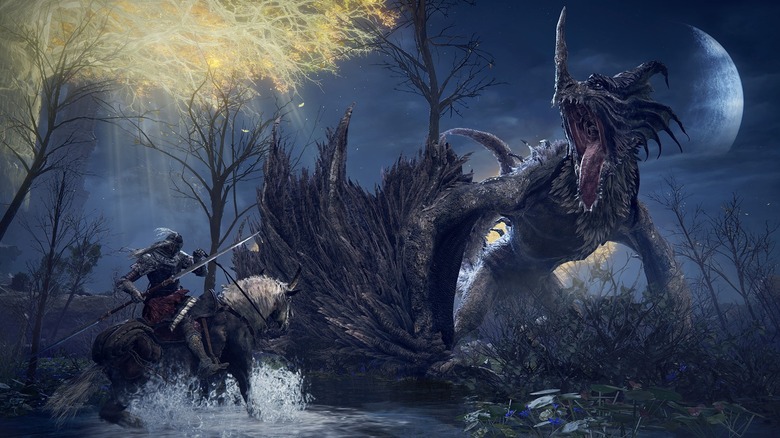 Bandai Namco
"Elden Ring" officially launches today, but many excited players stayed up late last night to start playing the game as soon as it unlocked. On PC, "Elden Ring" went live as early as 6 PM EST here in the United States, while the console versions launched just a few hours later. Those who were looking forward to "Elden Ring" have had the chance to spend some time with it by now, and players are seeing some of the game's issues first hand.
While "Elden Ring" is a good game, it does indeed have its share of problems. I discussed some of these issues in my first impressions of "Elden Ring," noting specifically that I had a hard time getting a controller to work with the PC version and that I did experience some frame drops while playing the PlayStation 5 version of the game.
With "Elden Ring" players airing their grievances and talking about the problems they're experiencing, From Software and Bandai Namco have issued an apology about the game's performance. The two companies have also detailed fixes that are coming in future patches or solutions that gamers can use now.
An Elden Ring patch is in the works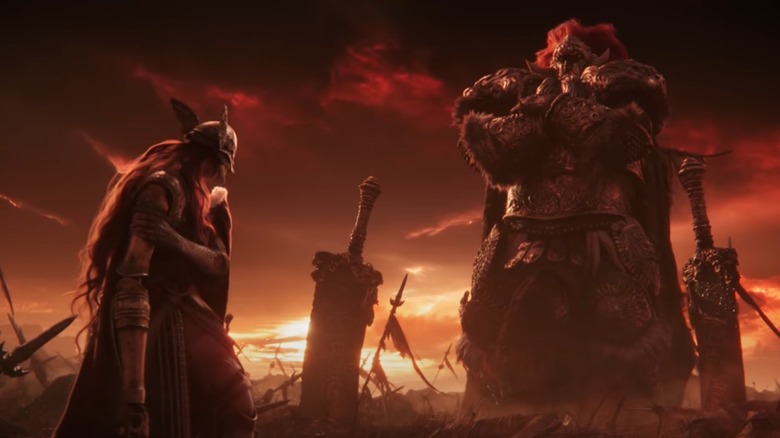 Bandai Namco
In a post to the official "Elden Ring" website, From Software and Bandai Namco acknowledge that some players are experiencing difficulties with the game and apologize for those issues. "We are currently experiencing some issues that are preventing the game from playing properly under some conditions," the companies wrote. "We apologize for any inconvenience this may cause and ask for your patience."
The two then list known issues that exist in "Elden Ring" and how they plan to tackle them. The first two known issues listed include mouse controls being too sensitive in the PC version and Easy Anti-Cheat failing to launch when Steam account names include "a multi-byte character (e.g., kanji)." From Software says that both issues will be fixed with an update that's slated to go live in the near future.
The next item – frame rate and performance-related issues in the PC version – will receive ongoing fixes, but users are also instructed to update their graphics drivers to the latest version, as that "may significantly improve performance." Finally, From Software touches on an issue for PS5 that causes game data to save incorrectly. Apparently, the cause is known and the solution is being worked on for a future patch, but in the meantime, From Software instructs users to save their game manually from time to time by selecting "Quit Game" from the in-game menu and then closing "Elden Ring" from the PS5's home screen.
Some Elden Ring players aren't happy with these issues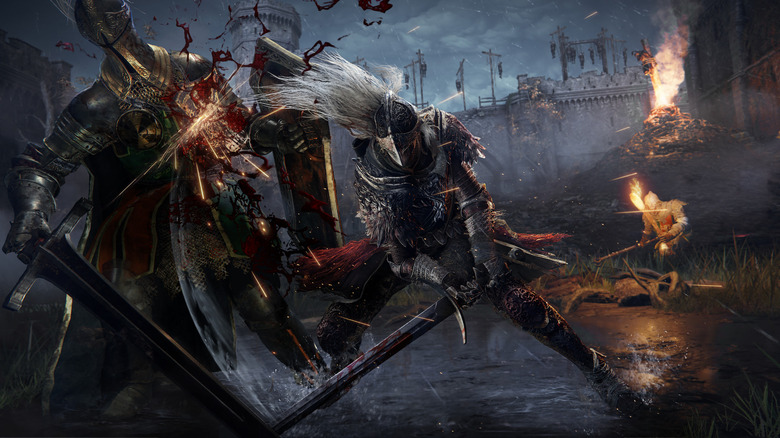 Bandai Namco
While some are able to play the game just fine at the moment, the ones who aren't are making their voices heard. Over in the "Elden Ring" subreddit, there are several posts about the issues players are facing, with many players also taking to one of the pinned "Elden Ring Day 1 Resources" threads to report the problems they're having with the game.
The Steam page for "Elden Ring" makes it clear that a number of players are encountering problems in the PC version. Currently, with 35,590 user reviews, "Elden Ring" has "Mixed" reception from PC players, which paints a pretty clear picture. Scrolling down on that page to see the reviews themselves reveals that many of the negative reviews focus on technical problems PC players are experiencing.
So, here's hoping that From Software and Bandai Namco can get these issues sorted out quickly, because they detract from what is otherwise a very fun game. We'll keep you in the loop regarding future updates for "Elden Ring," so keep checking back for more information on incoming patches.