Lenovo ThinkPad X13s Is A World's First, Arriving With X1 Extreme Gen 5, T Series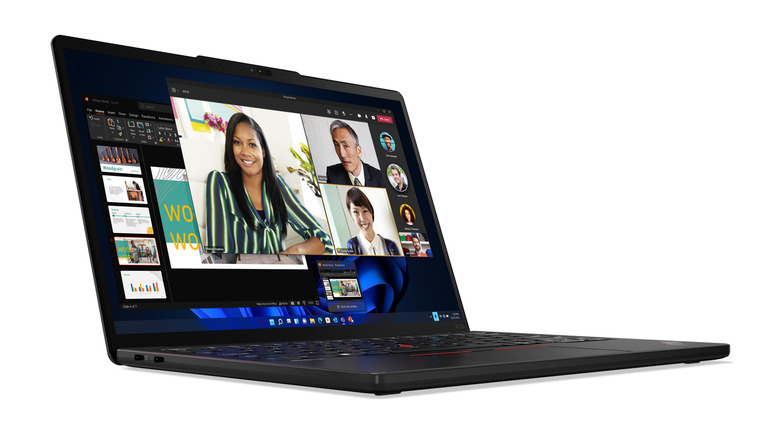 Lenovo
Lenovo has announced a slew of new notebooks and devices for MWC 2022, including a slate of new ThinkPad laptops. Leading the charge today is the first-generation Lenovo ThinkPad X13s, an entirely new machine that uses a Snapdragon CPU instead of the more common Intel or AMD CPUs. This is officially the first ThinkPad powered by a Qualcomm Snapdragon chipset, and that alone is enough to get our attention.
It isn't just the ThinkPad X13s that Lenovo is announcing today, though. The X13s is joined the gen-5 ThinkPad X1 Extreme and business-oriented ThinkPad T-series laptops with 14-inch and 16-inch displays. In addition to laptops, Lenovo has also revealed the ThinkVision M14d monitor, which is billed as a "mobile" USB-C monitor that can be taken on the go to give users a second display when they need it. Those of you who are fans of this new 16:10 trend we've been seeing in laptops will definitely want to check these new notebooks out, because Lenovo seems to be going whole-hog on the aspect ratio as it rises in popularity.
Lenovo ThinkPad X13s specs and details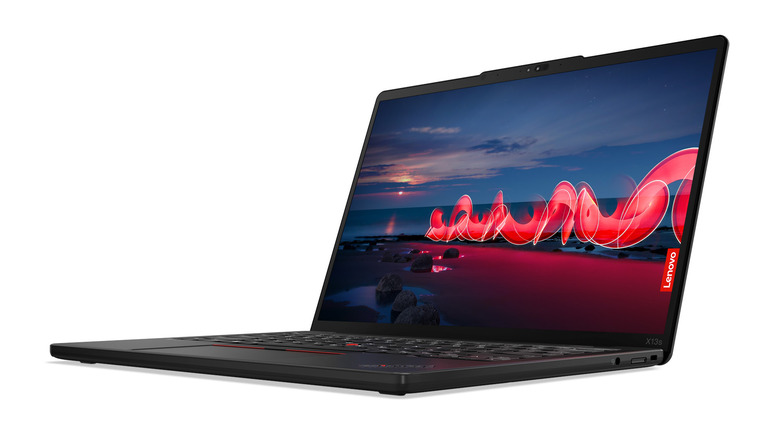 Lenovo
If not the most notable laptop Lenovo announced today, the ThinkPad X13s is certainly up there, thanks in large part to the fact that it's powered by Qualcomm's Snapdragon 8cx Gen 3 compute platform. Lenovo is targeting mobile workers with the ThinkPad X13s –- those who have to split their time between working in an office and out in the field –- because that Snapdragon 8cx gives the X13s mobile networking capabilities.
In addition to WiFi 6E, the X13s also supports mmWave 5G, sub6 5G, and 4G LTE. The laptop seems designed to be taken on the go, too, as it weighs 2.35 pounds and comes with MIL-STD-810H certification, which means that it should stand up to some degree of environmental stress.
Other specifications for the ThinkPad X13s include a 13.3-inch WUXGA display (1920 x 1200) with an aspect ratio of 16:10. The ThinkPad uses the Snapdragon 8cx's Adreno GPU, so no discrete graphics here. It can also support up to 32GB of RAM, but in a nice break with other laptop manufacturers, Lenovo actually has the decency to tell us that the RAM is soldered in place right in the spec sheet. While soldered RAM is always a bummer, it's rare to see a manufacturer be so up front about it. Look for the X13s to launch in May 2022 with a starting price of $1,099.99. Initially, the X13s will be available from AT&T, with Verizon launching the laptop later in 2022.
Lenovo ThinkPad X1 Extreme Gen 5 is the beast of this lineup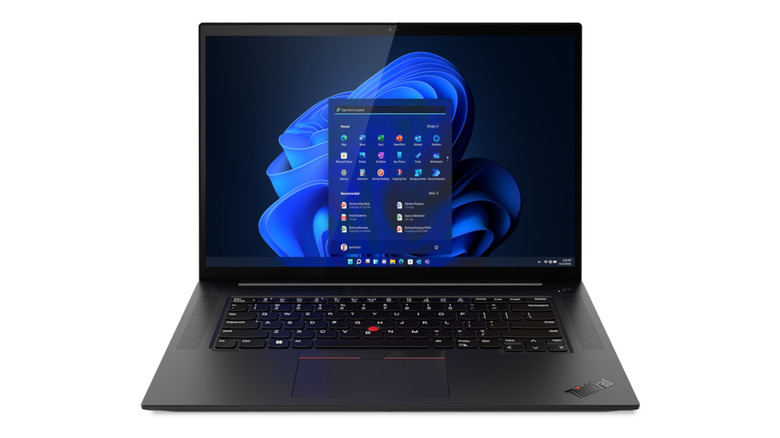 Lenovo
Among the more expensive laptops Lenovo announced today is the ThinkPad X1 Extreme Gen 5. With this laptop, we're getting 12th-gen Intel Core H-series processors, with Lenovo saying that options go all the way to up Core i9s. Those CPUs are paired with NVIDIA RTX 30-series GPUs, starting with the RTX 3050 Ti and ranging up to the RTX 3080 Ti 16GB. If you need a powerful laptop for things like 3D rendering or video processing, the X1 Extreme Gen 5 is probably a better choice over something like the X13s.
Indeed, the ThinkPad X1 Extreme seems to have all the specs we'd think of when trying to imagine a top-end laptop. It can support up to two M.2 PCIe SSDs along with up to 64GB of DDR5 RAM, and it once again comes with a 16:10 16-inch display that has a 165Hz refresh rate. As with the GPUs and CPUs, there seems to be multiple options for the display, with Lenovo saying that one option gives it 4K resolution with support for Dolby Vision HDR.
Of course, powerful components come at a cost – especially in this age of components shortages – so the ThinkPad X1 Extreme Gen 5 has the distinction of being one of the most expensive laptops the company announced today. Look for it to go on sale in June 2022 with a starting price of $2,049.
ThinkPad T-series serves up 16-inch and 14-inch machines with AMD options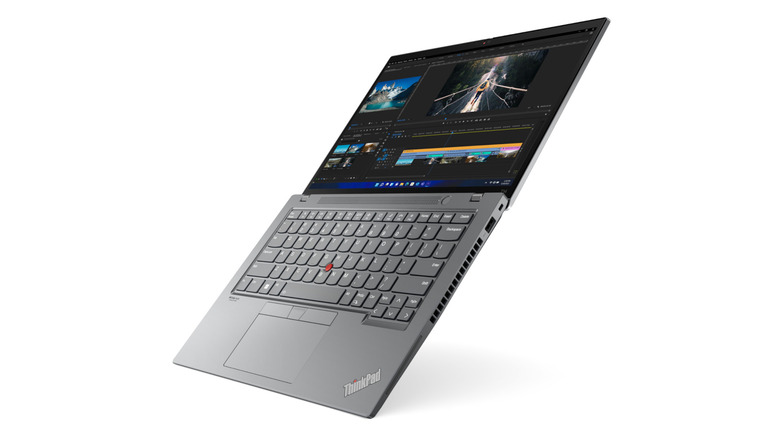 Lenovo
If you've been impressed by AMD's laptop CPUs lately, then Lenovo's ThinkPad T-series is targeted directly at you. While these laptops do offer the option of 12th-gen Intel CPUs paired optional, low-power discrete NVIDIA GPUs, there are also AMD editions that serve up Ryzen PRO 6000 series CPUs with Radeon 600M graphics.
The T-series is comprised of the T14 and T16, and both lines have numerous models on offer. There seems to be a rather large variance in display options, but regardless of the model, you're getting a 16:10 display. Everything else, it seems, is optional – you can opt for displays that can achieve up to 500 nit brightness, or go for resolutions up to 4K. Some displays support Dolby Vision HDR, while one T14 model even comes with an OLED display that outputs at 2.8K resolution.
There are six models in the T-series line in all. Earliest out of the gate will be the Intel-based T16 and T14 models, which are launching in April and have starting prices of $1,419 and $1,399, respectively. The AMD-based T14s will be launching in May with a starting price of $1,399, while the Intel-based T14s will be following closely behind it in June with prices starting from $1,529. It'll be joined by the AMD-based T16 and T14, which are also launching in June at a starting price of $1,299.
ThinkVision M14d is a mobile monitor of small stature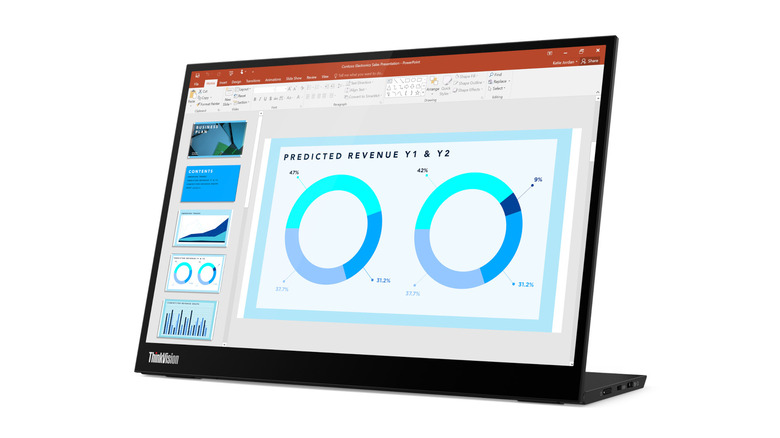 Lenovo
Alongside all of these laptop announcements we have the ThinkVision M14d monitor. This 14-inch IPS display outputs in 2.2K resolution with a – you guessed it – 16:10 aspect ratio. It appears that none of the devices Lenovo announced today use a more traditional 16:9 aspect ratio for the display, which is an interesting move when Lenovo is certainly trying to appeal to as wide an audience as possible. 
In any case, the ThinkVision M14d has two USB-C ports that support data transfer and power delivery. The whole package locks in at less than 1.3 pounds, so it should be fairly easy to take this thing on the road. There isn't a whole lot to the ThinkVision M14d, but an external monitor like this doesn't necessarily need to be complex, either. Unfortunately, this is going to be the last of the devices announced today to make it out of the gate, as it won't be launching until sometime in July 2022. When it arrives, expect it to cost $299.