OPPO Pad Tablet Arrives With Decent Features And An Odd Design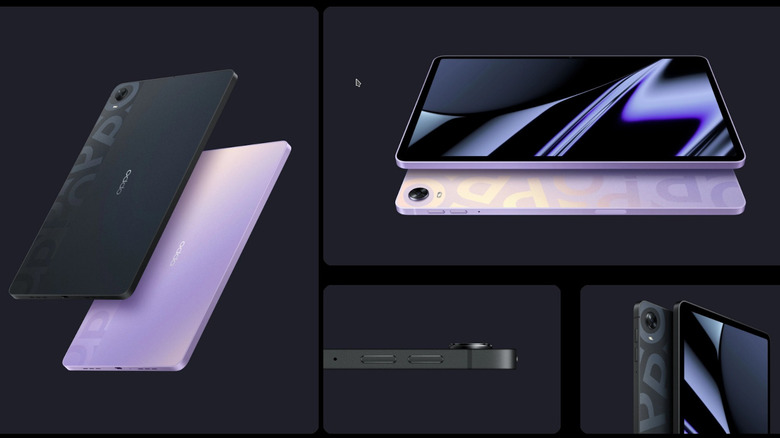 OPPO
OPPO just announced its high-end flagship smartphone for 2022, and it's easily one of the company's best — it could even be one of the top models so far this year, especially if you don't need a stylus. The OPPO Find X5 Pro delivered excellent photography chops and impressive performance packed in a design that feels soothing and calming. It's no surprise, then, that this phone also easily overshadowed OPPO's newest device and its first-ever entry into the tablet market. 
Granted, the new OPPO Pad has a nearly forgettable name and last-gen hardware, but it does sport one quirky design detail that seems to be targeted at younger audiences. Ultimately, the model sounds decent and could prove to be a solid contender, especially for the company's first attempt at a tablet in a market that's pretty much monopolized by Apple and, to a smaller extent, Samsung.
Flagship tablet with 2021 hardware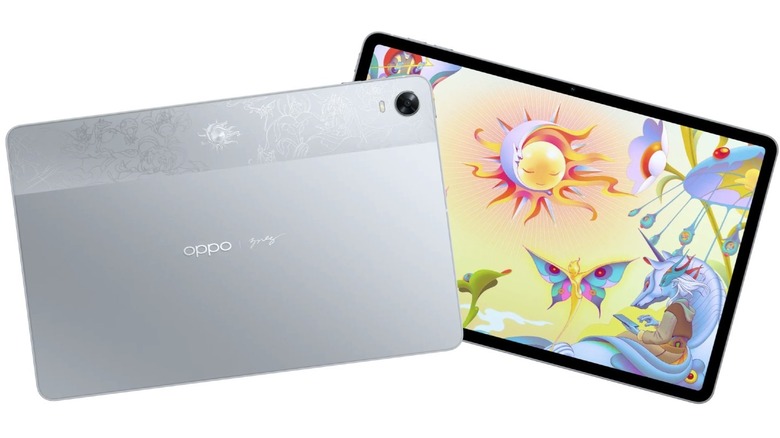 OPPO
The OPPO Pad is arguably a high-end tablet, except that it is practically last year's high-end tablet. That's thanks to the Snapdragon 870 running inside, hailing from 2021, and modest 6 or 8 GB of RAM. This is no Galaxy Tab S8 Ultra, not even a Plus model — its 11-inch LTPS IPS LCD screen with 2560x1600 resolution positions it as a more direct rival of the base Galaxy Tab S8 model.
The tablet's not without its special features, though, particularly the OPPO Pencil that turns the device into more than just a content consumption device. Unfortunately, this stylus doesn't come with the tablet and is instead sold as an optional accessory. The OPPO Pad also has a large 8,360 mAh battery that charges at 33W. Despite that "fast-charging" tech, the size of the battery means it might take almost an hour to fully top it up.
Conspicuous design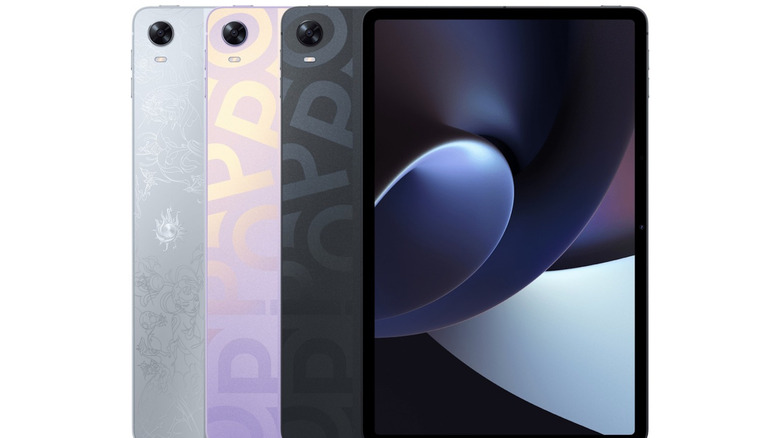 OPPO
It's almost too easy to draw parallels between the OPPO Pad and the iPad Pro, especially because of its flat edges. There is a bit of a bezel around the display, though, so it won't look as sleek as the iPad. One curious thing about the tablet's design is the large area dedicated to the company's name, whimsically arranged in an almost playful manner. Sadly, this design detail will be lost on buyers who plan to purchase the optional keyboard cover that makes the tablet more useful for productivity.
The OPPO Pad will be launching on March 3 with a starting price of 2,299 RMB (around $360) for the base configuration. The OPPO Pencil will cost 499 RMB ($80), while the keyboard cover will go for 399 RMB ($60). There's no word yet on global availability, but these prices could give the Galaxy Tab S8 a run for its money.