Galaxy Fit 2 Fitness Band Gets Surprise Update With New Features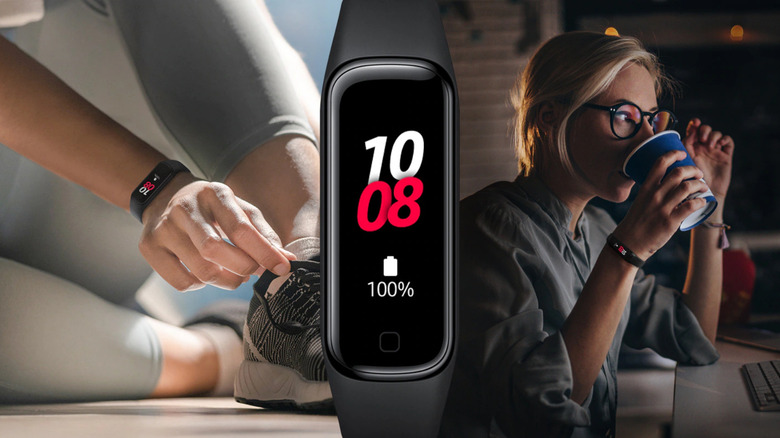 Samsung
Samsung seems to have completely shed its old skin, at least when it comes to supporting its devices. The company has been widely praised for outdoing Google with its public commitment to long periods of software support for its smartphones and tablets. The latest Galaxy S22, for example, will get four years of major Android upgrades. Those promises, however, have mostly focused on Samsung's latest smartphones. Older phone models don't get as much attention, though they do enjoy more support than many counterparts from other brands. 
When it comes to wearables, on the other hand, the company is less consistent, particularly for devices outside of the Galaxy Watch line. That's why it's surprising that Samsung has silently released an update to the aging Galaxy Fit 2, giving the relatively old fitness band some new features that extend its lease on life past the customary two-year period.
Classic fitness accessory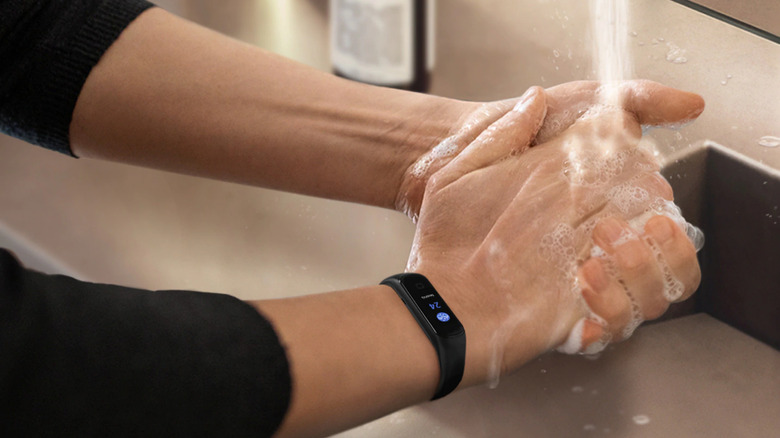 Samsung
Smartwatches have become so mainstream that it seems as if dedicated fitness trackers have fewer reasons to exist. Of course, not everyone is willing to part ways with their favorite timepieces, especially those who have a penchant for more luxurious brands, timeless classic designs, and analog components. Those consumers would probably be content wearing a simpler and less conspicuous band on their wrist, probably on the opposite side, allowing them to enjoy the best of both worlds.
Still, it feels like fitness bands have been pushed to the background in recent years, and owners of the Galaxy Fit 2 might have felt the same way. Launched back in 2020, the dedicated fitness tracker had the basics that active users wanted but didn't go overboard with smart features — though the device did include a reminder to wash hands regularly, something that was particularly useful in the first year of the pandemic. The wearable focused mostly on activity tracking, sleep monitoring, notifications from a paired smartphone, and music control.
Smarter than ever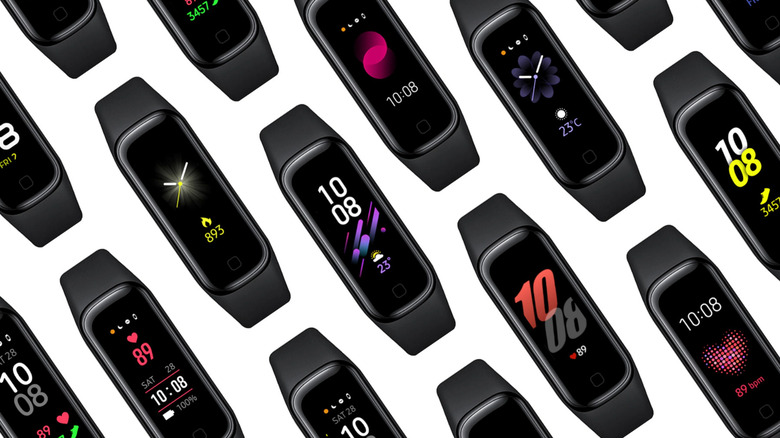 Samsung
To call the Galaxy Fit 2's smart features "basic" wouldn't be an understatement, and there is definitely room for improvement. Fortunately, it seems that Samsung has heard at least some of those wishes and pushed an unexpected update (via TizenHelp) to the wearable. It doesn't contain much, but the mere fact that it added new features to the two-year-old devices is perhaps more important than the list of changes.
At the top of that list is the ability to use the Galaxy Fit 2 as a control for a smartphone's camera as long as the device is a Samsung Galaxy model running Android 7.0 or later. This feature was first introduced in the Galaxy Watch Active 2 before becoming a staple of the Galaxy Watch family. The smart fitness tracker will now also display a notification if a call has been declined, rather than letting you guess what happened. It can now also count how many times you've jumped when doing the "Jumping Rope" activity.
The update is pretty small, both in features and in actual file size, but it's a much-welcomed surprise, nonetheless. There is no assurance, however, that Samsung will roll out another update in the future, so Galaxy Fit 2 owners should probably savor this release, as it may be the last one they get.