Here's How To Check Which Games Work With Steam Deck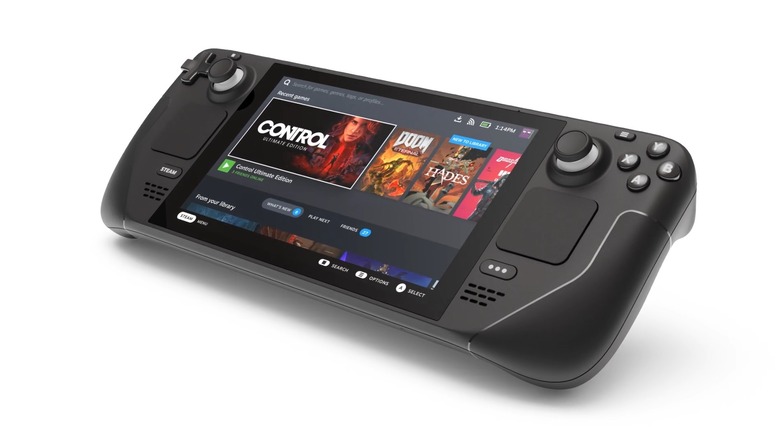 Valve
After suffering a delay that pushed its release date into 2022, we're just a couple of days out from the release of the Steam Deck. There's a lot of anticipation riding behind the release of Valve's handheld gaming PC, but one big question that remains is that of compatibility. While Valve is trying to make as many PC games as possible compatible with the Steam Deck, verifying that all of these games actually work is quite the process.
As a result, there are probably many people who pre-ordered Steam Decks without a solid idea of how many of their Steam games will run on the machine at launch. Today, Valve is letting us see which of the games in our Steam libraries have been verified to run on the Steam Deck. The company is also showing us which games will be playable, the games that haven't yet been tested, and the games that probably aren't going to run well on the Steam Deck. If you were looking for a quick and easy way to learn which of your games can run on Steam Deck, this is the tool for you. 
Valve's Steam Deck Compatibility tool
As announced in a post to the Steam Community site, this new tool for checking Steam Deck compatibility is about as straightforward as it can get. To check which games in your library are compatible with Steam Deck, all you need to do is navigate to this page on the Steam store and log into your Steam account.
Once you're logged in, you'll see a list with four categories. The first category shows you all of the games in your library that have been verified as "fully functional" on Steam deck. In my list, that category has some unsurprising entries, including "Vampire Survivors," several of the "Final Fantasy" Pixel Remasters, "Sonic Mania," and "Tetris Effect Connected."
The next panel shows you games from your library that are playable on Steam Deck. The big difference between this category and the first is that games in this section run on Steam Deck but may need some extra configuration before they run optimally. Then we have a section for games that don't function at all on Steam Deck, so you should probably avoid installing and launching any games listed there – at least for the time being. The fourth and final section of that page shows you the number of games in your Steam library that remain untested for Steam Deck compatibility.
Steam Deck Compatibility: Untested
There's a good chance that the final category will be the largest one for most Steam gamers. For instance, Valve says that there are currently 384 games in my library that haven't yet been tested for Steam Deck compatibility. That sounds like a lot, but it isn't as bad as it may seem at first glance.
Keep in mind that these games are simply untested. As Valve notes, there's a chance that untested games run just fine on Steam Deck – it's only a matter of Valve not verifying that functionality yet. Indeed, Valve has its work cut out for it if it's planning to test every game in the Steam catalog, which already includes thousands upon thousands of games and gets bigger every day.
So, if you still have a bunch of untested games by the time you have your Steam Deck in-hand, there's nothing stopping you from installing those games and taking them for a spin to see if they work. Valve also prompts Steam Deck users to visit that Steam Deck Compatibility page often to see which titles in their libraries have been freshly verified, so if you're planning on playing on Steam Deck a lot, it might be worth bookmarking that page.