Google Has A Fix For The Pixel 6 Wi-Fi Bug, But You'll Have To Wait
The February update for Google's Pixel 6 and Pixel 6 Pro smartphones caused issues for some users, with an unexplained bug cropping up that would either cause the phones to automatically drop their Wi-Fi connections when locked or not turn on Wi-Fi at all. Resetting various options seemed to temporarily fix the problem, but those affected were reporting that even after taking those steps, the Wi-Fi connection would inevitably go back to functioning improperly.
This isn't the first time the Pixel 6 has run into unforeseen trouble with an update, either. The December 2021 update was reported to cause dropped calls for some users after it was installed. This resulted in Google pausing the update until January 2022 while it worked on a fix for the issue. This time around, though, the company hasn't said anything about pausing or otherwise delaying the update to address the new problem.
A fix is on the way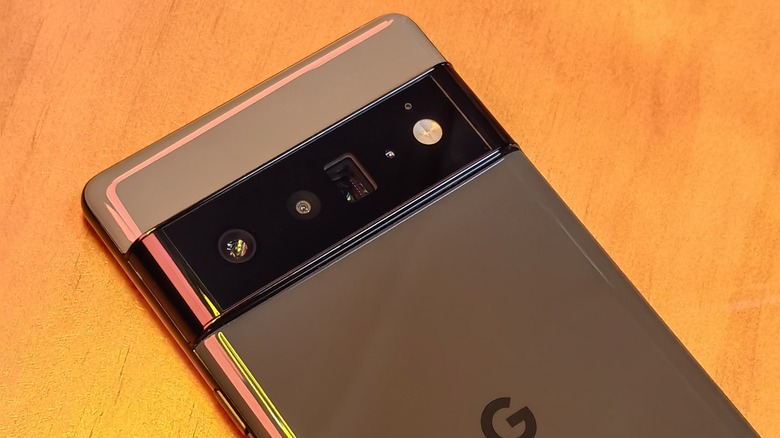 Jack Skeens/Shutterstock
Reddit user cheesehead78 posted about the Wi-Fi issues they experienced after installing the most recent software update, and many other users corroborated the experience in the same thread. Now, just over two weeks after the initial reports about the problem on February 7, 2022, Google has officially acknowledged the bug.
In a response to cheesehead78's post, verified Google account PixelCommunity stated, "After some investigation, we identified the root cause and determined that it impacts a very small number of devices," and went on to say, "If you'd like to explore other options in the meantime, please get in touch with our support team, which is prepared to help you."
Most importantly, however, PixelCommunity says Google has a fix ready to go, which will be included with the planned March 2022 update. Assuming it holds to the same general release schedule as previous Pixel 6 updates, that means it should begin rolling out around March 7 or 8.