Vivo iQOO 9 Pro BMW M Motorsport Edition Review: Excellent But Forgettable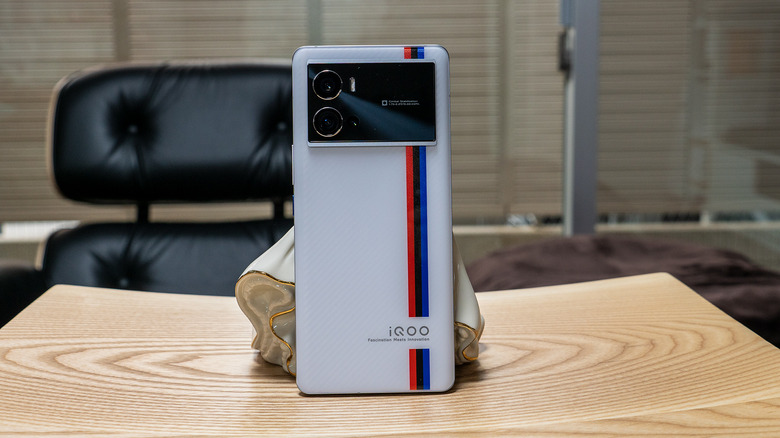 Ewdison Then/SlashGear
The first batch of phones using Qualcomm's latest Snapdragon 8 Gen 1 chipset has finally come out, and phone makers are scrambling to stand out from the crowd. Some phones try to extol their processing power, which has oddly led to inconsistent benchmarks for the same chip. Some brands like Samsung don't exactly have problems getting noticed, but smaller and younger players are pulling out all the stops to differentiate their newest flagship, advertising unique features or gimmicks to make a good first impression. 
The vivo iQOO 9 Pro is a clear example of this strategy, especially with the BMW M Motorsport Edition and its eye-catching stripes, and its even more conspicuous camera design. But looks aren't always enough to take a phone beyond the first impression to sale, so we take the iQOO 9 Pro BMW M Motorsport Edition for a test drive to see if it has any lasting power beyond its branding.
The design
Ewdison Then/SlashGear
Given that flat is back, the iQOO 9 Pro's design seems both like a blast from the recent past as well as a breath of fresh air. iQOO has stuck to the traditional curved edge design that has been the staple of high-end flagships ever since Samsung made it trendy. Front and back glass layers curve toward the aluminum mid-frame, giving the phone a gentler and more familiar appearance compared to most of this year's handsets released thus far.
Of course, this wouldn't be a special edition if it didn't have a special design. Just like others before it, this collaboration between iQOO and BMW M Motorsport involves putting the brand's iconic triple color stripes also seen on the car maker's sports cars. These stripes are set on a while AG glass panel with carbon fiber texture to give the phone a distinct visual flair and some grip. If that weren't enough to reassure you, however, iQOO also throws in a flexible jelly case in the box that, amusingly, is themed with the exact same colors.
While the phone might look premium and its colors handsome, the camera bump is ironically the opposite. We've seen plenty of huge camera designs in recent years, but the iQOO 9 Pro BMW M Motorsport Edition's version sticks out like a sore thumb. It is made of a slab of aluminum underneath a slab of glass, its plain edges and nearly-sharp corners contrasting with the phone's curves. The structure is functional, as we'll see later, but its appearance makes it feel like it was just slapped on at the last minute.
Display and audio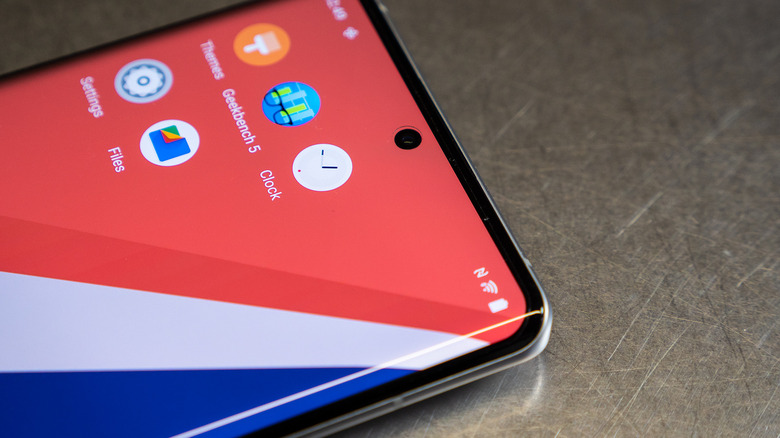 Ewdison Then/SlashGear
The iQOO 9 Pro comes with a large 6.78-inch LTPO AMOLED screen boasting that it uses Samsung's latest E5 technology. This new kind of OLED screen is advertised to be brighter while consuming less power, though we could really only confirm the former claim. As with almost any AMOLED screen these days, the phone's output is bright, its colors vibrant, and its blacks rich. There's really nothing much to complain about. but also not much more to say about it, either.
The display supports a refresh rate of up to 120Hz, still a bit rare for an OLED panel. iQOO also mentions a custom "Intelligent Display Chip" that helps cut down on the power consumption, but whatever power savings it earns is offset by the drain of other components, like the rather beefy processor. There is also an in-display fingerprint scanner but, unlike most optical sensors, it uses Qualcomm's ultrasonic technology instead.
The iQOO 9 Pro totes stereo speaker functionality and the output is quite loud and crisp. It's a bit on the tinny side, though, at least without fiddling with audio settings. Unfortunately, there is no headphone jack to satisfy some audiophiles, so you'll have to make do with Bluetooth accessories if you want a fuller and richer experience.
Performance and battery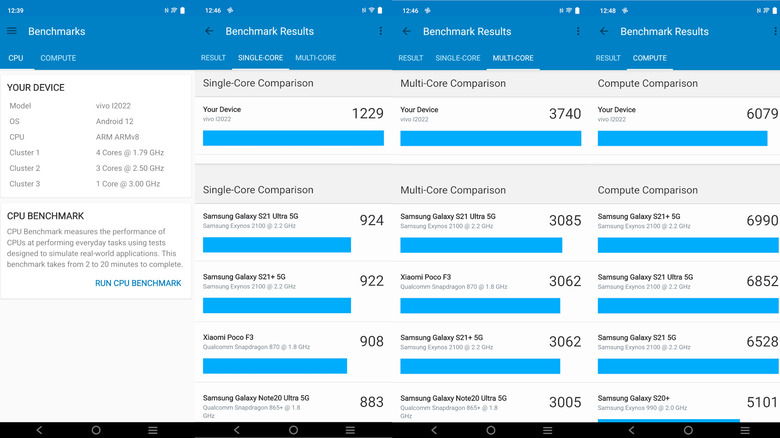 Ewdison Then/SlashGear
The iQOO 9 Pro BMW M Motorsport Edition runs on the latest Snapdragon 8 Gen 1 processor, and the 12GB RAM in our review model is augmented by 4GB more through software. In terms of performance and synthetic benchmarks, the phone is definitely one of the fastest we've seen using this chipset. Raw performance, however, is just one part of the story, and an equally important aspect of performance is the cooling system. After all, phones will throttle the performance if it gets too hot to handle, so an effective cooling system lets a phone run at maximum thrust longer.
The iQOO 9 Pro might have one of the better passive cooling systems around, one that doesn't require a tiny fan inside to do the work. Part of that is thanks to that large but not-so-pretty camera bump that is actually part of the cooling system. That large aluminum "decoration ring" actually helps dissipate heat from inside the phone, while the large glass surface keeps the back cool to the touch.
The phone has a 4,700 mAh battery, which is pretty average for a high-end phone of this size. What's remarkable, however, is the 120W FlashCharge and the 50W Wireless FlashCharge. With the included charger and a proper cable, it takes just around 20 minutes to fully top up the phone. In a way, that smaller battery capacity makes that speed possible rather than becoming the bottleneck.
Cameras and photos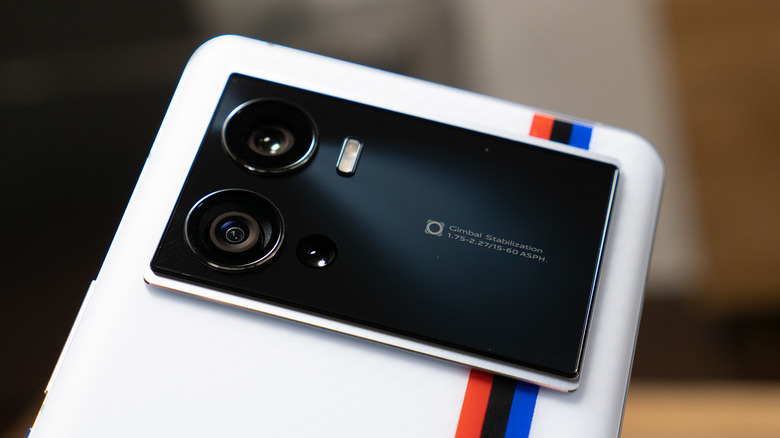 Ewdison Then/SlashGear
Despite the large camera design, the iQOO 9 Pro BMW M Motorsport Edition only has three cameras on its back. On paper, these are quite formidable, especially with the 50MP Samsung GN5 main sensor that is equipped with Vivo's unique mini gimbal system. The super-ultra-wide camera is no underdog either, with a 50MP Samsung JN1 sensor, while the presence of a 16MP telephoto camera bodes well for the phone.
In practice, the iQOO 9 Pro fails to impress unless you have near-perfect lighting. The output, while clear and rich in detail, looks a bit dull when it comes to colors, especially in overcast days or low-light conditions. The telephoto camera only goes as far as 2.5x optical zoom, which is a bit disappointing compared to its rivals on this tier.
iQOO does have a few tricks up its sleeves to make the phone more interesting, starting with that Gimbal Camera System borrowed from its parent company, vivo. When it comes to stabilization, the phone smooths out bumpy videos like no other, though it does cap resolution and frame rate to a certain extent. Sadly, only the main 50MP sensor gets this gimbal feature.
The 150-degree angle of the ultra-wide camera does introduce distortions at the edges if you don't activate automatic correction. There are, however, times when you might want to leave that out, especially if you're going for a particular visual effect. Additionally, the camera app comes with special modes that take advantage of this lens, including Fisheye and Asteroid.
Software and UI Experience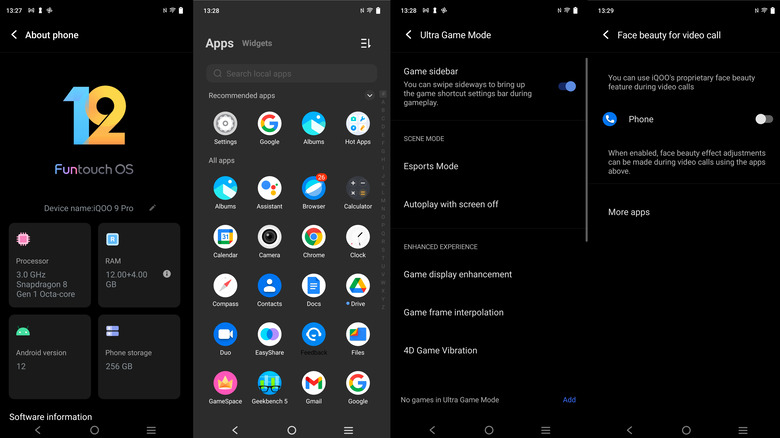 Ewdison Then/SlashGear
As a Vivo sub-brand, iQOO borrows its parent's custom Android experience. In China, it runs a special flavor of the new Origin OS branded "Ocean." For the rest of the world, though, the iQOO 9 Pro BMW M Motorsport Edition comes with Funtouch OS 12, which also means having access to Google Play apps and services.
This version is, fortunately, based on Android 12 already, so you won't have to wait forever to get that update. Anyone familiar with vivo's customizations will feel at home here, which means tons of extra features but, thankfully, not so much bloatware that you can't remove. There isn't really anything extra special about this version of Android if you're already used to the changes that vivo has made, which seems to be a recurring theme with this phone.
Should you buy one?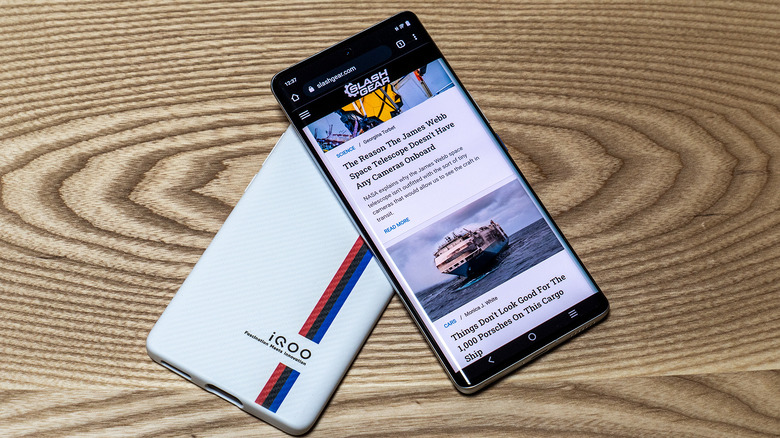 Ewdison Then/SlashGear
On paper and when it comes to raw performance, the iQOO 9 Pro BMW M Motorsport Edition is definitely an impressive phone. The display is bright and excellent, and the effective cooling system keeps the phone running at maximum speed for longer periods of time. Even with disappointing colors, the cameras still produce usable photos, especially if you get the lighting right, and the unique gimbal system is still unmatched by any other brand.
Unfortunately, this particular special edition's selling point is its BMW M Motorsport branding, which is unique yet also easily forgettable. The regular iQOO 9 Pro with a vegan leather back might have more character, but even then, a special rear design can only get you so far. There will be many other phones with nearly the same specs and even better cameras that will easily outshine the iQOO 9 Pro BMW M Motorsport Edition, and those can simply slap on a case or a skin to show their love for the BMW brand.