Toyota Yaris Sport GT7 Comes With A PS5 And A Copy Of Gran Turismo 7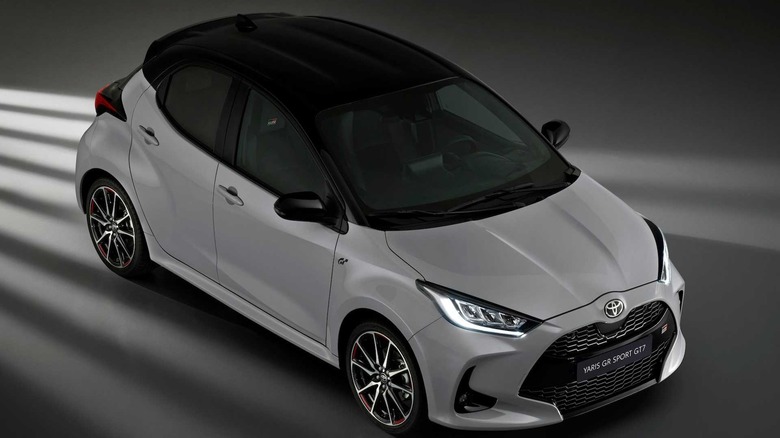 Toyota Spain
PlayStation fans rejoice! Toyota has come up with an excellent deal if you're planning to get first dibs on the automaker's newest Yaris GR Sport. It turns out you can get the Toyota and get a free PlayStation 5 and a copy of Gran Turismo 7, probably the most highly-anticipated racing game in recent memory.
However, we're not talking about the GR Yaris, Toyota's rally-inspired pocket rocket with a three-cylinder turbo engine, manual tranny, and all-wheel drive. Instead, the newest Yaris GR Sport has a 1.5-liter four-cylinder Atkinson cycle gas engine and a hybrid powertrain. It also has bespoke 18-inch alloy wheels, sportier suspension, and an aero-optimized body.
Officially called the Toyota Yaris Sport GT7, it also has bespoke Gran Turismo branding to commemorate the Japanese automaker's tie-up with Sony and the PlayStation brand. It all sounds fine and dandy, and it's one of the quirkiest package deals to accompany a brand new car.
However, there's a catch.
For Spanish Customers Only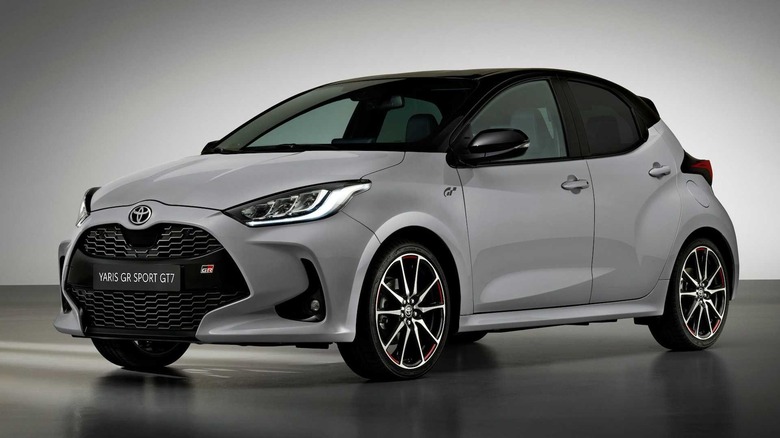 Toyota Spain
Yes, the Toyota Yaris Sport GT7 (and the free PS5 and GT7 racing game) is exclusively available to buyers in Spain. If you're not aware, US buyers got their final taste of the Yaris Sedan and Yaris Hatchback in 2020. It also means the crazy-fast GR Yaris will not make it stateside (fine, because we're getting the GR Corolla soon, possibly by late 2022). So yeah, Spanish buyers of the Toyota Yaris Sport GT7 have it good.
Cool Freebies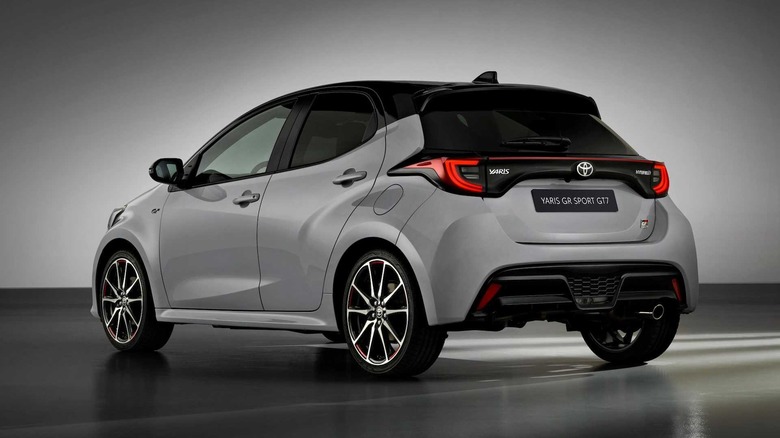 Toyota Spain
You not only get the car, the PS5, and a physical copy of Gran Turismo 7. The package includes an extra DualSense wireless controller and a three-month subscription to PlayStation Plus. Meanwhile, the car has a bespoke key fob and key cover, a numbered plaque behind the CVT shifter, and unique 18-inch wheels with machined red accents.
Toyota is only making 100 Yaris Sport GT7 units for the Spanish market. The order books will open on March 4, 2022, coinciding with the official release date of Gran Turismo 7. Toyota and Sony have yet to unveil pricing, but we reckon base prices to begin at around $26,000 (€23,000).
The partnership between Toyota and Sony will go beyond unveiling a GT7-themed car. The PlayStation is a leading partner at the Toyota Gazoo Racing Iberian Cup, a one-make racing series by Toyota Spain. In addition, Toyota will award the winner of the seventh Spanish Gran Turismo Championship with, you guessed it, a Yaris Sport GT7.