NASA Tests Earth Rocks To Help Perseverance Collect Tricky Mars Samples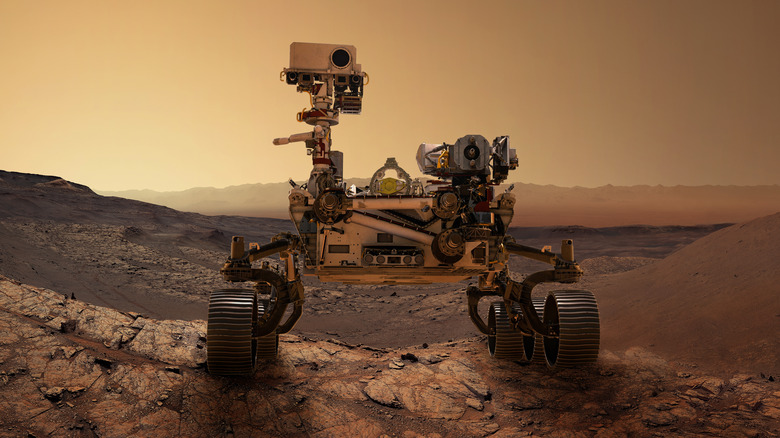 Triff/Shutterstock
NASA's Perseverance rover made history in late 2021 when it collected its first sample of Martian rock. The space agency will have Perseverance leave these samples, sealed in tubes, on the red planet's surface so they can be collected by another rover in the future and brought back to an ascent vehicle. The samples will then be loaded into the ascent vehicle, sent into orbit, collected by another spacecraft, and brought back to Earth. That's an ambitious goal! 
But as Perseverance undertakes the first part of this mission, collecting the Mars samples, it has run into some problems. Now NASA scientists are performing experiments here on Earth to learn more about the types of rock the rover could be dealing with, to help it collect samples more smoothly in the future.
Perseverance had problems when it tried to collect its first rock sample, called Roubion, as the initial attempt (made in August 2021) seemed to go well until the rover checked its tube and found it empty. The problem seemed to be that the rock was too crumbly, which made it difficult to collect. A second attempt was successful, but researchers want to learn more about what happened during the first attempt.
The scientists think the problem has to do with how much water Roubion had been exposed to over its lifetime. "Of the rocks we've seen, Roubion had the most evidence of interaction with water," said Perseverance project scientist Ken Farley of Caltech (via NASA). "That's why it fell apart."
Testing Mars rocks on Earth
To learn more about rocks like Roubion, NASA researchers visited the Santa Margarita Ecological Reserve in California. They found rocks there that were somewhat solid, like Roubion, but which could also crumble, and collected half a dozen samples to bring back to the lab for further research.
"It was very physical work," said chief engineer for sampling and caching Louise Jandura. "We were chipping away with rock hammers and crowbars. A couple rocks were big enough that it took all five of us holding on to a stretched-out canvas to get it into the bed of our truck."
The rocks were taken back to NASA's Jet Propulsion Laboratory, where the Perseverance rover was built and is managed, to be tested with drills. The team there found these tricky rocks had to be approached with care, as even small changes to the force or rate of percussion of the drill could cause the rocks to crumble. However, they were able to gather invaluable information on how to drill into these tricky targets.
So far, Perseverance has collected six samples, and the sampling process has mostly gone smoothly. But having this experience of drilling into tricky rock types should mean the team is prepared for more difficult samples in the future.