Volkswagen Unveils Oettinger Accessories For The 2022 Golf GTI And Golf R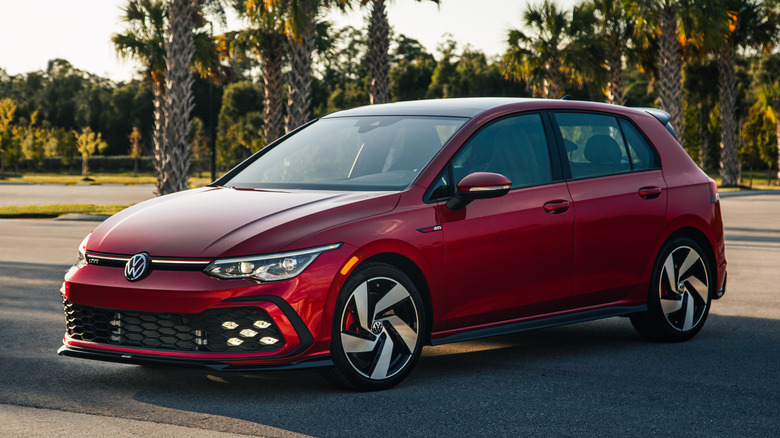 Volkswagen North America
Volkswagen has partnered with fellow German tuning expert Oettinger Sports Systems in creating a new range of bespoke styling kits for the 2022 Golf GTI and Golf R. Oettinger is a renowned tuning shop in Germany. However, the latest lineup of VW-approved accessories does not include tuning options for the engine and transmission.
Die-hard VW Golf enthusiasts were pining for a bit more power from the eighth-gen Golf GTI's 2.0-liter turbocharged four-cylinder engine. True, the Golf GTI is not all about crazy horsepower figures. Still, it lags considerably behind hot-hatch rivals like the Hyundai Veloster N and the outgoing Honda Civic Type R – part of the reason why VW brought in the Golf R.
The Golf R has a hyper-tuned version of the GTI's 2.0-liter EA888 turbo engine equipped with a water-cooled turbocharger, direct injection, and variable valve timing, pumping out a heady 315 horsepower and 310 pound-feet of torque.
Equipped with standard 4Motion AWD, the R variant is the most potent iteration of the VW Golf. It goes from zero to 60 mph in 4.7-seconds, partly due to a trick 4Motion all-wheel-drive system with rear torque vectoring. The Golf R and Golf GTI are not slow by any standards, but the styling is a tad too conservative for our tastes. It seems VW heard our pleas with its newest range of Oettinger body kits.
Oettinger Styling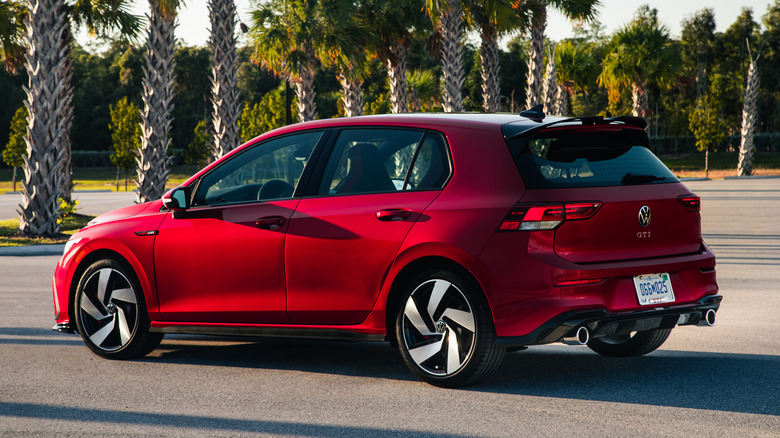 Volkswagen North America
The lineup includes Oettinger-branded body elements like a custom front lip, rear lip, and a sporty roof-mounted rear spoiler. VW claims the body kit can be painted and installed by your favorite VVW dealership, or you can bring it to a body shop and give it your personal touch.
"The GTI is our most storied enthusiast vehicle," said Hein Schafer, Senior Vice President of Product Marketing and strategy at VW North America. "Its owners have a history of dialing the car in to match their personality and lifestyle, and we are proud to offer a catalog of dynamic options to help them do so."
Also new are LED dynamic turn signals on the side mirror housings by Osram. The signal lights have a darker hue when disengaged, but it displays a "sequential fluid motion" when the turn signals are activated.
Dynamic Wheel Center Caps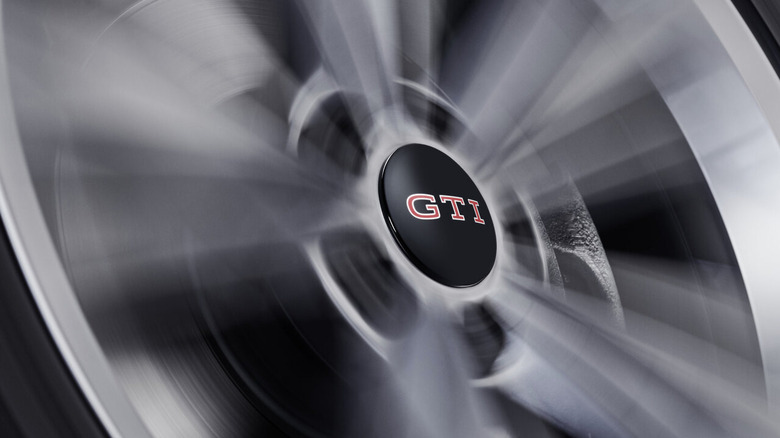 Volkswagen North America
The accessories list includes a set of dynamic wheel center caps with model-specific logos. If you've seen the wheel caps of a Rolls-Royce, it's typically the same deal. VW's cap design allows the logo to "self-level and stays upright while the vehicle's wheels and tires are in motion," said VW.
Pricing remains unannounced, but you can start ordering VW's newest accessories for the Golf GTI and Golf R at the VW Parts and Accessories Online Store.