Google has released its latest batch of Android platform stats, culled from Android Market access in the two weeks up until November 1.  According to the new figures, Android 2.1 and Android 2.2 now collectively account for 77-percent of devices accessing the download store.
Android 2.1 is still slightly ahead, at 40.8-percent, though Android 2.2 is fast catching up, with 36.2-percent.  Android 1.6 has fallen well behind, with 15-percent, and Android 1.5 languishes at the back with 7.9-percent.
Meanwhile a second chart shows the developing share of each of the four versions over the past six months up until this current period.  While the data does suggest core OS Android fragmentation is coalescing, it does not take into account manufacturer or carrier specific modifications made to each build which add further complication to upgrades and compatibility.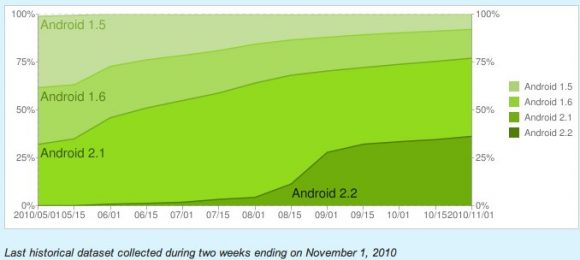 [via Android Community]