The USSV Rhino GX Might Just Be The Perfect Family Car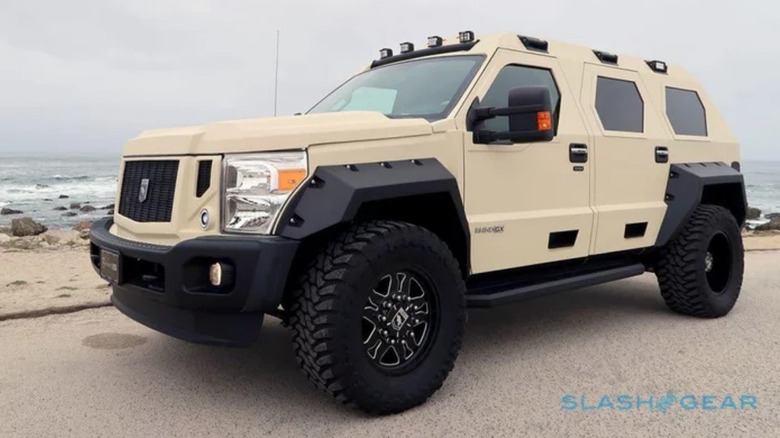 While it certainly doesn't look like a minivan the Rhino GX, from US Specialty Vehicles, is actually well-suited to carting your kids to soccer practice, family road trips, driving the school carpool, or picking up the weekly groceries. No, it doesn't exactly blend in like ever other SUV on the school run, or indeed like any sort of minivan you've ever seen before. All the same there's a good reason why this military-inspired truck might be the perfect family ride.
For a start, the Rhino boasts incredibly comfortable and luxuriously-appointed interior finishes, with leather that can be wiped down after spilled juice and animal cracker crumbs, and a drop down DVD system (in the Premium Model) perfect for keeping the kids quiet in the back. And while the rugged exterior isn't actually bulletproof it can be up-armored, and I'm pretty sure it would actively repel the perpetually sticky fingers of your average kiddo.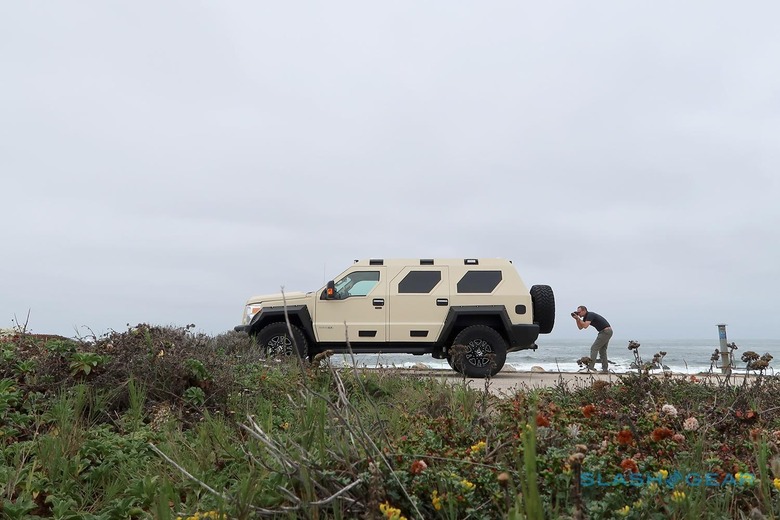 The Premium Model can seat 7, so plenty of room for you, the kids, and a couple of friends to tag along on that off-road camping trip, or just down to your local shops for an ice-cream run.
You get all that functionality, while not having to look or feel like you're driving a minivan. Plus there is no denying that the Rhino GX turns heads. I was fortunate enough to drive it at Pebble Beach during Monterey Car Week, and even in a sea of supercars the Rhino definitely made people stand up and take notice. It would certainly command the respect of the other parents on the PTA.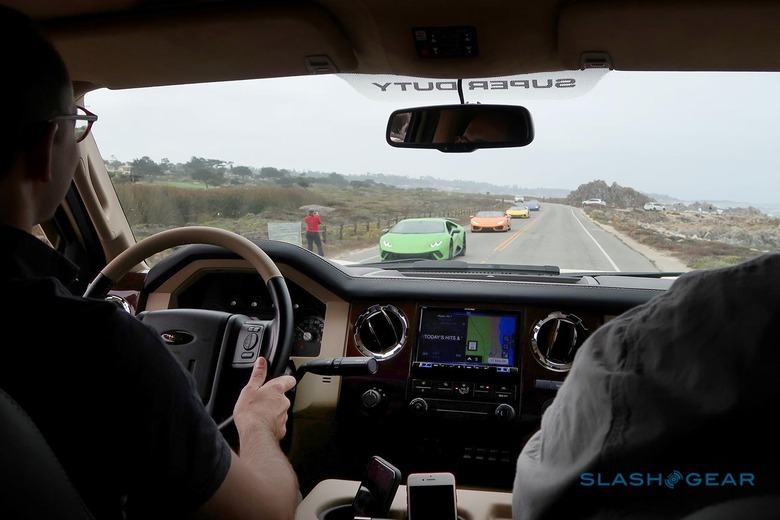 On the performance side it is a very heavy vehicle at close to 10,000 lbs, so don't expect it to feel like a svelte impala, prancing across the Serengeti plains. It is called the Rhino after all — a hulking beast, with dynamics that communicate presence. Having driven my fair share of military vehicles and up-armored cars, the 6.7L V8 does a reasonable job at moving all that weight, but the steering was less responsive than I would have liked. With such a high center of gravity there were definitely moments where I felt I was captaining a boat rather than driving an SUV.
The solid axle rear suspension with smart hydraulic suspension felt noticeably bumpier in the back than the solid twin-coil monobeam front suspension. Having said that, the vented discs with heavy duty calipers make short work of pulling the Rhino to a quick stop and, despite the increased bumps in the back, it was still a very comfortable and luxurious ride. There's plenty of room to stretch out on those long family road trips.
The Rhino GX is 225 inches in length (not including spare tires), 96 inches wide and 88 inches high, so parking in the compact space at the supermarket is definitely out of the question. However with its intimidating street presence you could likely park it anywhere you want. While the bodywork is mostly constructed of hand-worked steel, it's built on a Ford F-450 Super Duty pickup chassis, so it can be serviced at your local Ford shop.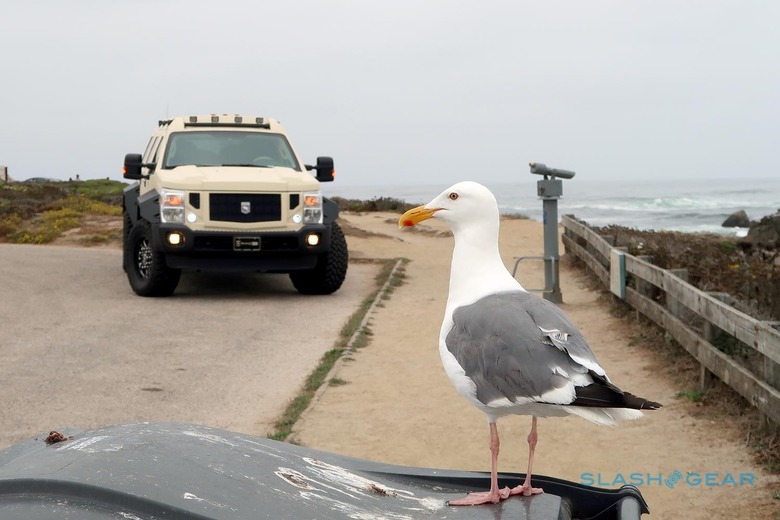 Now how much will this family car set you back? You know what they say, if you have to ask then you probably can't afford it. But if you're in the market, set aside pocket change in the realm of $250k–331k, or pick up a 2016 model second-hand from $249k. With only 30 of them in the US it would seem they hold their value. Now the only question that remains is will you choose Stealth Black, Tactical Green, or Desert Sand?