Audio-Technica's New True Wireless Earbuds Aim To Outlast All Others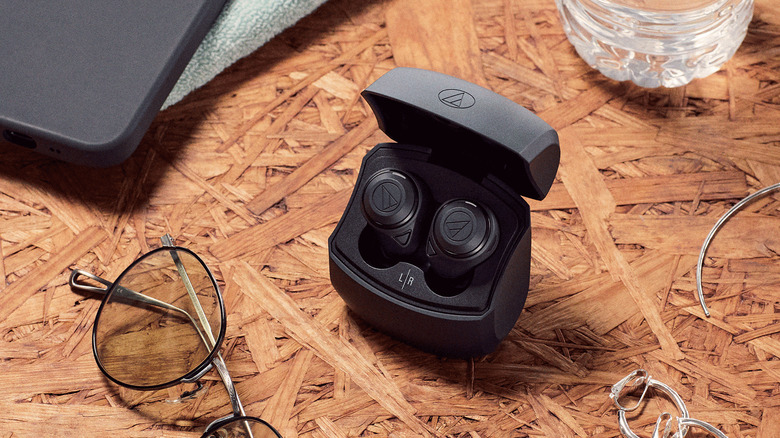 Audio-Technica
A new pair of earbuds from Audio-Technica, the ATH-CKS50TW, look to be the company's longest-lasting true wireless earbuds yet. Specifically, they claim a maximum usage time of 20 hours for continuous music playback (less if noise-cancellation is turned on) and up to 50 hours of playback (again, lower with noise-canceling) when used along with the included charging case.
So the new earbuds, with their charging case, last roughly five hours longer than the mid-range ATH-CKS5TW earbuds (45 hours), 32 hours longer than the more expensive ATH-ANC300TW earbuds (18 hours), and 36.5 hours longer than the most affordable ATH-SQ1TW model (13.5 hours) under similar circumstances. And if you're curious about how they compare to Apple's AirPods Pro, they run for about 26 hours longer than the 24 hours of listening time you'll get out of Apple's earbuds when used with the charging case.
The ATH-CKS50TW earbuds are available to order from Audio-Technica now, for $218, which puts them just over the price of their digital hybrid noise-canceling ATH-ANC300TW (around $200 USD).
How they stack up
Of course battery life isn't the only aspect of the new earbuds. They also boast being able to store 90 minutes worth of power with a single 10 minute charge, use 9mm solid bass drivers, offer multi-point pairing so you can simultaneously connect to multiple devices at once (no need to manually switch), a hear-through function, and a noise-canceling mode. And of course the pretty much expected-at-this-point IPX4 water resistance.
As you'd expect they outshine many of Audio-Technica's more affordable true wireless model in several respects, but the ATH-CKS50TW earbuds also one-up the higher end ATH-ANC300TW with slightly increased audio sensitivity (110 dB/mW vs. 106 dB/mW), and both models offer the same kind of microphone (MEMS). Though the new buds are a little heavier, weighing in at 0.56 oz  (0.56 oz) combined compared to the more expensive ATH-ANC300TW's 14 grams (0.5 oz) and the much cheaper ATH-SQ1TW's 10.4 grams (0.36 oz).
Audio-Technica's new buds are heavier than AirPods Pro too, which are about 10.8 grams (0.38 oz) combined. And, as you might expect, the ATH-CKS50TW earbuds don't include features like the spatial audio or adaptive EQ you'll find in AirPods Pro — though they do cost about $50 USD less.