2022 LG CineBeam 4K Projectors Don't Need Much Space Or A Dark Room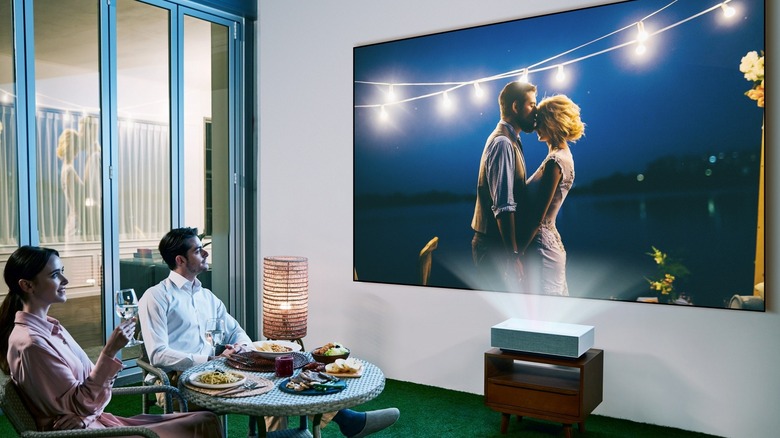 LG
Many people have cut the cord, eschewing traditional TV in favor of content from Internet-based on-demand and live-streaming television services. Though TVs remain popular, some consumers have ditched ordinary models in favor of alternatives, not the least of which are home projector systems that support screen sizes far larger than their LCD and OLED counterparts. LG targets that market with its notable CineBeam product line, which has expanded with two new models designed for home use, according to the company.
LG's new CineBeam HU715Q and HU710P projectors are notable not only because of the company's laser projection technology, but also the inclusion of two key features that make the models suitable as TV replacements: ultra-short-throw projection and high peak brightness levels. With these features, consumers are able to place the projectors close to the wall upon which the image is projected and watch content even if the room isn't totally dark.
LG CineBeam HU715Q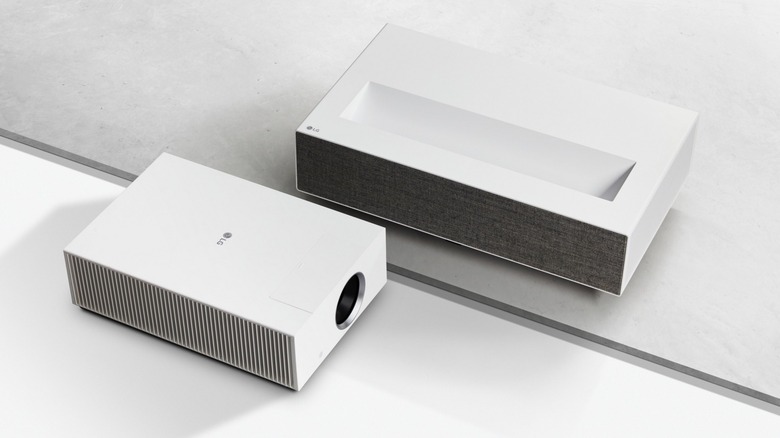 LG
Laser projectors have been around for a while, but a new breed of Ultra Short Throw (UST) models is taking the market by storm because they require so little space. The new HU715Q 4K projector, for example, only needs an 8.5-inch gap between it and a wall to project a 100-inch screen. With integrated dual 20W stereo speakers, it's as good as having a gigantic TV that seems to magically float under the projected image.
The HU715Q is also very bright, boasting 2,500 ANSI lumens. That's good enough for outdoor use just after the sun has set and even better indoors with some ambient light streaming into the space. This model is the lesser of the two options, at least as far as specs are concerned, though it still falls toward the high end of the home projector market.
Consumers can expect an Ultra HD 3840 x 2160 resolution, adaptive contrast and automatic brightness adjustment, TruMotion, a maximum screen size of 120-inches, 0.22 throw ratio, Magic Lighting Remote, three HDMI ports with eARC, and two USB 2.0 ports.
The model is lacking a few features, most notably lens shift and the ability to adjust the lens zoom. However, the HU715Q does have a sleek design, boasting a premium fabric cover from famed Dutch textile company Kvadrat. The design makes this new CineBeam projector a beautiful fixture for the living room, potentially matching the other smart speakers and displays you might have lying around.
LG CineBeam HU710P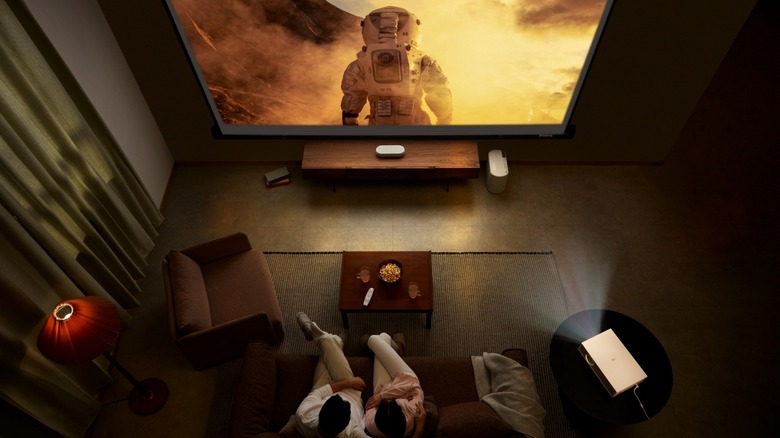 LG
Whereas the HU715Q features a laser light source, the HU710P packs a wheel-less hybrid laser and LED light source, though both models top out with a lamp life of 20,000 hours. The two CineBeam projectors share many of the same features, but there are some key differences.
The model requires more distance from the wall, with LG noting it has a minimum throw distance of 9.5 feet for a 100-inch screen, but it makes up for it with a much larger maximum projected image size of 300 inches. Its wheel-less hybrid laser and LED light source helps create bright colors and deep blacks to compensate for the lower 2,000 ANSI lumens brightness level, the company claims. Other differences include a 1.6x zoom lens, 1.3 – 2.08 throw ratio, and support for lens shift. Though these differences are all improvements over the HU715Q, the HU710P has downgraded stereo audio at only 5W.
As for the similarities, both models pack Filmmaker Mode, which turns off the sometimes aggressive picture processing to let videos appear the way their makers intended. The projectors also run LG webOS inside, giving instant access to popular streaming services like YouTube, Netflix, Disney+, and even Apple TV without having to connect your phone. The LG HU715Q and HU710P 4K laser projectors will launch sometime in the first quarter of 2022, though availability and pricing have yet to be announced.