Sony LinkBuds Review: Great Holy Earbuds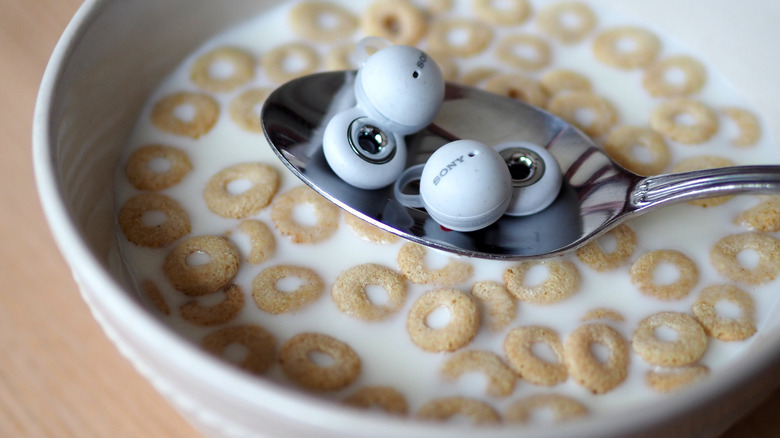 Chris Davies/SlashGear
Instead of keeping the outside world at bay, Sony's new LinkBuds welcomes it in, courtesy of donut-shaped drivers and a new attitude toward the online/offline divide. While active noise cancellation has arguably been the big advance in personal audio over the past few years — not least making it more effective and more affordable — the LinkBuds intentionally ignore that, and with unexpectedly promising results.
It's been almost six years since Sony revealed its Xperia Ear Open-Style Concept, the company's first attempt at the "earbud with a hole in the middle" design. Along with a convoluted name, the concept buds had a fairly outlandish form-factor, too. The ring section itself was tiny, but it was attached to a device that hooked around the ear like a fairly bulky hearing aid. The result wasn't as aesthetically pleasing as the brand had likely hoped, an issue undoubtedly addressed in its latest version.
Cleaner design and a much shorter name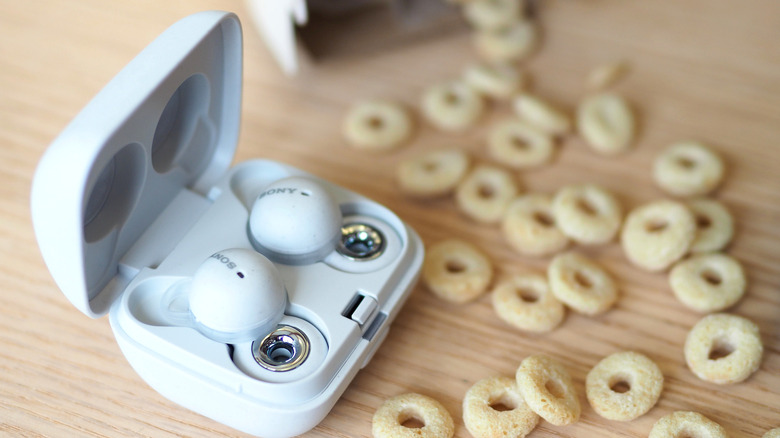 Chris Davies/SlashGear
At the time, Sony said it was testing the waters to see if there was sufficient interest in an earbud that allowed ambient sound to pass through. A year later they hit shelves, though to underwhelming reviews that criticized the design, comfort, audio quality, and price. Fast-forward to today, and the idea is getting a second chance.
Gone is the awkward name, with a far more streamlined Sony LinkBuds brand introduced instead. Even better, the chunky design of the old earbuds has been replaced with something far smaller and much more comfortable. It's particularly important, since Sony is pitching the LinkBuds as part of a "Never Off" wearing experience.
The final design is like two conjoined bubbles, one of which has just popped. A silicone loop nestles into your upper ear — Sony includes five sizes, and when you figure out the right one it's very easy to pop the LinkBuds in and out of your ear — and there's IPX4 water resistance. The main section houses the battery and the electronics, including an Integrated Processor V1; it's attached to a donut-like loop, inside which is Sony's custom 12mm ring driver. That sits right on top of your ear canal because, in stark contrast to how most earbuds try to keep external sound out, LinkBuds invites it in.
Half online, half offline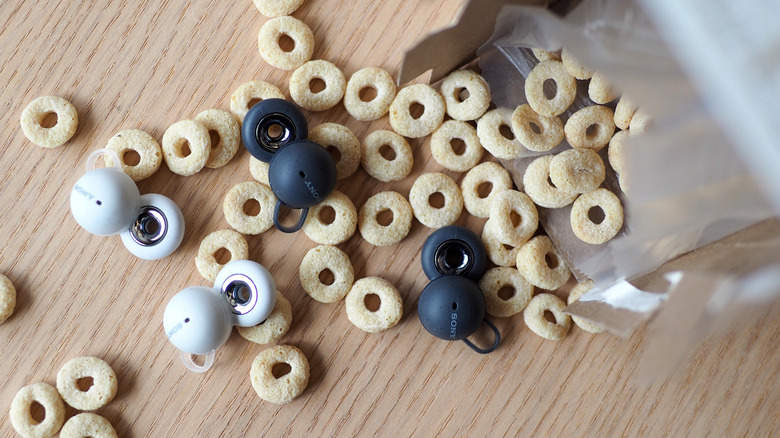 Chris Davies/SlashGear
Sony justifies that by pointing out that some of us now spend a whole lot of time dividing our attention between online and offline worlds. That could be because you're working from home but need to keep track of what your kids are up to; because you're hanging out with friends but are also responding to messages from Discord, iMessage, or Slack; or simply because you want to listen to music but also be aware of the world around you for safety.
Most recently-announced earbuds and headphones, especially those with active noise cancellation, include some sort of "transparency mode" which pipes through environmental audio. However that tends to be a tinnier, lower-quality version of the ambient sound, and only really intended for brief interactions: giving your order in a coffee shop, maybe, or replying to a colleague's question.
Sony LinkBuds, though, try to balance the two worlds more equally. Sitting at my laptop, I can listen to music and Slack calls, but that doesn't stop me hearing the doorbell when the FedEx guy arrives. Out walking, I can load up a playlist but also remain fully aware of traffic around me. It's a bit like having a set of speakers follow you around.
Adaptive Volume Control is the secret weapon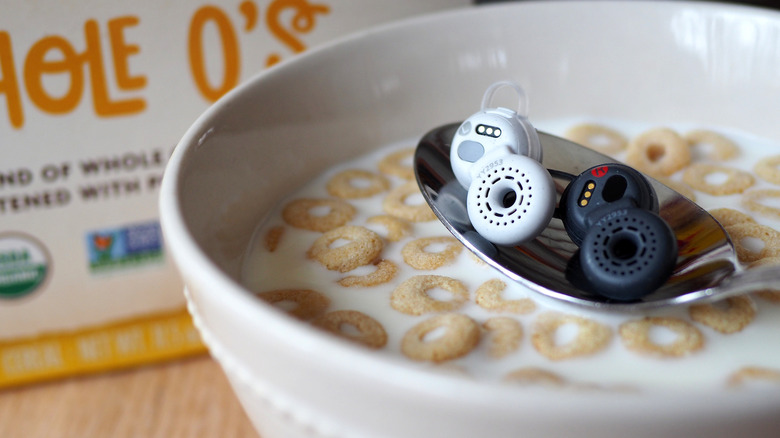 Chris Davies/SlashGear
What makes it work is the combination of noise reduction and adaptive volume control. The former is what makes calls a success, with Sony apparently training its machine learning model on 500+ million voice samples to better isolate your voice from background noise.
Adaptive volume control, meanwhile, is what helps balance the two worlds. If it's quiet, then the playback volume is low; if it gets louder, the volume automatically ramps up. You can turn it off in Sony's Headphones app — available for iOS and Android — but you really shouldn't.
That's because it works unexpectedly well, reacting quickly to environmental volume changes in both directions, but without being excessive. A good test proved to be making coffee: The music volume rose while the grinder was on, when the espresso machine pump was working, and while I was steaming milk, but dropped again in-between those times so that it sounded very close to consistent throughout. It's not entirely seamless, but it's good enough that if you weren't actively listening out for the adjustments you'd quickly get used to the overall effect.
Another option is Speak-to-Chat, which can automatically pause your music when you start speaking. It works pretty well, but if you're in the habit of singing along then it can be annoying; it also takes that little bit longer than I'd like to resume playback when you stop talking, though you can force that to happen again manually.
The Sony WF earbud line will continue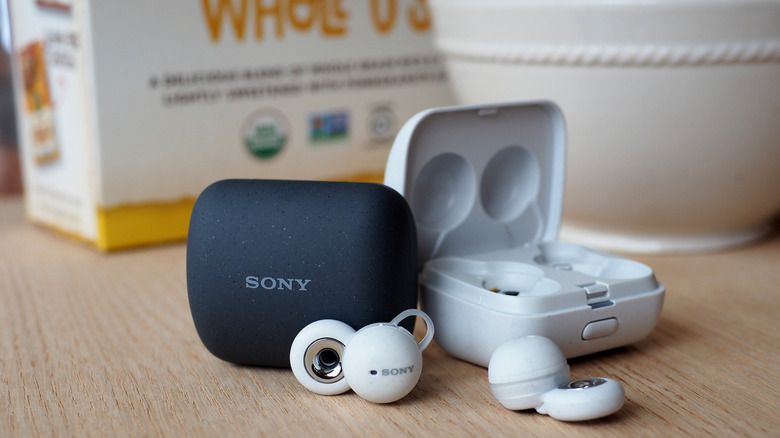 Chris Davies/SlashGear
What the LinkBuds won't do is replace Sony's existing high-end wireless earbuds. Instead they'll sit alongside models like the WF-1000XM4, with the expectation that they'll find a different — arguably more niche — target audience. Something I hope is that some of the improvements Sony made here are carried over, like the considerably smaller charging case. It's far more pocket-friendly, but still adds 17.5 hours more playback to the LinkBuds' 5.5 hours of battery life. A 10-minute charge is good for up to 90 minutes of use, and the case itself supports USB-C charging (though not Qi wireless charging) and latches closed to make sure the buds don't fall out in your bag.
I also like Sony's new Wide Area Tap system for controls. Rather than having to aim for a button built into the body of the earbuds for things like play/pause, track skip, and triggering Siri or the Google Assistant on your phone (or the LinkBuds' native Alexa integration), they pick up taps to the area just in front of your ear. Considering one of the annoyances with ANC earbuds can be that tapping their controls also unsettles the seal they've made in your ear, this system works far better. By default, a double-tap toggles between play and pause, while a triple-tap skips to the next track, but you can customize that in the Headphones app.
As for actual audio quality for music playback, the end result unsurprisingly depends greatly on where you're listening. In a quieter room, the effect is a lot like using open-back headphones; as with that design, if the background noise levels increase, you can start to miss out on hearing detail. The automatic volume bump Sony uses means you'll still hear the track, but you may not pick out the same level of detail as you might with more isolating earbuds. Still, the custom 12mm ring driver has the potential to sound good in the right space, especially once you switch on Sony's Digital Sound Enhancement Engine (DSEE). That promises to improve compressed music, and helps offset the LinkBuds' fairly average bass: If you like your low-end hefty and lavish then the literal hole in the middle of LinkBuds may leave you wishing for more. 
Sony LinkBuds aren't for everyone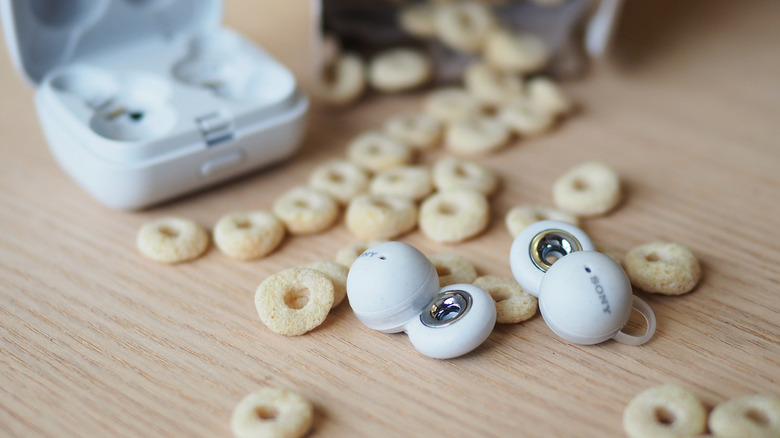 Chris Davies/SlashGear
What has surprised me the most is just how comfortable the LinkBuds are for extended wear. Pick the right loop size and they just seem to float in your ear: At 4.2 grams each the buds are about the same as 3rd generation AirPods. However, they stay in place more tenaciously, without needing to grip your ear canal like AirPods Pro do.
I haven't had a chance to fly with LinkBuds yet, but I suspect their value will be much diluted in the air. After all, that's one of those situations where you really want to cut yourself off from ambient sound. My go-to there is probably going to remain Sony's own WH-1000XM4 headphones.
Earbuds with a hole lot to recommend them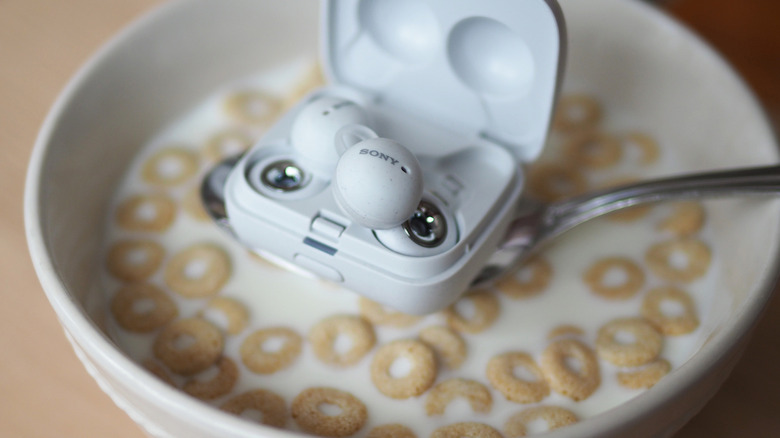 Chris Davies/SlashGear
Sony has big ambitions for LinkBuds. There's support for Microsoft Soundscape and 360 Reality Audio, Spotify Tap, and a partnership with Ingress and Pokémon GO developer Niantic Labs, with the overall aim of making the perfect earbuds for augmented reality. Most players of the AR Pokémon game, for example, actually go without audio while they're hunting out in the real world, Sony and Niantic discovered. That's in part because traditional earbuds force a choice between game and environmental sounds.
Audio-focused augmented reality tends to get sidelined in the greater scheme of mixed reality: after all, visual AR is far more attention-grabbing. Sony has attempted to put sound first in the past, though products like the assistant-toting Xperia Ear struggled to gain traction. As we get closer to blurring digital graphics with a real-world view, though, it's important to also consider the role audio will play with that.
AR smart glasses are still some way out from the mass market, mind, whereas LinkBuds are arriving now at $179.99. Their success, then, likely hinges on finding enough people wanting to keep a foot in both worlds, as they navigate situations like working from home.